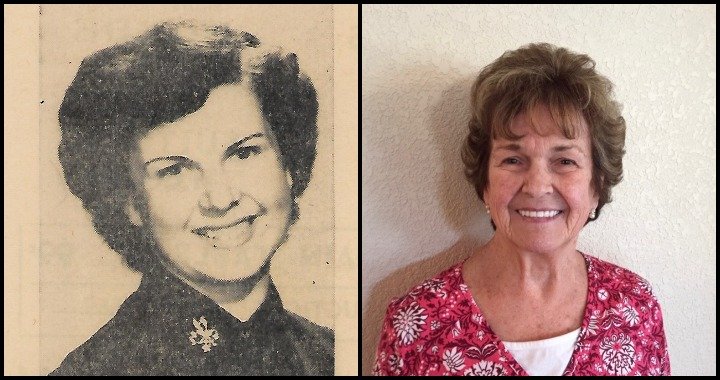 On January 4, 2022 Jean Marie Gwin Nowak passed away in Eureka at the age of 81. Jeanie was born in Arcata to Edward and Jean Gwin on May 13, 1940. She attended Arcata Elementary, Dow's Prairie Elementary, and McKinleyville Elementary where she graduated Valedictorian of her class in 8th grade. She attended Arcata Union High School and graduated with honors in the top of her class in 1958. She participated in various clubs, including 4-H and band during her high school years. Jeanie married Ed Whitchurch Jr. on August 24, 1957 and gave birth to their son Ed Whitchurch III at Trinity Hospital in Arcata in 1958. That same spring, she returned to graduate from Arcata High with her class.
Jeanie gained her love for sports by playing clarinet with the high school band at football games on the Humboldt State University football field as Arcata Union High School did not have a field during these years. Jeanie continued her education afterward by taking night classes in business courses.
Jeanie, Ed, and their growing family lived in Humboldt County, Pomona and Brookings. Their first daughter Danelle was born in Crescent City in 1960, their second son Patrick was born in Upland, Calif. in 1962, and their youngest child, Wendy, was born in Fortuna in 1966.
Jeanie worked most of her life in several different positions, including waitressing, sales, sawmill work, green chain, law offices, a radio station, post office clerk, and insurance office secretary. Her most beloved job was as the secretary/receptionist for the lumber brokerage firm, Deschutes Pine in Bend, Oregon for over 10 years, after which she retired.
Her second marriage was to Ralph Ingle, whom she met at her post office position in Brookings, Oregon. The family grew, bringing together Jeanie's 4 children and Ralph's two children, Sonja and Scott. During these years the family enjoyed lake activities with camping, fishing, and water skiing in the summer months. They also participated in game hunting in Central and Eastern Oregon. Jeanie and Ralph parted ways after 12 years of marriage.
She later met and married Arthur "Lee" Nowak (affectionately known to Jeanie as Boo), a retired Navy Officer. "Boo" was her "third time's the charm." Together, they embraced a lifestyle of health and wellness. This included a love of tennis where Jeanie eventually became president of a ladies' tennis club with over 50 members. They lived in Bend, Oregon; Gardnerville, Nevada; and Mesquite, Nevada. Their most cherished residence was at Lampe Park in Gardnerville where they were known for feeding the birds and ducks, and taking their grandchildren to park activities such as carnivals and fishing derbies. While living in Gardnerville Jeanie volunteered in her granddaughter Savannah's classroom and also read to the students. Jeanie lost Lee to leukemia at age 91 in the fall of 2014 after nearly 30 years of marriage. Lee was a very caring gentleman. He treated her children and grandchildren as his own.
Shortly after Lee's death, Jeanie returned to Humboldt County to be near the majority of her family which included her mother, aunt, uncle, sister, children, grandchildren and great-grandchildren. While Jeanie was able, she volunteered at the McKinleyville Branch of the Humboldt County Library. After moving to Eureka, she joined the Eureka Nazarene Church where her granddaughter, Christa, and husband, Tim, are active members.
In recent years, with medical difficulties, her children and grandchildren were of great help with her daily life - ranging from medical appointments to grocery shopping to just visiting for company and comfort. Jeanie lived in the 55 and older community in Myrtletown, known as The Meadows, and made many new friends over the last few years.
Jeanie's hobbies included the aforementioned tennis, but also oil painting and sewing. Painting was her true passion, and she loved to create gifts for others including ornaments, Christmas cards, canvas paintings, fabric paintings - and even painted saws & mirrors! She took her craft and taught it to her grandchildren, as well. Her presence fills our homes daily through these works of art. She also loved sports, and spent many hours watching the Golden State Warriors and the SF Giants. If she didn't have a sports channel on, then the television was probably tuned to a game show. It was incredible how much trivia she knew. She also enjoyed crossword puzzles and looked forward to completing them in the newspaper every day.
Jeanie is preceded in death by her mother and father, Dora Jean Gwin and Edward Gwin; her aunts, Loberta Gwin and Juanita Waggoner; and her husband, Arthur "Lee" Nowak.
Jeanie is survived by her uncle, Elwood Bartlett (Deanna); sister Janice Chidester (Gary) and brother Allen Gwin (Julie); her children, Eddie Whitchurch III (Debbie), Danelle Tegarden (Cary), Patrick Whitchurch (Cathy), and Wendy Smith (Chris Downing); her grandchildren, Nicola Whitchurch, Kimberly Abbott (Lloyd), Christa Jones (Tim), Marisa Salas (Sam), Taylor Tegarden, Nathan Whitchurch (Katie), Stephanie Berger (Austin), and Savannah Polizzi (Joe); her 13 great-grandchildren, with one more on the way; and 1 great-great-grandchild. Jeanie is also survived by her stepson Doug Nowak (Barb) and children; Lauren, BethAnn and Andrew. Jeanie leaves behind many friends who cherished her creative and giving spirit.
A service will be held at the Church of the Nazarene, 2039 E Street, Eureka on Friday January 21st at 11 a.m. with Pastor Steve Berti officiating. Friends and relatives are invited to attend and celebrate Jeanie's life.
In lieu of flowers or gifts, please donate to Hospice of Humboldt in Jeanie's honor. The family sincerely appreciates all that Hospice of Humboldt and Timber Ridge of Eureka did in Jeanie's last days to make her comfortable and well-cared for.
###
The obituary above was submitted on behalf of Jeanie Nowak's loved ones. The Lost Coast Outpost runs obituaries of Humboldt County residents at no charge. See guidelines here.