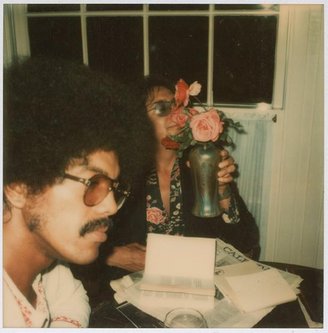 It is with profound sadness that we share the unexpected passing of Paul John Stallworth on December 22, 2021.

Paul was born in Manila, Philippines on September 9, 1946. As the son of a WWII, Korea and Vietnam veteran he and his family lived in several places around the globe to include Japan and Germany, finally settling in Monterey California where he attended High School. This is where his love for music was fostered and fed with long nights of playing at night clubs and shorter days of schooling (as described in his words).
This was followed with musical tours and recording session work with several bands and artists to include: Bobby Womack, Harry Nilsson, Al Jarreau, Nils Lofgren, John David Souther, Bill Cosby, George Harrison, Ringo Starr, Danny Kortchmar, David Foster, Jim Keltner, Sylvester "Sly Stone" Stewart, Brenda Russell and David Lindley to name a few.
Paul Stallworth the multi-instrumentalist was described as "just bigger than life," and "Such a great bass player, and he sang like a son of a gun" by Jim Keltner during an interview surrounding their recording work on George Harrison's album "Extra Texture," which later went gold.
Paul Stallworth then chose to forgo the life in Hollywood and moved to Petrolia in 1986, where he settled in on his vision of paradise, occasionally playing music at public events and small-town cabarets and dance nights.
Paul Stallworth was preceded in death by his father, Spellman Paul Stallworth, and mother, Prudencia (Gloria) Hermosilla Stallworth.
Paul is survived by his sister, Cynthia Stallworth, his sons Spellman Stallworth of Humboldt County, Benjamin Stallworth of Turlock, and his daughter, Jamila Stallworth of Arcata. In addition, he is survived by four granddaughters Kimber, Presley, Kennedy, Avaya and one grandson, Elam.
No number of words, stories or historic accolades could explain the profound experience of being this man's son. The number of people he affected, taught and influenced is never-ending. The wealth of skill and experience lost is nothing short of a tragedy. Those of you who have had the opportunity to know him also know that to put Paul Stallworth into words would take thousands of pages. As I sit and write this, I'm listening to the Attitudes song, "Drink My Water," in which the chorus says: "you can drink my water, but don't let my well run dry" "you can drink it up until you've had enough, something to remember me by." I hope everyone had a chance to drink from his "well" of experience and I know I will never forget him.
I love you, Pop.
A celebration of life will be held in Petrolia on January 28, 2022 at 12 p.m. at Windy Point Road on Prosper Ridge.
###
The obituary above was submitted on behalf of Paul Stallworth's loved ones. The Lost Coast Outpost runs obituaries of Humboldt County residents at no charge. See guidelines here.