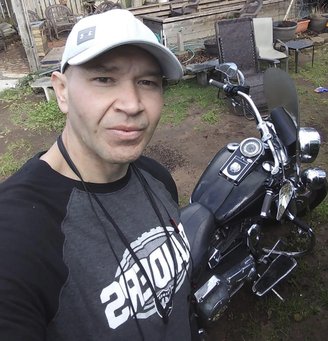 Canyon Hodge was born on November 13, 1977 and went to be with Creator on January 3, 2022. Canyon was born and raised in Hoopa. He attended school in Hoopa, Happy Camp and Eureka. Canyon was a very kind giving person and was loved by all. He was there for his family when they were in need and loved them greatly. He was a loyal friend and he will be very missed by all those that called him a friend or family. He was very handy and loved to work with his hands to do works of art like drawing, building, fishing, and hunting. He was very passionate about his guns and his lady, Halli Pole.

Canyon is survived by his mother Evonne Downs, father Robert Hodge Sr, siblings Robert Hodge Jr, Michelle Hodge, Kelly Burns, and Robert "Chucker" McCovey, grandmother Ethel Garcia, Aunt Anna(Dwayne) Myers, Uncle Tim(Marcy) Casey, nieces and nephews; Ashley Allen, Natasha Boulby, Roger McCovey, Robert Hodge Jr., Jacob Hodge and Dereck Hodge and many many cousins. But his children had a very special place in his heart. Savannah Hodge, Aviannah Triniity Hodge, and Melony Miller. They shared many great memories together and it is a huge loss for his beautiful girls.
Canyon is preceded in death by his grandparents Otto and Alice Hodge, siblings William Hodge, Pricilla Hodge and Stacy Hodge. His Uncles Clifford "Ben" Casey, John Casey and Aunt Joy Ingram-Casey.
Pallbearers are Robert Hodge Jr., Chucker McCovey, Kelly Burns, Julian Shaffer, Arthur Jones, Sam Jones, Marshall McConnell, Robert Colegrove, Ben Nick, Gorge McCovey, Rick Racer, Perry Sanderson, Keith Hostler, Philly O'Rourke, Timothy "Gooby" Perry Sr., Willie Lamebear, Andrew Myers and Josh Trimble.
Services will be held at St. Kateri Catholic Church in Hoopa on January 15, 2022 at 1 p.m. Masks and Social distancing are mandatory. Mortuary is Paul's Chapel in Arcata.
###
The obituary above was submitted on behalf of Canyon Hodge's loved ones. The Lost Coast Outpost runs obituaries of Humboldt County residents at no charge. See guidelines here.