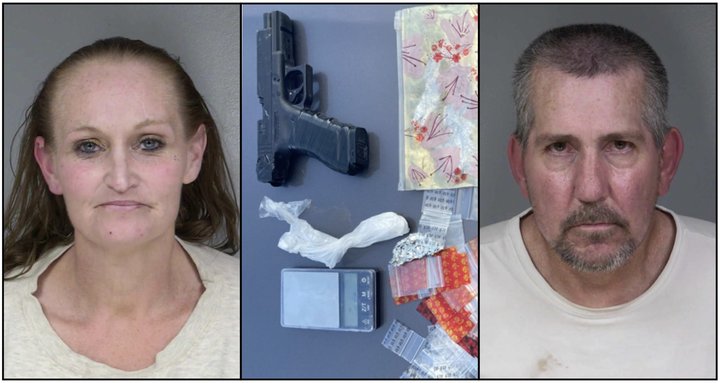 Humboldt County Drug Task Force press release:
Since early January 2022 the Humboldt County Drug Task Force (HCDTF) had been investigating Suntalena Downs (41 years old from Eureka) for transporting fentanyl into Humboldt County. As a result of their investigation agents received a search warrant for Suntalena Downs and any vehicle related to her.

On January 26th, 2022, HCDTF agents conducted surveillance on Downs and her boyfriend, James Davis (53 years old from Eureka) as they left Humboldt County driving a rental car. Agents observed Downs and Davis drive to San Francisco, Sacramento, and then Redding. During the early morning hours of January 28th, 2022, HCDTF Agents stopped Downs and Davis as they entered Humboldt County on Highway 299 in Willow Creek. Both subjects were detained without incident.

Agents conducted a search and located approx. one ounce of fentanyl, packaging, a digital scale, and a BB gun made to look like a real firearm. Downs and Davis are both on probation in Humboldt County. Both suspects were arrested and transported to the Humboldt County Jail where they were booked for the following charges:

H&S 11351 Possession of fentanyl for sale
H&S 11352(a) Transportation of fentanyl
H&S 11352(b) Transportation of fentanyl across non-contiguous counties
PC 182 Conspiracy
PC 1203.2 Probation violation

Anyone with information related to this investigation or other narcotics related crimes are encouraged to call the Humboldt County Drug Task Force at 707-267-9976.