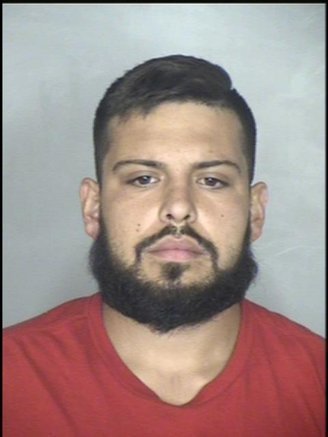 In the days before he allegedly murdered a Southern Humboldt couple, Ulisses Rodriguez may have been planning to rob his own marijuana grow in the China Creek area, a prosecution witness testified today.
Martin Morris, a district attorney's investigator who is very familiar with the contents of Rodriguez's cellphone, said he came to that conclusion by reading a "What's App" conversation between Rodriguez and a person who called himself "D."
In the chat, the two mentioned that their own plants (not at the China Creek site) weren't ready to sell, and Rodriguez said he had a couple of people lined up, "like Jose."
Jose Sanchez also was growing marijuana at the same site, on property owned by a man named David Wilks and managed by Wilks's sister.
Morris said he believes Rodriguez and D were gathering firearms and possibly other people to commit the robbery. It has been established Rodriguez owned a .357 revolver and a pistol. There are plenty of selfies on his phone showing him with the revolver.
The weapon holds seven rounds, which Morris said "is unusual." Seven shell casings were found in a burn barrel near the spot where the shooting occurred.
Morris also established Rodriguez was mailing packaged marijuana to a person in Hawaii, and the customer was wiring him payment through Western Union. A few days before the killings, Rodriguez texted "the dude from Hawaii" had arrived.
According to eyewitness "John Doe," a man from Hawaii was standing right there when Rodriguez allegedly shot Jeremy Kuemmel and Tiffany Ellebrecht. Doe said Rodriguez told the Hawaiian man to get in his car while he ordered Doe to wrap the bodies in chains.
Rodriguez reportedly hooked the chain to his Lexus SUV, which was a equipped with a "Z ring" for towing, and dragged the bodies to Kuemmel's Ford Expedition.
On the day of the shootings, according to cellphone records, Rodriguez got a text from the property owner's sister. She told him "the stress is killing me" and she planned to turn the operation over to her brother. She had done everything she could to save the property, she said, but "I'm done."
Rodriguez responded with "Wut are you talking about? You don't answer my calls. Wut are you trying to do? Threaten me?"
"Not a threat," she replied. "Not a threat."
The sister also told Rodriguez "Jose lied to me. He told me he only had three greenhouses."
It's unknown whether Rodriguez and the sister had that exchange before or after he allegedly shot Kuemmel and Ellebrecht. Their incinerated bodies were found later that day in Kuemmel's Expedition, which had been parked in a turnout on Briceland Road and set on fire.
Deputy District Attorneys Trent Timm and Luke Bernthal are the trial prosecutors, with attorney Andrea Sullivan representing the 27-year-old Rodriguez.
Testimony is expected to continue Monday before Judge Gregory Elvine-Kreis, with Sullivan cross-examining Morris.
Jose Sanchez is on the trial witness list, as are two Sanchez cousins. The man from Hawaii, David Kane, is also on the list.
PREVIOUSLY: