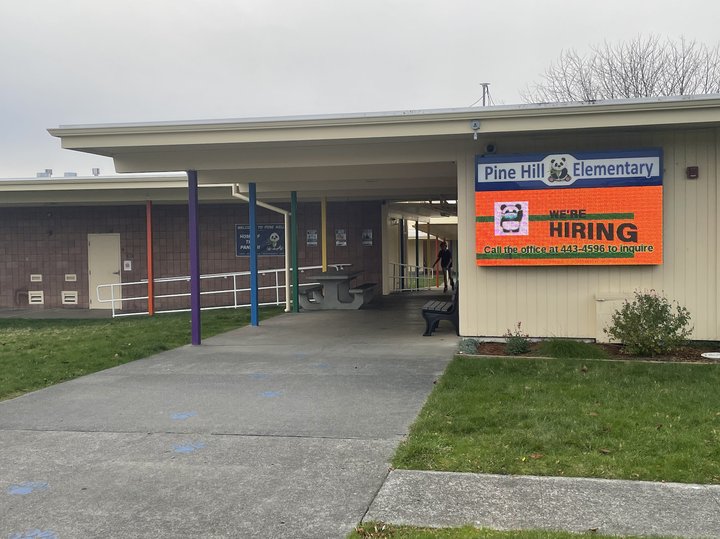 ###
It's a tense and unfamiliar moment for several South Bay Union School District staff, who fear their small, family-like district will soon merge with Eureka City Schools, Humboldt's largest school system.

"There's a lot on the line," one employee said at a South Bay board meeting in December. "And trust is a big one."
In November the South Bay Union School District Board struck a shared services agreement with Eureka City Schools – a deal that includes bringing ECS Superintendent Fred Van Vleck in to serve as superintendent of South Bay. Staff have been suspicious that their small district's independence is at stake ever since.
SBUSD is a K-8 district of three schools (including one charter) that serves about 500 students; ECS, a pre-K-12 district, oversees 10 schools (including one charter and a preschool) and enrolls 3,600 students. SBUSD spans from just south of Eureka to Loleta, including the neighborhoods of Pine Hill, Humboldt Hill, King Salmon, Elk River and Fields Landing.
After Eureka City Schools' former assistant superintendent of educational services, Michael Davies-Hughes, left his position in October, ECS hired South Bay's superintendent Gary Storts to fill the vacancy, leaving South Bay without a superintendent mid-school year. Because it's not an ideal time to find a qualified applicant for the superintendent position, the school boards at Eureka City Schools and South Bay agreed that a shared-services-and-shared-superintendent agreement for the remainder of the school year was a fair solution. It might be temporary, Van Vleck and board members have said.
But at South Bay's December board meeting, more than a dozen employees and parents (but mostly employees) appeared to protest the shared services agreement. Some voiced concerns about what a merger could mean for their students, job security and work life; others vehemently asked the board to seek an alternative to Van Vleck now. People are upset because the agreement was developed behind closed doors, which, they say, is concerning in itself. But they're further alarmed by Van Vleck's involvement as a dual superintendent, which they believe indicates groundwork for a merger – the very last thing these staff want.
When the agreement expires in June, South Bay's school board will have three choices: hire a new superintendent, extend the shared services agreement, or merge with Eureka City Schools. South Bay staff are making clear which option they support.
###
On Nov. 10, Storts gathered South Bay staff after school and announced his resignation, one employee told the Outpost. That evening, the shared services agreement was solidified during closed session of a regular board meeting. Minutes before open session, Storts announced the deal to staff via email.
"There was none of this brought to our attention when he resigned. Nobody saw this. This is completely unprecedented," said one staff member. (Three South Bay employees spoke with the Outpost for this story, and each asked not to be named.) "We were all just like, 'What the heck happened?'"
The agreement doesn't specify what services the two districts will share. It outlines the duties of the superintendent, conditions of termination of the agreement and "general provisions" of the agreement, such as how to modify it.
A press release issued later that day by Eureka City Schools was more specific. The districts might share services related to nursing, social-emotional health and students with disabilities, as well as business and personnel services in maintenance, transportation, construction, technology and food services, the press release said.
"It is important to note, no current employees will lose their jobs."
The press release also provided more background about the agreement. Though excited for the new ECS position, Storts left South Bay hoping to continue supporting the small district. Van Vleck also has a history with South Bay — his mother worked there for more than 40 years as a teacher and administrator.
"Dr. Van Vleck and Mr. Storts both have an incredible interest in making this agreement work," the press release said.
At the December board meeting, prior to public comment, South Bay board member Jacob Coan read a statement on behalf of the board. Coan clarified that when Storts informed the board of his plans to resign (some time prior to his staff-wide announcement), the board discussed finding an interim superintendent. Van Vleck offered to step in and suggested a shared services agreement in tandem. At a special board meeting on Nov. 3, the board discussed the potential agreement in closed session (no action was taken).
In an email to the Outpost, Van Vleck clarified that ECS will be compensated for its services with the remaining superintendent salary.
The vagueness of the agreement alarmed staff. During public comment in December, some people requested a breakdown of how the arrangement and those funds to ECS will actually serve South Bay.
"I am wondering if there have been any reports or analysis done that we could see at this point of how shared services or merging would benefit us," said one employee. "I would just love to see a lot more information, and I wonder if that information even exists."
The shared services agreement is muddy, one employee told the Outpost. "There's really not any clarity on how this is even supposed to take place. What services are you trying to share?" she said. "I have yet to see any way that they could provide any services to either aid or improve what we're already doing."
That said, once ECS does provide some amount of services, "isn't that going to give them more fuel to say, 'See? You need us.'" That would only boost an argument for merging, the employee said. "I know that that's what they want to do."
Van Vleck told the Outpost in an email that the shared services are a work in progress.
"Any positions that are shared other than administrative must be negotiated with the respective association first. Thus far, ECS has our network administrator assisting in the installation of the new South Bay phone system over the [winter] break. Since their network is down, we also have some South Bay employees continuing to work using the ECS network. In the area of fiscal services, buildings, transportation and food services, the ECS Assistant Superintendent of Business Services has visited both South Bay sites with the ECS Directors. They had some preliminary conversations on areas where it makes sense to share services," Van Vleck said, adding that "the scope and magnitude of the shared services are still being developed."
Van Vleck and Storts have underlined that students are to benefit from the deal. The employees we spoke with said that, at best, nothing has changed for students, and, at worst, teachers' stress from the situation has affected their capacity to be available for students.
"I haven't seen anything really happen, except that I know that our principals meet and go to meetings with Eureka City Schools now. So if there is, it's behind closed doors, from my perspective," a teacher said.
"I'm doing the same exact thing. So nothing has changed for me. If anything, it's caused me more stress and fear, which impacts my ability to be a good teacher…there hasn't really been a big change except for maybe the mindset and vibe around the campus."
Another employee suggested that students might not have noticed Storts' departure on its own.
"This administrator, he was not really engaged with students as a whole. He didn't go around and observe classrooms or talk to kids in the hall, or anything that would have a direct effect on the children," she said.
"You could get 10 kids in a row here and ask them if they knew who this person was, and they probably wouldn't be able to tell you."
Not having a superintendent for a month or two during a recruitment period? The students would be none the wiser, this employee guessed.
"However, rocking these teachers and support staff to the core, to where now they're scared, they're terrified for their jobs or the future of our district? And now they're supposed to just pull it all together and go into a classroom and provide the care and education for these kids?" she said.
"That's asking a lot of any human being that has been shaken this way. These are the kinds of things that will affect students."
###
After seeking clarifications about the agreement and its necessity, some staff said they felt unheard.
"The lack of transparency and the feeling that our concerns are not being taken seriously when they are heard at all is troubling," one employee said at the December meeting. "If that's not what you meant, it's definitely the way it has come across. From the very beginning, this has been handled poorly."
The shared services agreement and its seemingly secretive conception left some staff feeling certain that its only purpose is to pave the way for a merger.
"I feel like our district isn't broken, and so there's nothing to fix. And this is messing with things that aren't broken," said one employee, who added she has loved working at South Bay. "Like, 'Here, we're gonna give you this right now, and then down the road, don't be surprised when we absorb you.'… It doesn't really seem like there's any other way it would go."
It's the sudden possibility that a merger could be on the table that seems to be what's most alarming to staff.
"I applied to work at a small school district on purpose," said one staff member at the December meeting. "I never applied to work at Eureka City Schools on purpose."
Why the staunch opposition to joining ECS?
"I think what makes us unique and one of our strengths is that we are so small," one employee said. "You really do get a chance to know them (the students) and what makes each one of them unique. It's not an exaggeration to say that it feels like a family."
And families, too, choose South Bay for its size, employees said.
"They've made that choice for a reason. I'm one of those parents," said a South Bay employee. "I do not live in the district, but I chose this district because that's what I wanted my kids to experience – a small community feel, and not get lost in the shuffle."
After going through South Bay, both her kids went to Eureka High, which went okay for one of them, but not well for the other, who was injured at the beginning of the school year and left unattended when requesting a 504 plan for his recovery period.
"They wouldn't even schedule a meeting until sometime in November, when school starts in August. And at that point, he would have already been through an entire trimester of school and wouldn't be able to keep up like the rest of his peers. That's unacceptable. And I'm just one person that has experienced this kind of treatment with ECS," she said. She ultimately sent her son elsewhere.
"We have our finger on the pulse of what's going on with all of our kids – the ones that need the most help, the ones that are doing fantastic – we know all of them. And that doesn't happen in a big school system, and I think that's why parents choose South Bay School District."
Other employees said the same.
"I've heard about issues, I've heard what happens – it's not something that I want to be a part of as an employee and it's not something that I'm interested in for my child," one employee said. "There are so many families even that have come from ECS – they specifically want to be part of a small district – people who aren't interested in being part of the ECS, I guess, machine, for lack of a better word."
Keeping housing insecure kids in particular from falling through the cracks is a main concern for Cassi Le-Hue, the district's Family Resource Center coordinator, who spoke at the December meeting. Between one-fourth and one-fifth of South Bay students are identified as Mckinney-Vento, or homeless, which is very high, Le-Hue said. These families are hard to keep track of and it can be challenging to connect them with resources.
"Families and staff at Eureka City Schools, when we've shared families, tell me they're glad that kids have ended up in my district, because we didn't lose them, and that's really hard," Le-Hue said. "I don't want to lose these families if we merge. I'm afraid of that. It took a long time to identify them and it took even longer to build that trust to get them willing to come in and ask for those resources. And now with COVID I think it's more important than ever that we keep those paths open and we continue supporting them in our small district."
Employees are also worried about job security. They predict that if the two districts were to merge, some South Bay positions would become obsolete.
"They keep saying that nobody's jobs are at risk right now. Okay, what does that mean? Does that mean you're just going to find some spot for somebody to do something that is not typically what they already do? Are you going to pay them the same salary that we're getting paid here? Are we gonna have the same benefits?" one employee wondered. "It's so muddy. When they say blanket phrases like that – that's not reassuring."
With a merger, it would make the most sense for ECS to just add South Bay's campuses to its list of duties, that employee speculated, which could eliminate some positions, like department heads.
"These are some people that have been here for a very long time. Their retirement is completely invested in this district," she said. "To have that potentially stripped away at this point is pretty frightening."
A South Bay teacher said that ECS is "notorious for seeing their teachers as being expendable."
"I mean, there are amazing teachers at Eureka City Schools that have been there for years," she said. "But at the same time, the district isn't known for loving their teachers."
Last month, Van Vleck told Redheaded Blackbelt that "unequivocally, no jobs are at risk at this point." Both districts are understaffed and struggling to hire people. "We are trying to hire people, not trying to lay off people," he said.
Lathe Gill, Humboldt's regional California Teachers Association representative, is familiar with the situation. Noting that he doesn't have strong feelings about it one way or the other, Gill said that it seems as though opposition to a merger is mostly rooted in concerns about workplace culture. There are significant distinctions in culture and politics between Humboldt's school districts, he said, especially between large and small districts. But in terms of overall teacher happiness, Gill said, ECS is "not a model."
###
One employee we spoke with claimed that ECS has wanted to absorb South Bay for a long time. That employee has discussed ECS's interest with Storts in the past, and Storts was "very much opposed" to joining the larger district.
"I know where Eureka wants to go with this. And for some reason, at this point, [Storts is] on board with it," the employee said. "We're all scared because we don't know what's going to happen."
Gill said that, in some ways, a merger between the two districts would make sense, given an overlap in student demographics.
"It doesn't surprise me at all that [Van Vleck] would be interested in absorbing South Bay," Gill said, noting that Eureka is facing declining enrollment, which reduces the scope of offerings the district can provide.
Led by Van Vleck, Eureka City Schools has a history of pursuing legal action to try and hold onto students.
In 2017, for instance, Eureka City Schools and Cutten School District came to a settlement agreement after CSD violated education code by enrolling 25% of their student body with students residing in the ECS district. At the time, ECS wanted to resolve the conflict with an implementation of "enrollment management practices" but in the end, CSD ended up paying $260,000, which was the smaller district's preference.
Also in 2017, Van Vleck pursued a cap on inter-district transfers, which would have forced most Eureka families to enroll their kids in the school nearest their home.
And twice – once in 2016 and again in 2018 – ECS filed or threatened litigation against out-of-district charter schools because they were operating facilities within ECS district boundaries, despite being chartered by other districts. In the 2016 case, ECS and Pacific View Charter School came to a settlement agreement that capped the number of Eureka-based students the charter was allowed to enroll. The following year, Pacific View became rechartered by its former adversary, and has since been a part of ECS.
Asked about his interest in absorbing South Bay, Van Vleck clarified that it's not up to him. "ECS and South Bay merging is controlled by the ECS and South Bay Boards, not by me," he told the Outpost. "As such, I will follow their direction. In the meantime, it is my desire and responsibility to provide the best possible student learning for both school Districts."
Is there hope for South Bay's worried staff? It probably depends on how committed they are to keeping the district independent, Gill predicted – how loud they are for the remainder of the shared services agreement.
Staff are hopeful that folks invested in the situation will keep tabs on it.
"It doesn't take very long before things start to cool down and then people start to forget or don't show up to as many meetings as they should," an employee said. "And this is going to be an ongoing thing for the next six months that we really need to keep an eye on and be active in convincing our school board to do the right thing and keep South Bay School [District] intact."
A teacher told the Outpost she is hopeful that the ECS will run into legal roadblocks in a potential consolidation effort.
"I'm really hoping that when it comes down to all of the legal aspects, that it's going to be too difficult for them to do it. And hopefully, they won't."
Staff will likely be speaking out against a merger again at this month's board meeting, scheduled for Jan. 11. An agenda and location for the meeting should be posted here 72 hours prior. The board recently rescinded the option to email public comment, and so folks interested in sharing their view will have to go in person, unless that policy is revoked before then. (One person said the new policy seems like a silencing tactic, given the record-breaking COVID surge underway.)
"I just encourage the community to pay attention to what's going on, attend board meetings, and to ask questions," one employee said. "And to not stop."