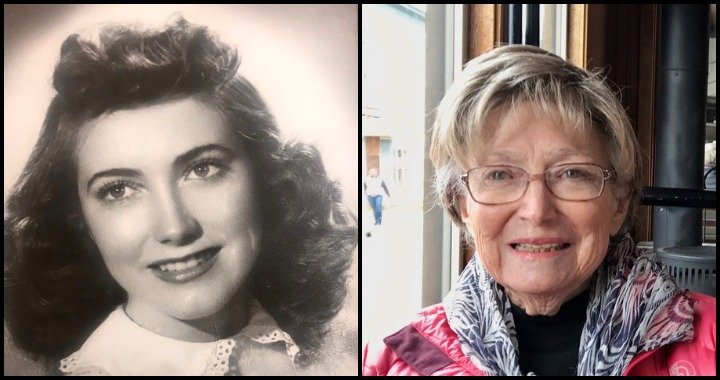 Marilynn S. Bartlett, aka The Sheriff or Big M, passed away December 28, 2021, at her home in Eureka. Marilynn was born in Los Angeles, June 2, 1928, to Howard E. Signor and Dorothy M. Pearson Signor.
Her early childhood featured frequent moves throughout the Midwest and the east coast, and her family eventually landed in Melrose, Massachusetts. She enjoyed reminiscing about canoeing and archery at summer camp, and bonfires and ice skating on the pond near her home. The deadly hurricane of 1938 sent the family by train back to sunny California, where they could pick oranges and avocados in the backyard. North Hollywood was her home until high school graduation, except for wartime homes in Pomona, Riverside, and Corvallis, Oregon.
Along with her best friend, Marilynn found herself on a plane, and then an overnight train to Humboldt State College. She had never heard of the place, but her Aunt Connie and Uncle "Tink" Belfils lived nearby. There was an extended adjustment period for the valley girls who arrived in Arcata attired in pedal pushers and sunglasses. An English and history major, Marilynn immersed herself in college life, and eventually caught the eye of the handsome local and WWII veteran, Thomas B. Bartlett. Tom and Marilynn married during his senior year at UC Berkeley School of Optometry, and after his graduation returned to Eureka, where Tom joined his father's and uncle's optometry practice. In contrast to her own childhood, Marilynn was grateful her four children could remain in the same town and in the same schools from kindergarten through high school.
While raising four children, Marilynn was a room mother, Cub Scout den mother, Campfire Girls leader, and consummate costume maker. She was an enthusiastic participant in sewing, bridge, and dance club, and the Martha Mary Guild at Christ Episcopal Church. To her daughters, watching her dress for the fancy dances was magical — she was so elegant, and all the children used to race to the living room after club meetings to see if there were fabulous, leftover appetizers.
Marilynn and Tom were part of a vast social circle made up of Tom's childhood friends, mutual college friends, and friendships rising out of community groups, an early membership in Baywood Golf and Country Club, the Sequoia Swim and Tennis Club, and in later years, the Ingomar Club. Regular tennis matches with her friends was a decades-long passion. She was also passionate about snow skiing where she was known for her fearless attacks on the mogul fields and her cowboy-style ski hat worn après ski, resulting in her nickname, The Sheriff.
Together with tennis, skiing, dominos group and other friends, Marilynn and Tom were fortunate to travel to many faraway places. Marilynn's extensive research into each destination enhanced every trip for all, and her trip notes were astonishing in their breadth and depth. In recent years, Marilynn savored time spent with her long-established book club and PEO sisters.
Considerable organizational skills were Marilynn's particular gift. Beyond her fundraising endeavors, she threw epic parties over the years. Most notably were the two-night Beatnik party, Tom's "Second Childhood" 60th birthday party, numerous Humboldt Sponsors Project Private Enterprise parties, the La Costa North Spa Retreat, dinner parties serving 20-60 people, and birthday bashes at the Redway summer cabin. She drafted and retained planning and wrap-up lists for every event, to-do lists for all aspects of her family life, and even Santa lists from when her children were very young.
Marilynn felt strongly about giving back to the community. In 1970, as the last president of the Humboldt Circle of the Florence Crittenton Home of San Francisco, she spearheaded the transition of that group to the Humboldt Sponsors, an organization benefitting the youth of Humboldt County. A founding member of the Eureka Heritage Society, she was instrumental in staging the Heritage Fairs at Redwood Acres in 1974 and 1976. Because of these extraordinary fundraising efforts, Eureka, An Architectural View, also known as The Green Book, was published. This book contains photographs of 1,200 Eureka homes and is considered one of the finest collection of details of historic homes ever published. Marilynn also served on St. Joseph Hospital advisory and foundation boards resulting in funding for the initial mammography equipment, and the Humboldt State University advisory board, focusing on scholarship development.
Marilynn is survived by her sister Valerie Whitmyre; children, Jennifer Lusch, James Bartlett (Heather), Julie Osborne, and Joel Bartlett (Mary); grandchildren, Erin Lusch (Jordan Wiley) and Ryan Lusch, Stephanie Menashe (Shawn), Stacy Bates (Sam), and Lindsay Osborne Reitz (Jeff); great grandchildren, Connor Reitz, Atlas Lusch Wiley, and Hudson Menashe. She is also survived by her sister-in-law Marcia Church; nieces and nephews, Erik Whitmyre (Arantxa), Steve Whitmyre, Chris Whitmyre, and David Whitmyre (Karen), Tom Barnes, Marian Barnes Hancock (Dean), Margaret Carvalho (Bill), Betsy Church Pacheco, and John Church. Marilynn was preceded in death by her parents, her husband, Tom, her sister-in-law, Patricia Morrison, and brothers-in-law, Bradley Barnes and Robert Church.
Marilynn's family is deeply grateful for the exceptional friendship, kindness, and compassionate care provided by the "magic" Jeannie and her Helping Hands Home Care team. If you wish to make a donation in Marilynn's memory, please consider the Tom and Marilynn Bartlett Stand Down Fund to support veterans, in care of the Humboldt Area Foundation , the Humboldt Sponsors, or a charity of your choice. Due to the recent COVID case surge, a celebration of Marilynn's life will take place at a later date.
###
The obituary above was submitted on behalf of Marilynn Bartlett's loved ones. The Lost Coast Outpost runs obituaries of Humboldt County residents at no charge. See guidelines here.