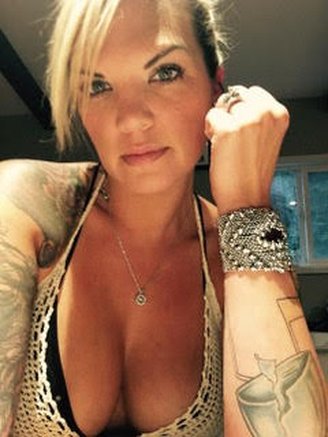 Amber Jean was born to Bart Hardy and Sherry Corder on November 10, 1981, in Fortuna. Amber Jean entered the spirit world on December 13, 2021, at the age of 40 in Carlotta.

Amber was given to love her sister Shaina and her brothers Brandon, Dustin and Thurman. Amber was joined by cousins Jessie, Jenny and Alfred Jr. Many more cousins were to come later, including Wade, Brooke, Pugie, Britney, Darby and more. Her young life centered around these people and her adult life was no different. Family was her foundation!
Amber grew up in the Southern Humboldt area, going to school at Alice Jewett, Leggett, South Fork and Pacific Union. School wasn't for Amber — she was bigger than that and ended up taking the test to get her diploma and went to work. She was fiercely independent and hard-working at a very young age. If you were lucky enough to be Amber's friend, you no doubt thought she was your best friend, a true testament to the person she was. She had a contagious personality and smile, and an ability to make you feel like you were the most important person in her life. She would do anything for her family or friends and helped them all many times in her life. Her striking beauty was something that drew people to her, and her inner beauty kept a person captivated.
Amber's heritage was something she was so proud of. She was born Wailaki Indian, and it ran deep in her blood. Many days her family would gather to share their heritage and talk of old times and old ways. Her adult life was spent living and working in McKinleyville and Southern Humboldt. At the age of 28 her life changed forever when her first daughter Teegan Jade Whitlow was born. Following close behind came Gemma Nykol Whitlow when Amber was 30. Her girls became her life and everything she did centered around them, her family and friends. Her circle all had kids around the same time and the new normal became birthday parties, sports games and sleepovers.
In 2012 Amber met Robert Miller, with him came two more to love, Preslie and Deagan. Amber was the love of Rob's life and he her's. They married on December 29, 2018. She was his best friend and his world as he was to her.
Amber is survived by her girls Teegan and Gemma, her husband Rob and his kids Preslie and Deagan, her mom Sherry, sister Shaina and brothers Brandon, Dustin and Thurman, her aunts and uncles Rena, Shelly, Bob, Rhonda, Pat, Michelle and many special cousins. Amber was proceeded in death by her grandparents Roberta, Dave, Richard and Geniveve, and her aunts and uncles Starla and Richard Jr.
When Amber was 12 her life changed forever. The person that no girl should have to live their young life without died, her daddy Bart. Amber spent her entire life grieving and missing her daddy, wishing that he was here on Earth. They are surely together again.
Amber will be laid to rests with her dad at Briceland Cemetery. All family and friends are invited to attend on January 29, 2022, at 11 a.m. Amber's good friend Kenny Willis will be officiating. This will be followed with a reception and an Amber-style party (fuck it, BYOB) at Beginnings in Briceland.
"The goal isn't to live forever, the goal is to create something that will."
###
The obituary above was submitted on behalf of Amber Miller-Hardy's loved ones. The Lost Coast Outpost runs obituaries of Humboldt County residents at no charge. See guidelines here.