Warm up your fingers, local art critics! Even more of Eureka is slated to be splashed with color next month when the Eureka Street Art Festival returns for its fifth edition.
This year, artists will be unleashed on surfaces along the 101 corridor and around the base of the Samoa Bridge where 11 new murals will be birthed. Where is all the art happening exactly, you ask? Well, luckily for you, today festival organizers kindly sent LoCO a map to help us all wrap our brains around which local walls will soon be blessed by murals and who exactly will be painting them.
See map now!: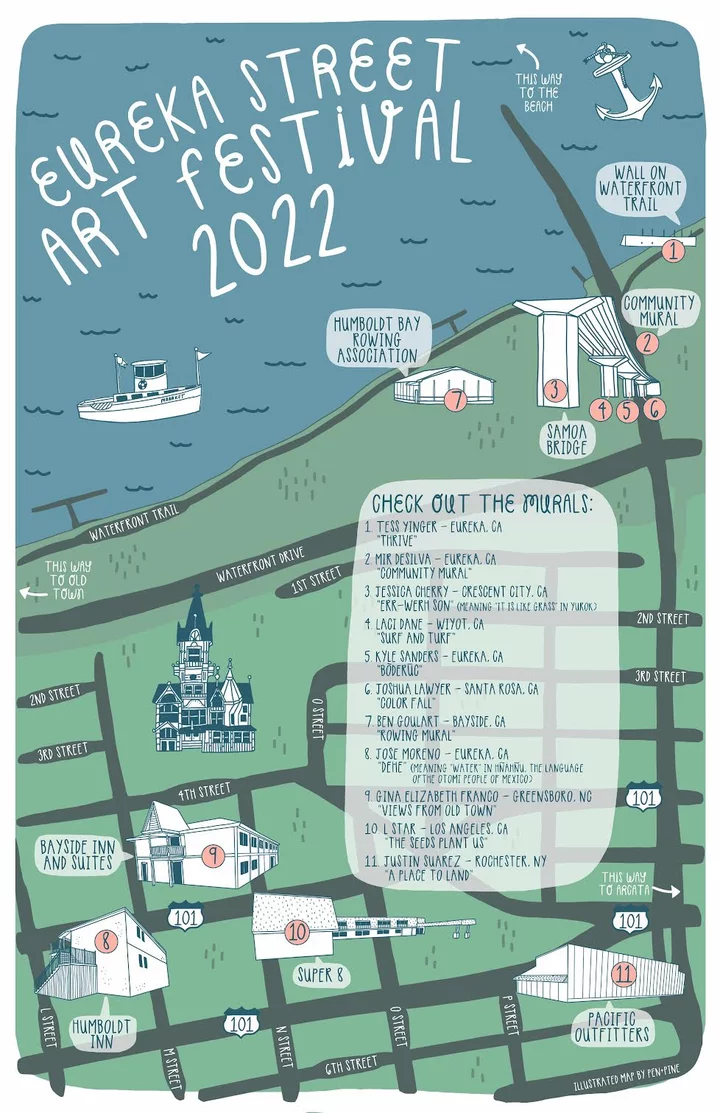 (Click here to enlarge)
Yay, art. Learn more about the Eureka Street Art Festival by visiting its website, or get hyped for this year's event by reading a release from organizers below:
This August 1-6, the Eureka Street Art Festival will be bringing 11 new murals to the Bridge District - from the 101 corridor on the north side of town to the waterfront.

2022 Mural Artists

This year we are welcoming artists from across the country. The 2022 Festival Artists include: Jessica Cherry (Crescent City), Laci Dane (Weott), Mir de Silva (Eureka), Gina Elizabeth Franco (Greensboro, NC), Ben Goulart (Bayside), Aerosol Kingdom (Rochester, NY), Joshua Lawyer (Santa Rosa), Jose Moreno (Eureka), Kyle Sanders (Eureka), L Star (Los Angeles), and Tess Yinger (Eureka).

For the week of the Festival, these artists will be painting murals under the Samoa Bridge, along the Waterfront Trail, and throughout the 101 corridor on the north end of the city. The Samoa Bridge Mural Project will transform the piers under the bridge, as part of the Clean California Initiative, in partnership with Caltrans. The four bridge artists (Jessica Cherry, Laci Dane, Joshua Lawyer, and Kyle Sanders) are creating colorful cohesive pieces inspired by nature. Mir de Silva will be bringing her colorful style to a community mural, where everyone can add their own piece during the Block Party on August 6th. Aerosol Kingdom will be coming from New York to paint a massive wildlife mural on the side of Pacific Outfitters. And watch the walls of the hotels on the north end of town for many new colorful pieces as well!

How to Enjoy the Festival:

Walk around the Festival area during the week Stop by the Festival HQ under the Samoa Bridge to grab a map!
Daily Art Walks at 5:30pm Attend curated Art Walks each day. Check the website and social media for meeting spots.
Support the Downtown businesses while you're out! Let's show some love to our local businesses throughout the week.
Attend the Block Party on Saturday, August 6th from 12-6, under the Samoa Bridge Enjoy the huge beer garden, listen to live music, eat tons of good food, watch artists work, shop from local vendors, work on the community mural, and check out the kids zone.