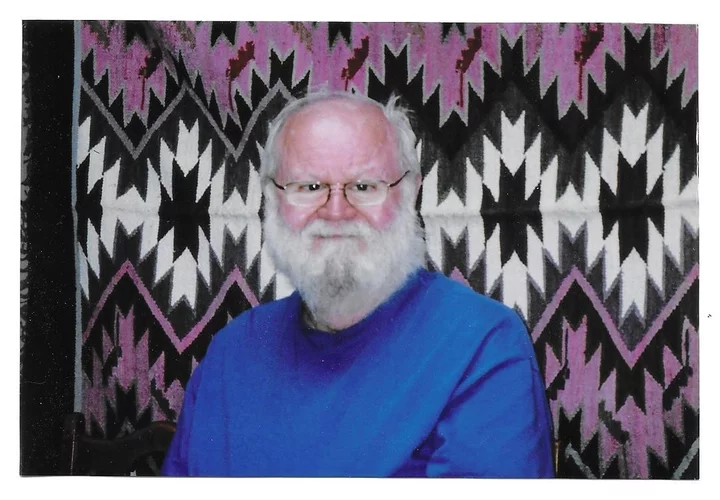 Winston James Kavanaugh
August 17, 1941-July 2, 2022
Winston Kavanaugh was born on August 17, 1941 in East Cleveland, Ohio. At that time, he was the youngest of four children. It might be hard to believe, since he began balding early, but as a child he had a head of long, curly hair. The family moved from Ohio to New York, then Arizona and eventually to California, where Winston grew up. He attended Hawthorne High School and then San Jose State College, where he graduated summa cum laude with a degree in English. He was a classy guy with a classical education!
Winston was a large man with a large personality. He was quiet at first glance but opened up once given the chance. When our grandson, Sean, then about three years old, he looked at his grandpa one day and said, "Boppa likes to talk" and a few minutes later "Boppa like to sit", and he was right. In earlier days, Winston was a great walker, and a fast walker. I was hard put to keep up with him, though our son, Aaron, could match his stride step for step. After retirement, except when travelling, Winston loved to sit in his recliner and watch tv…especially old movies and musicals. He had an amazing memory for motion picture trivia and appreciated everything about movies, from the writing and acting to the sets, lighting and everything else. Winston also loved classical music and had a large collection of vinyl records and cd's. He knew many of the songs and could sing along with his really nice voice. And, for a large man, he was a graceful ballroom dancer. He started late but took to it naturally and loved dancing at the Moose Lodge. He tried his hand at oil painting. Plus, he always loved writing, from love poems when he was wooing me to short stories and novels, two of which he self-published on Amazon: The Floating Island of Fear and its sequel, Sean and the King of the Munthees. These were fantasies written for his grandson, Sean, based on games Winston played with his siblings as a child. Even now, I'm finding some of his old projects and reading the typed ones although the hand-written ones are impossible to decipher.
Winston loved travelling with me, his wife, at home and abroad and visited almost 100 countries in his lifetime. His love of travel began with his stint in the Peace Corps as an English teacher from 1965-1967. He trained in Hawaii, which was an adventure in itself, and was then sent to a small town in northeast Thailand where he taught in the boys' high school. The one other Volunteer in his town (me) taught at the girls' high school, and we soon became good friends. After we both returned home, we married in 1967. Our son, Aaron, was born in Sacramento in 1971, where Winston worked in Adult Services at the Sacramento County Social Services Department, and our travels were curtailed until Aaron became old enough to travel with us. Then we took him with us to Thailand to visit our friends and memories in Loey, Thailand and then traveled the length of that country. Next we took Aaron to Hawaii and then Hong Kong. It wasn't long before Winston discovered cruising, and much of our travelling after that was on cruises, which are much less exhausting than overland travel. Among his favorite destinations were Cambodia, Burma, China, Japan, Africa, South America and the Amazon, Mexico , Great Britain, Europe and Scandinavia and the American Southwest.
Winston and his family moved to Humboldt County in the early 1972. He started work at the Humboldt County Welfare Department, starting as a Social Services Worker III and eventually being promoted to Staff Services Manager and Analyst and finally to Deputy Director of the Department, from which position he retired in 2003. He enjoyed his years in the Department and made many friends among the staff. So many of his former associates have commented on his humor and congeniality as a friend and supervisor. He played the role of Santa Claus at their annual Christmas Party and looked the part with his generous beard and round pink cheeks. He'd practice his "Ho, Ho, Ho's" diligently beforehand but always worried he forget "his lines"!
Winston leaves behind many friends and lovely memories and positively touched many lives. He also received much from the community, from his private and work-related friendships, and from the medical professionals who cared for him in his rough final years. We are especially grateful to the patient, skillful and caring staff at St. Joseph Oncology, to Dr. Leo Leer, and to the wonderful Hospice of Humboldt staff who guided us through the final days.
###
The obituary above was submitted by Winston Kavanaugh's loved ones. The Lost Coast Outpost runs obituaries of Humboldt County residents at no charge. See guidelines here. Email news@lostcoastoutpost.com.