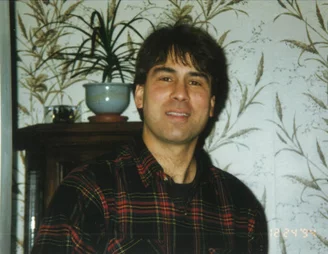 Scott Edward Messer Sr. died suddenly at home in Eureka on May 2, 2022 at the age of 65. We mourn his loss.

Scott was born on August 11, 1956 at the former Trinity Hospital in Arcata to Geraldine Lois (Petersen) Alden and Richard Allen Messer. He was the oldest of three brothers.
In his youth Scott served as church altar boy, president of his school's chess club, a member of DeMolay, unofficial signmaker for his high school and mentor to his brothers. At fourteen he taught himself to play guitar, which remained a passion throughout his life.
Recreational interests brought Scott and Company far and wide in pursuit of fishing, surfing, diving, boating, hunting, hiking, camping, backpacking and adventuring at Island Mountain, the Lost Coast, Mattole Valley, Ft. Bragg, Humboldt and Trinidad Bays, the Marble Mountains, Trinity Alps and points beyond. He was a strong capable outdoorsman with notable physical coordination.
A true renaissance man, Scott could construct or repair almost anything. He built his family's home in Arcata - including a first-rate treehouse for his kids and their friends! He also restored the family's cabin at Big Lagoon, the Sandpiper, where he and his brothers made lifelong friends and memories swimming, fishing, boating, exploring and building overnight bonfires on the spit.
Scott was a successful General Building Contractor, putting to use his extensive knowledge of local historical architecture in the construction and improvement of domestic and commercial buildings throughout the region.
A talented musician, Scott was a longstanding member of the Roadmasters Band, local favorites who played to packed crowds throughout the area and then the state as winners of multiple levels of the nationwide Country Showdown competition.
Scott moved seamlessly through contrasting social groups; adept at sampling dissimilar aspects of culture, he was at times the student/teacher/scholar/redneck/hippie/humble/audacious/casual/uptight/hero/villain. He was known for his profane/juvenile sense of humor.
Scott lovingly cared for and comforted multiple family members who preceded him in death. His father Richard Allen Messer, brother Richard Allen Gilliam (Messer), maternal grandfather Frank Alden and most especially his beloved maternal grandmother, Grace (Townsend) (Petersen) Alden, renowned herself as founder of Alden Ceramics in Arcata, California. Too many more family and friends passed on before him.
Scott is survived by his children, Scott Edward, Jr. (they were planning a fishing trip) and Whitney Grace (who will miss him at her graduation), each of whom is blessed with strengths, talents and the wit and intellect of his heritage - as well as his wife of many long years, Peggy. Scott's youngest brother and friend, Matthew (Ivone) will miss him fiercely. He is also survived by his cousin, James W.R. Smith, of Eureka. Jim, his children and grandchildren remained especially close through thick and thin; their compassion will always be remembered and appreciated.
Thanks also to special friends Lisa Pezzi Forrest and Cindy Vickers.
###
The obituary above was submitted by Scott Messer Sr.'s loved ones. The Lost Coast Outpost runs obituaries of Humboldt County residents at no charge. See guidelines here. Email news@lostcoastoutpost.com.