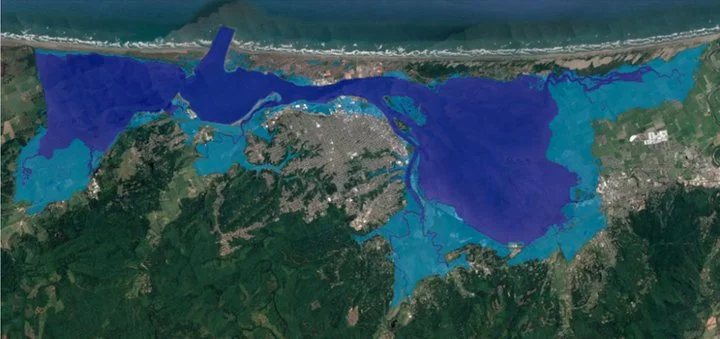 ###
Local coastal experts expect Humboldt Bay's shoreline to rise by as much as three feet in the next 40 years. One area of particular concern in the Humboldt Bay region is the Highway 101 corridor between Arcata and Eureka, a six-mile stretch of road that could be inundated by seawater if immediate steps are not taken to mitigate the impacts of sea level rise.

Caltrans District 1 staff are working to develop a Comprehensive Adaptation and Implementation Plan (CAIP) to protect and potentially realign the Highway 101 corridor to address anticipated sea level rise-related flooding hazards. Caltrans District 1 staff shared an update on their efforts with the California Coastal Commission this week.
"The Arcata-Eureka corridor is identified as a critical primary transportation hub because it's one of only a few alternate routes that we have, contains essential utility lines [and] residential, business and recreational amenities that can be affected by sea level rise and flooding," Clancy De Smet, climate change adaptation branch chief for Caltrans District 1, said during Wednesday's meeting. "The corridor is also vulnerable given its proximity to Humboldt Bay…most sections of the shoreline along [the corridor] are of high to moderate risk."
He added that the Humboldt County Civil Grand Jury issued a call to action for local decision-makers in one of its most recent reports, "The Sea Also Rises." The report notes that sea level rise will likely impact the Humboldt Bay region faster than other parts of the West Coast.
"For more than a decade local coastal professionals have studied the future impact of sea level rise around Humboldt Bay," the report states. "…For more than a decade, local coastal professionals have studied the future impact of sea level rise around Humboldt Bay. Their work, documented in several reports available since 2015, indicates that a two-foot increase in Humboldt Bay's shoreline will be possible by 2050, and a three-foot rise may occur as early as 2070."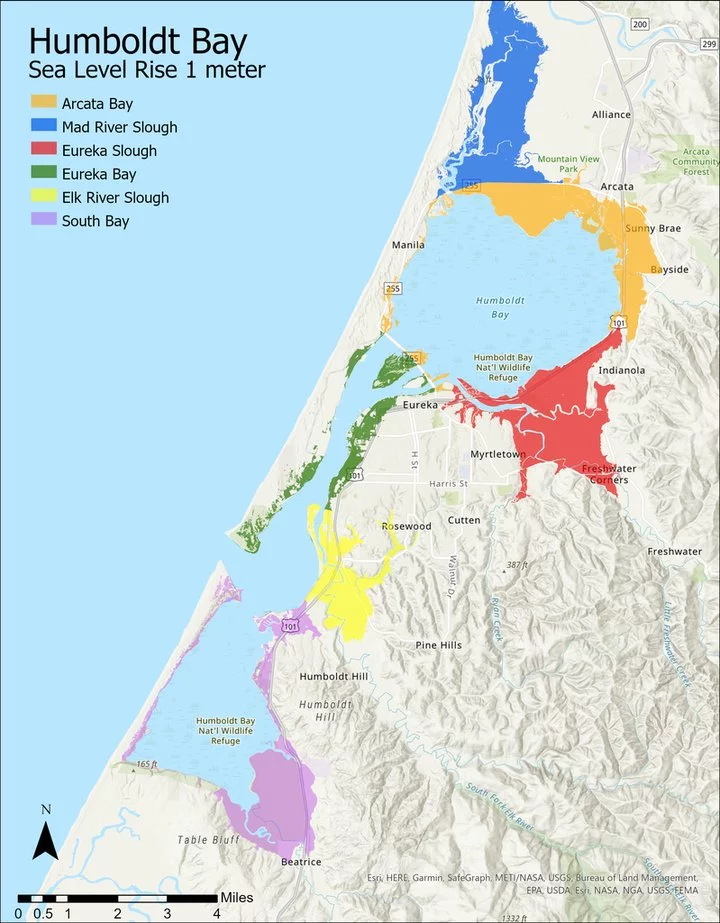 So far, De Smet and his team have collaborated with several local and regional groups, such as the Cal Poly Humboldt Sea Level Rise Institute, to work on data collection and develop potential strategies to address sea level rise.

"There are several adaptation strategies that we're exploring: protect, retreat [and] accommodate," he said. "The most promising approach will be a hybrid strategy."
The first strategy – protect – is a more flexible approach that would be implemented through several projects rather than all at once.
"Early investigation into this strategy has resulted in a concept that we refer to as the gradual progression of an earthen berm highway," Harrison Rankin, transportation engineer for Caltrans District 1, explained. "…It aims to avoid the use of hard armoring by simply raising the roadway prism with fill. The first initial project is estimated to have a construction cost of approximately $100 million, with subsequent projects costing approximately $20 million every 10 years."
Such a strategy would "result in the fastest project delivery timeline," he added.
The second strategy – retreat – would take a more extreme approach. "This would require a major highway realignment," Rankin said. "One such alternative that has been briefly evaluated is retreating U.S. 101 to Old Arcata Road. This alternative also has a high anticipated cost of approximately $1-3 billion, with significant community impact. The estimated number of affected parcels is likely to exceed 600 and alternative projects such as this would require very long project delivery timelines."
The most likely strategy would be a hybrid approach in which individual segments of the highway would be subject to "micro-realignment." Although there are an "infinite number of possibilities" with this strategy, Rankin said this approach would affect fewer residents, between 25 and 100 parcels.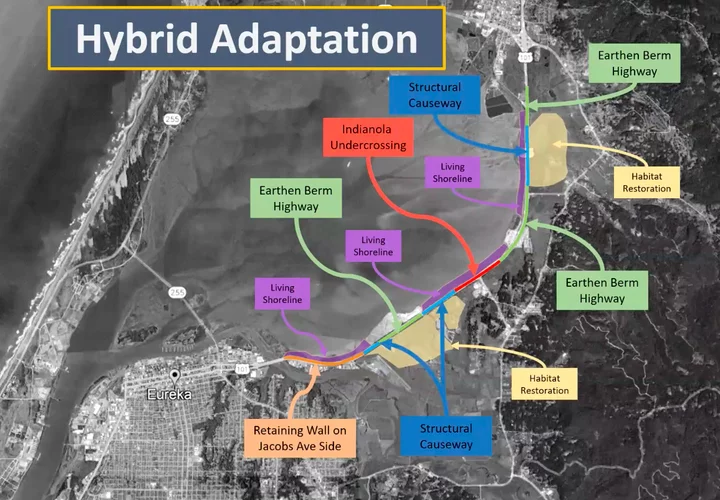 Commissioner and Third District Humboldt County Supervisor Mike Wilson asked whether staff had considered a cost analysis regarding the potential loss of services during construction.
"When you're saying that a couple of times a year some of the road might be closed for just a little bit here and there, is there some sort of cost analysis to [determine] how to adapt to those changes versus the assumption that we have reliability all the time?" he asked. "I think we need to think about that, in terms of what's the cost of what we're talking about here…and what's the cost of our adaptation to those changes?"
De Smet said he and his team "are considering those contingencies," noting that Caltrans has adopted similar strategies for the Garcia River in Mendocino County. "[It] periodically shuts down due to flooding," he said. "These are things that we're considering, and we are considering behavioral changes and ways to adapt to these things."
Commissioner Sara Aminzadeh commended Caltrans staff on the progress they have made in the last few years, noting "a lack of coordination between various agencies, sea level rise projections and best practices" during a previous discussion in 2019.
"The presentation we just saw reflects a huge step forward," she said. "I think, while some details are still being worked out, [it] really will hopefully result in a project that not only results in a good safe stretch of highway but can also benefit natural resilience in a way that reflects community desires around the bike path and other aspects."
Commission Chair Donne Brownsey underscored the importance of acting quickly to address sea level rise along the 101 corridor, noting that it is "just beyond critical" to the region.
"I mean, all the highways are important, but I'll tell you that one…I just shudder to think because it is major north-south and it's the way to Oregon as well," she said. "And then the local traffic because so many Arcata and Samoa and Eureka communities utilize that [roadway] every day."
Brownesey did express concern for "spending time on temporary options," such as the "protect" strategy Rankin had presented. "The more permanent options are going to take decades and decades. …We know that we're already way behind."
The commission accepted the report but did not take a vote on the item.
You find a full recording of Wednesday's meeting here.