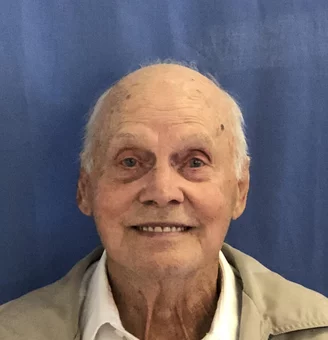 Edward Darrow Sanderson was born August 7, 1929 in Whitesboro, Oklahoma to William Mcferdeson Sanderson and Minnie Josephine Bell. He passed on to Heaven July 19, 2022 in Rio Dell, just a few weeks before his 93rd birthday. As the family moved numerous times in the 1930s and 40s, he was raised and attended schools in both Whitesboro and Rio Dell. Many times he told us of the one-room school house he went to here in Metropolitan. He married our mother, "Pug," Alsie Isabel McCoy, in 1948 at the Poteau, Oklahoma justice of the peace. Money was scarce, so Mom had to sell a pig to pay for the marriage license.

About 1949, he and his older brothers Jack and Murdo found jobs in the forest industry, starting at a sawmill in Forest Knowles, California. They began felling timber in Sonoma, Mendocino and Humboldt County until their retirements in the 1970s. All three brothers, after becoming Christians at Orick in the late 1960s, became pastors. Dad served as our pastor here at the Rio Dell Baptist Church from 1970 until 1991. He and mom then returned to the Talihina-Whitesboro, Oklahoma area where he continued to pastor churches in Le Flore County, Oklahoma.
After mom's passing to heaven in 2000, dad then survived kidney and prostate cancer. He came back to Rio Dell to live with us (Rod and Melodee) in 2006 until his appointment in Heaven with Jesus, Mom, Ronald and Chandler, just to name a few.
The Lord touched many lives through Pastor Darrow, known as dad, papa, big papa, uncle Sonny, grandpa, great-grandpa and great-great grandpa both here and in Oklahoma. We haven't lost him. We know where he is, and by knowing Christ as Lord and Savior we will see him and them again — soon.
Dad is survived by: his sons Rodney (Melodee) Sanderson and Roger (Debi) Sanderson; grandsons Mike Sanderson, Ronnie (Meggan) Sanderson, Eli Sanderson, Ben Sanderson (Tiana), Brandon Sanderson (Sasha), Bryan (Malynda) Sanderson; granddaughters Gina (Bret) Lamb and Michelle (Arron) Lee; great-grandsons Chase Dominguez, Caleb Lee (Macie), Cayden Lee, Talon Sanderson, Korbin Lamb, Damien Sanderson, Mykah Sanderson, Wyatt Sanderson, Tucker Sanderson, Sheaden Kadle and Eli Sanderson; great-granddaughters Teyah Sanderson, Kaylee Lamb (Dillon), Bekah Sanderson, Bailey Sanderson, Bryce Sanderson, Jayden Sanderson, Alsie Sanderson and Clover Sanderson; great-great-granddaughters Marley Dominguez and Evalynn Pickard; great-great-grandson Dwayne Pickard, also many and numerous, are the much-loved nephews and nieces. He is preceded in death by his parents, our mom "Pug," son Ronald, grandson Chandler and grandson Christopher. Forgive us if we overlooked anyone, pleas …
A memorial service will be at 1 p.m. on Saturday, July 30, 2022 at Rio Dell Baptist Church, Rio Dell and Butcher streets, Rio Dell. A pot luck reception in the church fellowship hall will follow. A great "thank you" goes out to the doctors, nurses, social workers, care givers and hospice counselors for taking excellent care of our dad, Darrow.
###
The obituary above was submitted by Darrow Sanderson's loved ones. The Lost Coast Outpost runs obituaries of Humboldt County residents at no charge. See guidelines here. Email news@lostcoastoutpost.com.