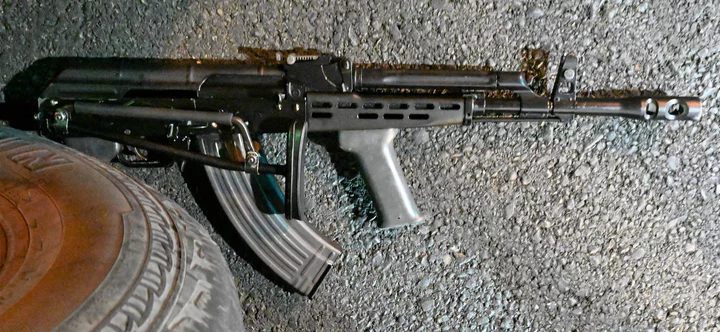 PREVIOUSLY: Buhne and Harrison Fully Blocked Following High-Speed Chase, Reportedly With Shots Fired
###
Press release from the Humboldt County Sheriff's Office:

The Humboldt County Critical Incident Response Team continues its investigation into a pursuit and officer-involved shooting last night in Eureka.

During this investigation, law enforcement has located evidence indicating the discharge of a weapon on the 5000 block of Vance Avenue and the 3300 block of Utah Street.

The primary suspect, who is believed to have fired numerous times at pursuing peace officers, has been identified as 32-year-old Jared Eli Aubrey of Eureka. Aubrey is on parole for multiple firearm possession convictions, in addition to convictions for assault, battery and the sale of controlled substances. He has an extensive criminal history involving multiple violent offenses. Aubrey was a passenger in the suspect vehicle during the incident. It is believed Aubrey utilized an AK- 47 variant semi-automatic rifle with a detachable high-capacity magazine during this incident. The firearm was recovered at the scene of the traffic collision on Buhne Street and Harrison Avenue.

Following the traffic collision, Aubrey was taken into custody and booked into the Humboldt County Correctional Facility on charges of attempted murder (PC 664/187(a)), felon in possession of a firearm (PC 29800(a)(1)) and violation of parole (PC 3000.08(c)).

The driver of the vehicle, 27-year-old Darrike Miles McKeown of Eureka, is also on parole for a vehicular manslaughter conviction and was found to have an active warrant for violation of this parole. McKeown sustained a minor injury as a result of the traffic collision. He was transported to a local hospital for medical treatment and then was booked into the Humboldt County Correctional Facility on charges of evading a peace officer (VC 2800.2) and violation of parole (PC 3000.08(c)).

Additional charges may be requested by investigators for both McKeown and Aubrey pending the results of the ongoing investigation.

A third occupant of the vehicle was detained, interviewed and released at the scene.

Two Sheriff's deputies involved in this incident have been placed on routine paid administrative leave pending the outcome of this investigation. Involved deputies will be identified within the timeframe as required by law in a future information update.

The Humboldt County Sheriff's Office would like to thank the following agencies for their assistance with this investigation: Humboldt County District Attorney's Office, Eureka Police Department, Arcata Police Department, Fortuna Police Department, Cal Poly Humboldt University Police Department, California Department of Fish and Wildlife, California Highway Patrol and the California Department of Justice.

This is still an active investigation. An additional information update is anticipated next week.

Anyone with information about this case or who may have witnessed any portion of this pursuit or sustained property damages as a result, should contact the Humboldt County Sheriff's Office at (707) 445-7251, reference case number 202203774.