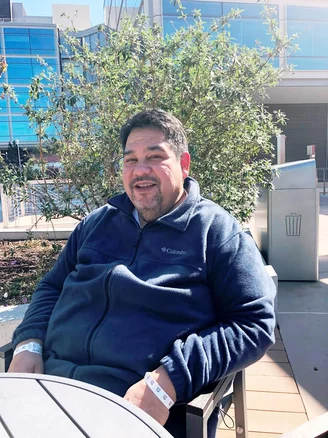 Steven Ray Kaleookuualohapoinaole Cordero passed away on June 16, 2022.
Steve, as he was known by loved ones and friends, was born December 10, 1961, in Wailuku, Hawaii on the island of Maui. He moved with his family to Eureka, California when he was two, but would continue to visit Hawaii and live for extended periods of time with family in Maui throughout his life. He graduated from St. Bernard's High School in 1980 and then CSU Chico, in 1992. After graduating Chico State, Steve moved to the Bay Area to work for Sprint PCS. Work then took him to New Mexico, where he continued to be employed by Sprint PCS, and later went on to work for Intel and Intuit. He moved back to Eureka after five years to help care for his parents. In 2001 he gained employment with Humboldt County Social Services as an eligibility worker. Over the next 21 years he steadily promoted, with his final position being a Supervising Staff Services Analyst. His "work family" became his second family to him, and he enjoyed providing leadership and guidance to them and watching them excel and grow. Steve was planning to retire in February of 2023 and moving to the Seattle, Washington area once his wife, Casey Cordero, retired.
Steve enjoyed playing football for Jacobs Jr. High and St. Bernard's in his youth. He also enjoyed hanging out with his friends and creating havoc around the Eureka area. He always looked forward to his annual "guy" fishing trips to Lake Sonoma with his best friend Dennis Clark of Eureka and their circle of friends. This tradition lasted over 20 years, nearly the same amount of time he was in his fantasy football league (his team won this year). Steve also liked having his friends over for poker games and potlucks. He had a passion for cooking, with Filipino, Hawaiian, Malaysian, and Chinese cuisine being his favorite dishes to prepare. He would also want it remembered that he took first place several times in the annual cookie baking contest at his workplace. In addition to fishing for salmon, crabbing, and just being out on the ocean, Steve loved spending time with Casey and their children, Hannah and Kaden. Steve was so proud of how the children grew into such kind, wonderful, and mature young adults. Steve and Casey traveled the West Coast and spent time in Maui and Seattle, and had plans to visit the East Coast, Canada, and Europe in the future.
Steve's love of football is what brought him and Casey together. In 2001 they met, while they were both working for Humboldt County Social Services. Steve was a loyal 49ers fan, and Casey was a die-hard Seahawks fan. They made a bet when their teams played, and the person supporting the losing team would have to buy the other lunch. It was the only time Steve was not upset about his team losing. The two were married in July of 2006 and would have celebrated their 16th anniversary on July 29th.
Steve is survived by his wife, Casey Cordero and their children, Hannah and Kaden Underhill of Eureka; his brother Richard Cordero and his wife, Leilani of Kula, HI; sister-in-law Imogene Cordero of Kahului, HI; brother-in-law Gary Redenius of Kihei, HI; and over 100 nieces and nephews throughout Humboldt County and Maui.
Steve was preceded in death by his parents, Robert and Mary Cordero; his brother Robert U. Cordero; sisters Janet Souza and Cherlyn Cordero-Redenius; brother-in-law James Souza; and sister-in-law Johanna Cordero.
Steve will be remembered for his ability to make a friend wherever he went and his love of telling stories. He could hold a conversation on everything from obscure zombie movies to football to fishing and everything in between. His good nature and smile were infectious, and anyone who knew him would not be surprised by his love of polar bears. When it came to Steve, that just made sense. Steve was also known for his fairness, kindness, and being one of the "good ones." He will be missed. He will be loved. He will never be forgotten.
A Celebration of Life will be held Saturday, July 30, 2022 at 2 p.m. at the Wharfinger Building in Eureka. Steve's family would love for you to join them and share your favorite stories and memories of Steve.
###
The obituary above was submitted by Steve's loved ones. The Lost Coast Outpost runs obituaries of Humboldt County residents at no charge. See guidelines here. Email news@lostcoastoutpost.com.