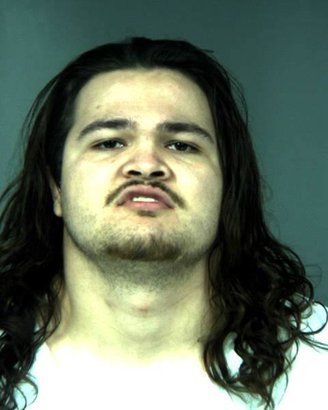 A jury has convicted Hoopa resident Gearold "Roldo" Sotolongo of second-degree murder for the February 2016 killing of Roger Alan Yale, stabbed in the heart as the two men scuffled outside the mini-mart and gas station in Hoopa.

Jurors also found the 31-year-old Sotolongo guilty of the special allegation of personal use of a knife, a conviction that could add time to the standard second-degree sentence of 15 years to life. The verdict was announced about 11:30 a.m. today, the third day of deliberation

Sentencing is scheduled for June 24.

Jury forewoman Bambi Ward-Roller said outside court that jurors felt Sotolongo's crime did not amount to premeditated first-degree murder, but it also wasn't self-defense.

Yale was carrying a stick when the confrontation began, but he never acted aggressively and was trying to avoid a fight, Ward-Roller said. And when Sotolongo testified, he didn't claim he feared for his life.

"We never heard him say that once," she said.

Sotolongo testified he was aware Yale was carrying a knife. During the autopsy the knife was found folded in the back pocket of Yale's pants. As for the knife used to kill Yale, Sotolongo testified he found it under a bridge and gave it away after the stabbing.

The fatal incident was captured on video tape, beginning with Sotolongo and four other people following Yale and challenging him to meet them behind the gas station. Yale weaved in and out of cars and gas pumps, trying to get away from them. He was heard saying he didn't want to fight.

"We ran that video tape like nobody's business," Ward-Roller said. Jurors discussed at length the difference between first- and second-degree murder before reaching their decision.

Yale's father, Jon Yale, was furious this morning. He drove to Eureka from Orleans to attend every day of the trial.

"I don't think it's fair," he said. "He murdered him. Straight-up first-degree murder."

And the father told Deputy District Attorney Jessica Watson, one of the trial prosecutors, that Sotolongo is guilty of "flat-out murder."

Roger Yale, 30 when he was killed, was the oldest child of Jon Yale and his wife.

Jury forewoman Ward-Roller said it would have been helpful if another person in Sotolongo's group had testified to what they saw that morning.

"We needed to hear from even one of them," she said. At least one of the group has died since 2016, and another is in prison.

Watson and Deputy District Attorney Roger Rees were the trial prosecutors, with appointed attorney Zack Curtis defending Sotolongo.

Sotolongo has spent the past six-plus years in Humboldt County Correctional Facility and has been involved in numerous physical fights with other inmates.
Judge Larry Killoran presided over the trial.
###
PREVIOUSLY: