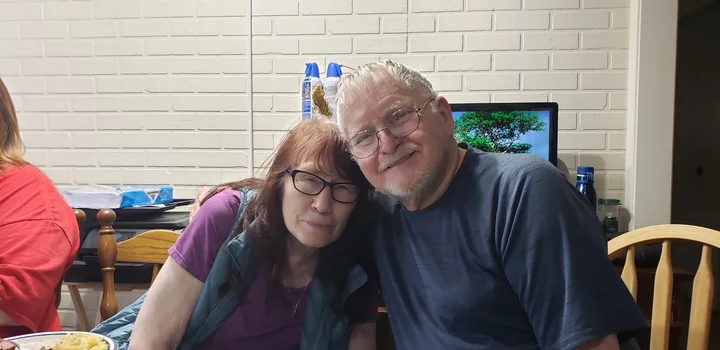 Donald Scott Collins, was born in Monrovia, Calif. on February 24, 1935 to Abraham Lincoln Collins and Sara (Sally) McIntire. Scott, as he was known to his family and friends, will always be remembered as one of the most generous and forgiving men to those who really knew him. Those who also knew him will always chuckle when they think of his sense of humor, his laugh and his stubbornness.
Our dad loved to tell stories of his childhood growing up in Whittier, Calif., surrounded by avocado orchards and filled with family adventures with his three younger siblings, Mary (known to family as Marny because he couldn't pronounce Mary at a young age), Karen and Lee. Scott joined the Air Force at the age of 21. He had one short marriage which gave him his first daughter, Sherry, and ended during his first enlistment. Eventually the Air Force brought him to San Jose where, attending the Salvation Army church with a friend, he met his best friend and the woman he would be married to for the rest of his life, a young Dutch woman named Theodora Prins. Their time together in the Air Force brought them and their growing family to New York, New Mexico and Michigan. For a time, Scott served in Okinawa and Thea and he sent each other letters every day for more than a year. He spent over 13 years in the Air Force in all and they enjoyed their life together on military bases as they had their first four children together, Kevin, David, Sheryl and Dorian.
In 1972, Scott's father and brother-in-law, Bill Sauer, purchased a McDonald's franchise in Eureka and offered Scott a position running the business. Scott and Thea moved to Eureka that year. Over the next 20 years, Scott ran the business as a generous and kind employer. They brought three more children into the world — Galen, Mark Aaron (who passed at birth) and Loren. Scott and Thea's long commitment to their faith led them to be involved in a few local churches, including the Salvation Army, Arcata First Baptist, Faith Center, Gospel Outreach and in their later years, Life Church. In many of these places they served as deacons, youth leaders and long-term members.
Their faith and compassion often saw them giving to many out of their own need. They are known for giving away cars, rooms in their home, endless amounts of food and a place for many to land on their feet. They are known for having more than 20 different people living in their home over the years, beyond their own large family. Notably, two nephews, Frank and Billy Prins, lived with the family for more than six years. After McDonald's sold and they found themselves with much less income, Scott provided for his family through working as a screenprinter, landscaper and managing thrift stores for the Salvation Army. They continued to give to others out of their own need with holidays often seeing 20-30 people in their home on Walnut Drive in Cutten. There was always enough food and enough room for anyone without a place to be.
Scott loved his family and loved to be surrounded by them for meals or even better, camping out by Willow Creek, Ruth, Mendocino or in the redwoods. Many of our fondest memories will be out in those spaces with so much camping equipment we could barely fit in the car and it felt more like home. He is survived by his wife of 57 years, his siblings, seven children, 15 grandchildren and eight great-grandchildren. In his final days, he mentioned excitement about seeing his grandson Elias and his son Mark Aaron again, both having preceded him in death.
A special thanks from our whole family is owed to Dorian and Nanci Collins as they moved here, prepared a place for Scott and Thea, and cared for them for the last four years.
Scott often spoke of the times they were able to help people, and the many loving members of his family with pride and as the best investments of his lifetime. On May 6, 2022, at the age of 87, Scott felt this same love when he was surrounded by many of them, including his brother Lee and wife Susan. Scott spent his final day in a family home and his last strength and efforts were dedicated to making eye contact and expressing his love to family members and friends, including his pastor Bob Sirine. One of his final efforts was to reach for his brother's hand and hold it, hours before he passed in his sleep in the company of his eldest son, Kevin. Our family is grateful to Hospice, the PACE program, and Agape Home Care for their support in his final years. Thank you to Ayer's Family Funeral Services for handling arrangements. We are forever grateful to our dad, he taught us so much about love, generosity and what truly matters. Dad, you fought the good fight, you kept the faith, and you finished the race.
A memorial service for Scott will be held at the Elk's Lodge in Eureka, on Sunday, July 24th, at 10:30 a.m. Lunch will be provided so please RSVP through text to his son Loren at 707-502-8844.
###
The obituary above was submitted by Scott Collins' loved ones. The Lost Coast Outpost runs obituaries of Humboldt County residents at no charge. See guidelines here. Email news@lostcoastoutpost.com.