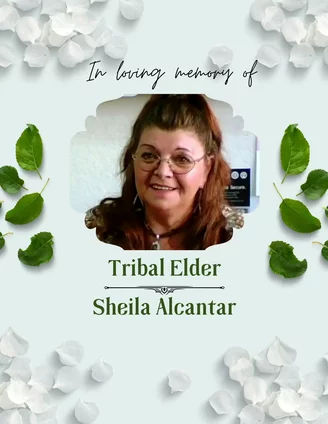 The family and friends of Sheila Alcantar are sad to announce that she passed away peacefully on Wednesday, June 15, 2022 at the age of 69 years old.

Sheila was born on July 13, 1952 in Eureka to Calvin Lavern Sand I and Lucy Vitta Wilkinson Sand. She was a proud member of the Bear River Band of the Rohnerville Rancheria Tribe.
She grew up in Humboldt County spending most of her younger years in McKinleyville, graduating from McKinleyville High School. As an adult she moved to Orland where she raised her son Tony and niece Sarah who she came to know as her only daughter. She moved back to Humboldt County in 2002 where she lived with her brothers Calvin (Bubby) and William (Billy) in McKinleyville. In 2018 Sheila's grandson Izaiah became part of their home. In 2019 she, her brother Bubby, and Izaiah moved to Eureka, where she resided until her passing.
Over the years Sheila held many jobs. One of her most enjoyable jobs was the time she spent working at Northern California Indian Development Council (NCIDC). Not only did she love the people she worked with, but she also took great pride in working with her native culture.
Sheila loved to ride horses. Baldy was the name of her horse, and she would often take off riding all day long up Bald Mountain near McKinleyville. Sheila loved animals as if they were her children. Not only did she raise many cats over the years that were part of her family, she would also feed any stay cat that needed a place to eat. Sheila's love and dedication to taking care of cats deemed her the title "Cat Lady", a title she wore proudly. Ms. Priss, who passed away two days before Sheila, was one of those fortunate stray kitties that Sheila took in over 10 years ago and gave an amazingly spoiled life to. Most recently Sheila befriended a raccoon that she named Rosie that provided her many hours of joy, companionship, and true happiness.
Our beloved Sheila was one that had the gift of gab. She would befriend strangers and not long after, they would be added to her list of many friends. She would often tell her brother stories about her new friends and when asked what their name was, she would reply with "I don't know their name, but they are still my friend."
Sheila had a wonderful personality that drew many people to her. Her laughter inspired others to laugh along with her. She was such a joy to be around all the time with her big smile.
Sheila loved to take long walks on the beach with her nephew Casey who was her best buddy and when he passed in 2003, she missed him dearly. There is comfort in knowing that she is now able to be with Casey again, returning to their long walks on the beach together.
She loved all her grandchildren with all her heart. She enjoyed hearing their stories and spending as much time as possible with them. She was always so proud of them, they were her pride and joy.
Sheila lost her only son Tony in 2021. With a broken heart, her health continued to deteriorate. Sheila and Tony are forever united in happiness again.
Sheila was preceded in death by her son Tony Sand, her parents Calvin Lavern Sand I and Lucy Vitta Wilkinson Sand, her stepdad Rodney Walker, brother Billy Sand, and nephew Casey Sand.
She is survived by daughter Sarah Sand Orr (Dylan), sister Shay Freeman (Wendy), brother Calvin (Bubby) Sand, sister Marlena Barrow (Russ), brother Dennis Sand (Norma), grandchildren Mercedes (Coleman), Isaac, Zeila, Izaiah, Adia, Ace, Abby, and great grandchildren Emmitt, Lincoln, and many nieces, nephews, and cousins.
Sheila will be missed by all that knew her. The family would like to express a heart felt thank you to all the staff at St. Joseph Hospital, especially the nurses for all the care and comfort provided to Sheila in the last days of her life.
A celebration of life will be held at a future date.
The Family of Sheila Alcantar
###
The obituary above was submitted by Sheila Alcantar's loved ones. The Lost Coast Outpost runs obituaries of Humboldt County residents at no charge. See guidelines here. Email news@lostcoastoutpost.com.