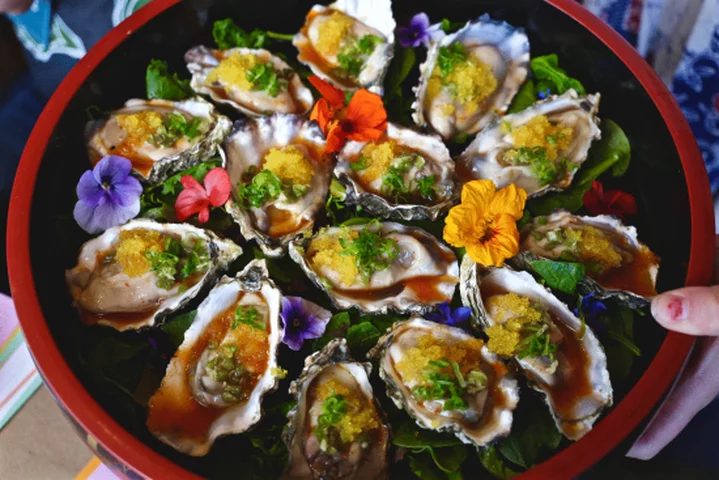 Arcata's first real Oyster Fest in two years left many Humboldters feeling dissatisfied this past weekend due to long lines, new admission costs and a limited number of vendors.

Despite the negative reviews, stand-in Oyster Fest organizer "Shoshanna" Anthony, who prefers to go solely by "Shoshanna," told the Outpost that Arcata Main Street did the best with what was available this year.
"This was a comeback year of pulling pieces back together again," Shoshanna said. "It's a massive effort to get a large event back together. Oyster Fest means a lot to people and we're sorry that people were frustrated. Everyone [involved in planning the event] worked super hard and did their best on all fronts."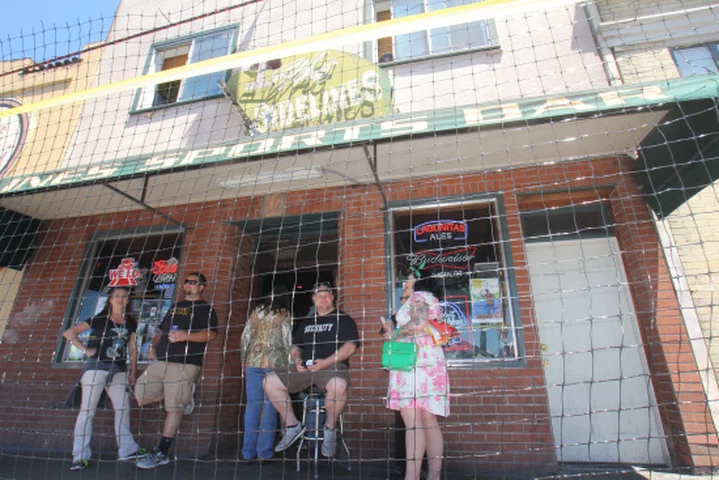 Long lines, drunken behavior and irksome, ever-changing regulations — like plastic fences wrapped around the Plaza — have long made Oyster Fest a subject of local drama. But resurrecting the event after a pandemic-induced, two-year hiatus that included one failed online event in 2020 and the complete resignation of Arcata Main Street's previous Board of Directors presented an entirely new set of challenges for the local nonprofit.
"The online event lost money due to live-streaming expenses," Shoshanna said. "We had the live-stream capacity to have around 80,000 viewers. It was a little overkill considering we had several hundred."
With little-to-no budget, limited vendor resources and no way of knowing what restrictions would be in place in June, a new and mostly inexperienced AMS Board of Directors began planning the 2022 Oyster Fest in December.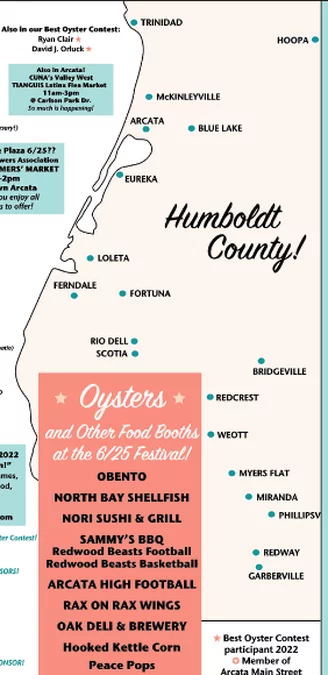 After some deliberation, the board decided to downsize the event by reducing capacity from 15,000 people to 5,000. This included moving the event from the Arcata Plaza to a nearby field in the Creamery District, and scattering people throughout Humboldt County by encouraging them to celebrate at designated restaurants instead.
"Restaurants have been so short-staffed that the idea of staffing and running an oyster booth is not something 90 percent of the booths from past years want to do," Shoshanna wrote in an Oyster Fest response letter for the Mad River Union earlier this month. "Prices are up in all areas for us too, and due to having to plan at least six months ahead, it's been very important to have the event somewhere we can handle the logistics with a much smaller team, with a controlled capacity."
Encouraging festival-goers to eat their oysters at Humboldt restaurants was also supported by many local business owners, like Meredith Maier of Six Rivers Brewery in McKinleyville, who was unable to attend this year's festival due to staffing shortages.
"Every restaurant in the county is incredibly understaffed," Maier told the Outpost. "I saw a ton of tourists come through [my restaurant] on Friday and Saturday. I commend them for putting on such a hard event. My heart hurt that they got backlash. They put so much love and effort into it."
In addition to downsizing the festival, the board also agreed to add a $15 entrance fee to subsidize the event costs and help AMS recoup its budget after the COVID-19 shutdown. The fee was one of the most common gripes among festival attendees, who noted that the added cost didn't alleviate the festival's notoriously long lines.
The long lines, Shoshanna said, were an unintended result of the board's "zero waste" concept for this year's festival. Unlike past years, the 2022 Oyster Fest avoided single-use plastic cups by switching to reusable steel cups that were included with each entrance ticket.
"We made a big commitment to zero waste, which had a couple of repercussions," she said. "Beer lines usually use plastic cups and servers just have them ready and hand them to people. Having to get each personal cup refilled probably took a little longer."
Shoshanna said that the board is well aware of the public's criticisms of this year's event but said that any future changes will be up to the new AMS executive director. The nonprofit is currently in the process of filling the vacant role and hopes to hire someone by the end of the summer.
With this year's Oyster Fest complete, Shoshanna is stepping away from her temporary, title-less role with AMS, which she referred to as "duct tape during the pandemic." While Shoshanna said that she was hurt by this year's negative reviews, she said that she still plans to be involved with Oyster Fest in a limited capacity and is encouraging other local community members to volunteer and get involved in the process.
"I was kind of crushed, but I feel much perkier today," she said. "I feel that everyone's gotta give each other a little grace. For goodness sake. Things like local organizations, events committees and government boards are stretched thin and welcoming people to participate. Jump in and help. We made Oyster Fest as beautiful a day as we could, and I'm so proud of everyone who brought their energy. It was a comeback event and we look forward to making it bigger and better."