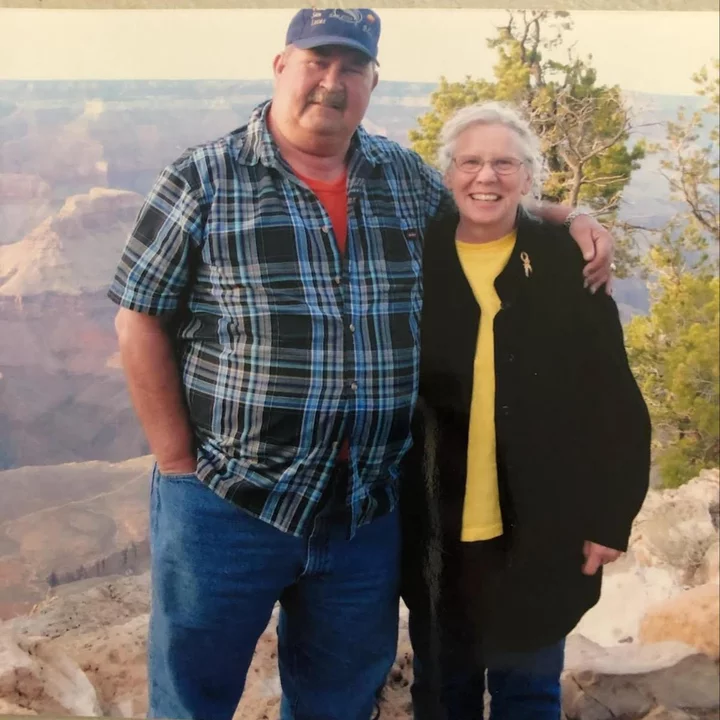 It is officially the end of an era. On June 10, 2022, loving husband, father, Papa, Great Papa, brother, friend, and mentor to so many, Richard Mayton, passed away at his home in Eureka while surrounded by his family. He was 81 years young. Richard was preceded in death by his beautiful wife and lifelong co-conspirator, Nina Mayton. She passed away peacefully, also surrounded by her family, on October 18, 2017.

Richard and Nina are survived by their three daughters, Debyra (Bill) Herndon, Cyndi (Tad) Sundquist, and Jennifer (Zac) Dalton. They are also survived by their beautiful and much-adored grandchildren, Sara and Michael Herndon, Trevor and Trey Sundquist, and Spencer Estelle. They were also blessed and survived by two great-granddaughters who lit up their worlds, Lily Herndon and Ava Herndon.
Richard was born in 1941 in Ashdown, Arkansas to Ethel and Robert Mayton. He was one of 11 children. He is survived by his sister, Deneta Cochran of Texas, and by his brother Roy Mayton of Arkansas. He was preceded in death by eight siblings. Nina was born in 1943 in Paso Robles, California to Stella and Larnce Newell. She was preceded in death by her sister, Ilene Sheldon of Washington and is survived by her sisters, Nadine Johnson of Oregon and Kay Hubbard of Arizona. They are also survived by numerous nieces, nephews and other family members.
Nina and Richard (Mom and Dad) married on May 16, 1959. They were inseparable, and together, they were a force to be reckoned with. They focused on raising their three daughters and provided them with rich and fulfilling life experiences that were centered on family. Mom and Dad always wanted their girls to have more than they themselves had growing up, and they made that a priority.
To provide for his family, Dad went to work in the sawmills of Humboldt County where he met many of his lifelong friends. While mill work supplied a good living for his family, it was not his true passion. He found his passion in the late 70s, when he became involved with the Humboldt County Sheriff's Department. He volunteered in both the Marine Posse and the Mounted Posse. When the mills closed down, Dad embarked on a new and challenging journey. He attended the College of the Redwoods Police Academy. He did so later in life and joked that he attended college with his daughters (Debyra and Cyndi).
Upon graduation from the Academy, Dad was officially hired as a Deputy Sheriff. It is an understatement to say that law enforcement was the career of his lifetime. He loved the Sheriff's Department, the camaraderie of his colleagues, and the people of the communities that he served. He spent many of his years in the Bridgeville area as a resident deputy, where he was known to be kind, compassionate, and fair. He worked for five different sheriffs during his tenure in the Department, the first being Sheriff Gene Cox who was his mentor and friend.
Mom was a hardworking powerhouse as well, and she was a woman before her time. She managed the sporting goods departments for numerous stores, including Disco, Bazaar, Longs Drugs and Pro Sport Center. She was the woman who knew everything there was to know about guns, ammo, hunting, and fishing, and she was admired and respected by her customers for her kindness, skills, and knowledge. She had an award-winning smile.
Music was always a big part of the Mayton household. Many weekends were spent having jam sessions in our living room. Various friends and musicians would show up to "pick and sing." There were usually two fiddle players, Dad on guitar, and a host of other musicians in attendance. Classic country was always on the playlist, and the Orange Blossom Special usually ended the night. While Mom wasn't a musician, she was quite the dancer, and while folks were playing and singing in the living room, she and her girls would be having sock hops in the kitchen. They learned to Jitterbug from the best. It was always a time of good feelings and good friends.
When Dad accepted the Resident Deputy position in Bridgeville, Mom and Dad moved to the country and enjoyed life on the ranch. The entire family agrees that the Deerfield Ranch years were the best years of our lives. Mom and Dad thrived in the country, raising horses and chickens. There were always ponies for the grandchildren. They also occasionally befriended wildlife, including a raccoon and a stray porcupine that they named "Slick". Dad stocked the pond with trout for the grandchildren. Mom tended to the animals, rode horses, planted incredible flower gardens, and took up wreathmaking from the treasures that she collected from the ranch. She also became an outstanding woodworker and enjoyed refinishing antique furniture.
Mom was an amazingly talented seamstress who created costumes for the Nutcracker Ballet and Halloween costumes for all of her grandchildren. Usually at least one grandchild per year chose to dress like "Papa" (as a Deputy or an old-time black powder hunter). Dad made chairs out of stumps for everyone and put them around a huge bonfire pit. He would play guitar and everyone would roast hotdogs and marshmallows and sing old country songs. Each grandchild had a favorite song that they would request, and Dad was always happy to oblige. There was lots of love and laughter when Mom and Dad hosted gatherings with their family and friends at the ranch.
Mom and Dad will always be loved and cherished by all who knew them, family and friends alike. They were generous, funny, loving, and kind people who left a positive mark on this world. They will be truly missed, which is a sign of lives well-lived. Their souls have reunited; may they fly with angels and be at peace.
In lieu of flowers, the family requests donations to Hospice of Humboldt whose entire staff was incredibly dedicated, kind, and compassionate to Mom, Dad and the rest of our family during their final days. Donations may also be made to your favorite charity.
The Mayton family's world will be a darker place without Mom and Dad; however, the light, joy, security, and goodness that they provided will live on through each and every one of us as we navigate our way forward without them. We invite you to join us in a celebration of their lives on July 9, 2022 from 1-4 p.m. at the Eureka Elks Lodge, where Dad was a member. Please feel free to share your favorite memories and stories, which we know are in abundance. There will be food, community, and likely a whole lot of tears. We hope to see you there.
###
The obituary above was submitted by the Maytons loved ones. The Lost Coast Outpost runs obituaries of Humboldt County residents at no charge. See guidelines here. Email news@lostcoastoutpost.com.