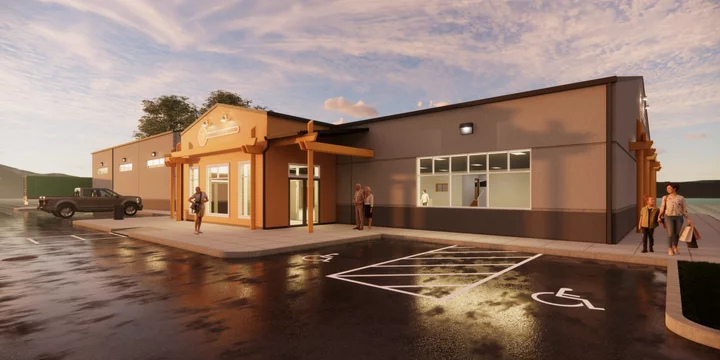 ###
If you've traveled down Waterfront Drive or spent any time on Eureka's waterfront trail in the last month, you may have wondered what's going on with that newly laid foundation near the Wharfinger Building. As it turns out, the site is the future home of Englund Marine & Industrial Supply.

After more than 25 years in its current location near Pacific Choice Seafood, "It's time to expand," said Kurt Englund, president of Englund Marine. Prior to a buy-out in 1995, the business was called Davenport Marine.
"We've been in that location servicing commercial and recreational fishermen since 1995," he said. "We're all the way down Commercial Street at the end of the water on the dock down there so we don't have a lot of exposure to the public. We've also outgrown the space and we're looking to expand the products we offer and we can't do it in that space."
The Eureka location is one of seven Englund Marine stores along the Pacific coast. Axel Englund founded Englund Marine in Astoria, Oregon, in 1944. After 22 years of establishing Englund Marine as "a preferred and trusted name among commercial fishermen," he expanded the business up to Washington and, eventually, down to California. They've also opened a couple of distribution warehouses in Arizona and Montana.
The new building – which will span just over 15,000 square feet – was designed by Portland-based architecture and engineering design firm CIDA and is being built by Perlo Construction out of Tualatin, Oregon, in partnership with SHN Consulting Engineers here in Eureka.
CIDA Project Manager Chris Walker said the walls will go up in a day or two. The building is slated for completion by the end of this year.
"I think the new building will provide a better shopping experience for our current customers and, hopefully, we'll be able to draw in new customers," Englund added. "We're not just a marine supply shop. We also have a lot of outdoor clothing, stainless steel hardware and fittings. We get a lot of homeowners and hobbyist types in our stores."
Eureka City Manager Miles Slattery told the Outpost he's happy to see more development along the City's waterfront.
"This project is one of many commercial development projects currently in progress in Eureka," he said. "…It is great to see all of the development going on in Eureka and demonstrates that private developers are looking to invest in Eureka. This project and the mixed-use [development project on Second and E Streets], specifically, as they are being developed on our waterfront."
Scroll for some pictures of the construction site taken by the Outpost's Andrew Goff.