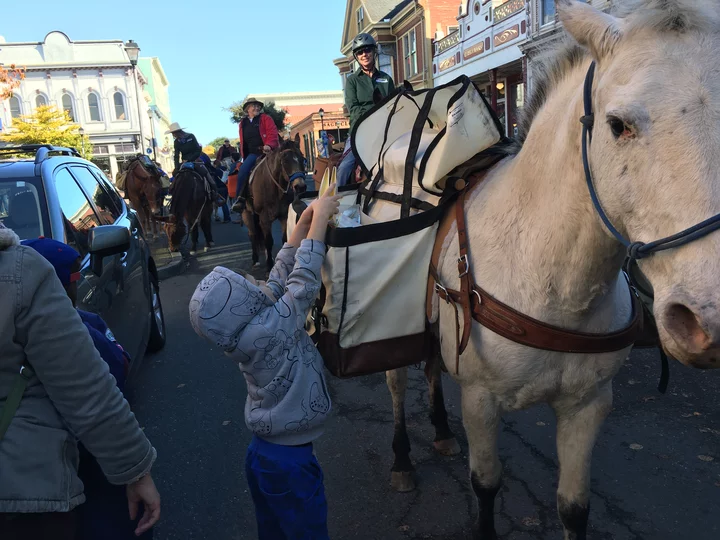 ###
A group of more than a dozen horses (well, a couple were actually mules) and their riders paraded through Old Town on Saturday afternoon, collecting food from various local businesses for the annual Cowboy Canned Food Convoy — a partnership between the The Redwood Unit of Backcountry Horsemen of California (BCHC), Food for People and the Food Bank for Humboldt County.
Starting at the parking lot on First and D Streets, the cowboys and horses, along with helpers from Cub Scout Pack 4047, stopped at businesses — including Sailor's Grave Tattoo, Chapala Cafe, Good Relations, Ramone's, Ecocann Dispensary, Old Town Coffee & Chocolates, Eureka Books, Belle Starr, and Los Bagels — where they collected canned goods from the food-drive boxes the business had on display and placed them in their saddlebags. Many folks stood on the curb or sat in chairs to watch the convoy go by.
The group along the way for a photo-op at the Carson Mansion before finishing their route, which eventually took them to the food's drop-off location at Food For People. Thank you, cowboys!
If you're looking to donate food, collection barrels will still be available at many local businesses throughout the holiday season. You can find a full list of locations on the Food for People website.
Scroll down for more photos!