Delivery to Scotia Hardware Store Goes Awry; Stuck Big Rig Blocking Traffic on Main Street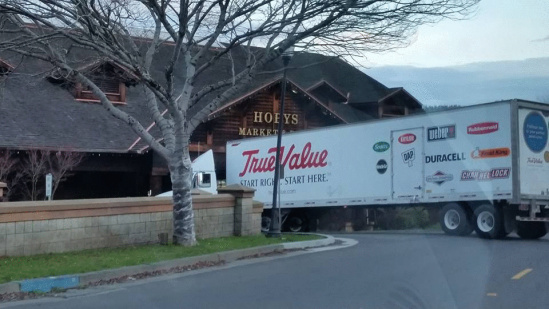 The driver of this TrueValue truck bit off a little more than his rig could chew this morning.
Just before 7 a.m., the California Highway Patrol sent word that one lane of Main Street, Scotia, was blocked by the stuck rig, which had tried and failed to negotiate the turn into the Scotia Shopping Center, presumably to deliver good to TrueValue affiliate Scotia Hardware, just past Hoby's.
The Scotia Fire Department is on scene providing traffic control, and Humboldt Tow is on its way.
Follow updates from CHP dispatch below.
---
6:48 a.m.
[1] BIG RIG ATMPT TO PULL INTO THE SHOPPING CENTER AND GOT STUCK
6:48 a.m.
[2] 1 LN OF MAIN ST IS BLOCKED
6:48 a.m.
[3] UNK ETA FOR A TOW TRUCK
7:15 a.m.
[6] PER 105-S1 FIRE IS 97 AND PROVIDING TRAFFIC CONTROL
7:22 a.m.
[8] HUMBOLDT TOW DOES HAVE THE CALL AND IS ENRT