(UPDATE) Overturned Big Rig Spills Fertilizer All Over Highway 101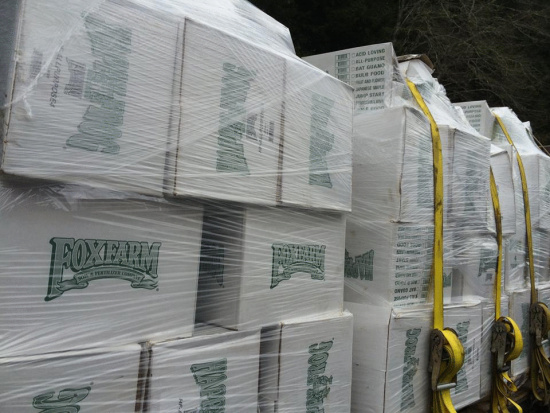 Caltrans initial reports of the crash location were incorrect. There was an overturned tanker on Highway 101 yesterday morning. However, The manure spill occurred North of Orick. The crash near Weott in unrelated to this incident.
###
A big rig carrying a load of FoxFarm fertilizer overturned on U.S. Highway 101 North of Weott yesterday, completely blocking the highway with its stinky payload for more than an hour.
According to the California Highway Patrol, the single-vehicle accident occurred around 3:40 a.m., and the roadway was cleared of doodies by 5 a.m.
The driver sustained minor injuries, but was not transported to the hospital.
The cause of the crash is still under investigation.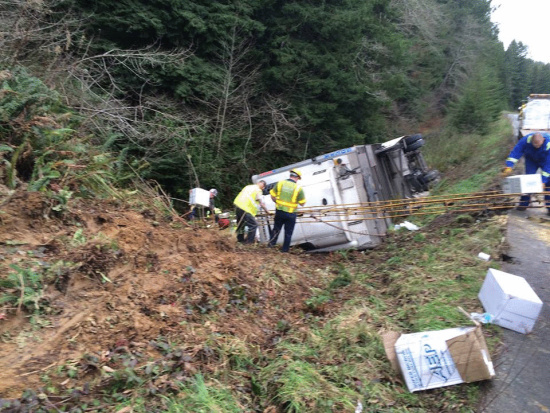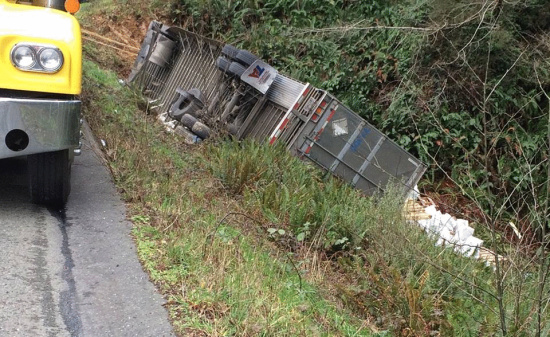 ---
3:39 a.m.
[5] LOAD IS ALL OVER THE RDWY
3:41 a.m.
[6] PER 1657 RDWY COMPLETLY BLOCKED
3:50 a.m.
[12] PER 105-S2 START BIG RIG 1185
3:51 a.m.
[13] 1039 ALL IN ONE TOW, DRIVER WILL CB FOR MROE DETAILS
4 a.m.
[23] 1039 C122 WILL BE ENRT
4:25 a.m.
[26] PER ALL IN ONE TOW ETA 1HR
4:28 a.m.
[28] 1039 OAKLAND TMC - CMS BOARD # 2,#3
4:42 a.m.
[29] C105-020 VEH MOVED TO SHOULDER //CT CLEANING DEBRIS// LN SHOULD BE CLEARED SHORTLY ///1022 1185
4:43 a.m.
[30] 105-20 COMPANY HAS TOW ENRT
4:43 a.m.
[32] C105-020 COMPANY HAS OWN 1185 ENRT/ NEG 1125
4:45 a.m.
[34] 1039 CHIN /TMC/CT CMS
4:45 a.m.
[33] 1039 ALL IN ONE - CAQNX
6:03 a.m.
[44] [Notification] [CHP]-Problem changed from 1183-Trfc Collision-Unkn Inj to 1181-Trfc Collision-Minor Inj by CHP
---