(UPDATING) Highway 101 Fully Closed after Truck Crashes, Leaks Fluid Onto Roadway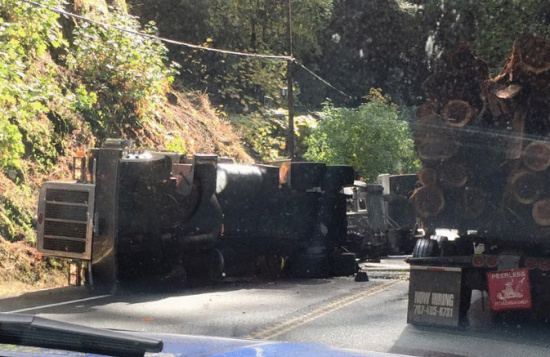 UPDATE, WEDNESDAY MORNING:
###
UPDATE, 4:52 p.m.: CHP dispatch checks in to tell us that it's going to be a long time, still, until Highway 101 is open again — early tomorrow morning, maybe.
Additionally, here is the latest update from Caltrans:
We're hearing from crews on-scene that the cleanup is going to take longer than initially anticipated. Now it looks as if there will be a full closure into the night and even possible into tomorrow morning. Crews are working as hard as they can and say they will even light up the working area to work through the night in order to get one-way traffic control moving as soon as possible.
# # #
UPDATE, 2:45 p.m.: Caltrans tells us that Hazmat has the spill contained but they are no where near to being able to open the road yet. Rough estimate for reopening: 5:30-6 p.m. In the event that you do need to get around this thing pronto, Highway 36 is going to be your best bet (Alderpoint Road is reportedly flooded).
# # #
UPDATE, 2:20 p.m.: The California Highway Patrol gives its account:
On October 18, 2016, at approximately 1130 hours, a tractor tanker combination vehicle, hauling approximately 10,000 gallons of used motor oil, was traveling northbound US-101 in Mendocino county near mile post marker 98.20. For reasons still under investigation, the vehicle overturned and came to rest blocking the northbound lane of US-101. Due to the collision, the tanker portion of the vehicle which contained the used motor oil was breached and an unknown amount of the used motor oil leaked onto the roadway and dirt shoulder south of US-101. Responding personnel implemented preventive measures to prevent further contamination of the spill. Due to collision and subsequent spill, the northbound and southbound lanes of US-101 were closed for clean-up and recovery of the tractor tanker combination. The length of the closure on US-101 extends from State Route 271 (Reynold's over-crossing) in Peircy, CA to State Route 1 in Leggett, CA. At this time, the duration of the closure on US-101 is unknown.

A unified incident command was established on scene and was comprised of the following agencies; California Highway Patrol, Cal-Trans, Mendocino County Department of Enviornmental Health and California State Parks.

The California Highway Patrol is recommending drivers to seek alternate routes of travel which would include State Route 20, State Route 36, Interstate 5 and State Route 299.

This collision remains under investigation by the California Highway Patrol.
# # #
UPDATE, 2 p.m.: KHUM's Bayley Brown spoke with "Pete," who was near the accident. Listen below:
Following photos courtesy of "Pete":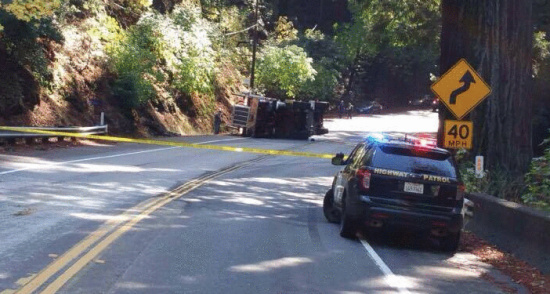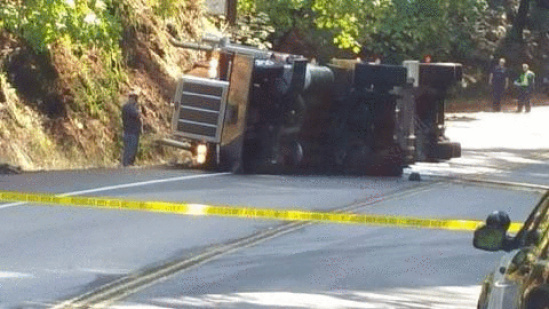 # # #
UPDATE, 12:35 p.m.: Caltrans now says that Highway 101 is fully closed to traffic. Estimated time of reopening: 4-5 hours.
# # #
Original Post: A truck hauling used oil and hydraulic fluid has crashed on Highway 101 in northern Mendocino County just south of Confusion Hill. The driver sustained minor injuries. LoCO readers and CHP Watch note that the truck is blocking 101's northbound lane and is leaking massive amounts of motor oil — CalFire estimates that 1,000 gallons has already spilled and the truck has a 6,000 gallon capacity. Hazmat crews are en route.
Caltrans says one-way traffic controls are in effect, however a reader just called in to report that her husband was driving in the area and was told he wouldn't be able to pass for hours. Updates below.
---
11:35 a.m.
[5] [Notification] [CHP]-Problem changed from 1183-Trfc Collision-Unkn Inj to 1179-Trfc Collision-1141 Enrt by CHP
11:49 a.m.
[19] 1039 UKAIH WILL CHK AND ADVS
11:58 a.m.
[27] A105-020 HAULING USED OIL AND HYDRAULIC FLUID APPROX 1000 GAL ON GROUND HAS 6,0000 GAL CAPACITY VEHS ARE CONT TO PASS THRU IT CAUSING UNSAFE RD CONDITIONS //PER CF
12:02 p.m.
[34] [Notification] [CHP]-Problem changed from 1179-Trfc Collision-1141 Enrt to 1181-Trfc Collision-Minor Inj
12:02 p.m.
[33] B105-055 CPYS ROAD HAZ
12:19 p.m.
[44] PER 105-S1 101 CLOSED FOR SEVERAL HOURS CONT DOT FOR CMS SIGN SB AT FORTUNA AND NB JNO WILLITS , REQ OES NUMBER NOTIFY ENTAC AND 105-L [Shared]
---