Big Rig Dumps Load on Highway 101 North of Weott; Traffic Diverted Onto Avenue of the Giants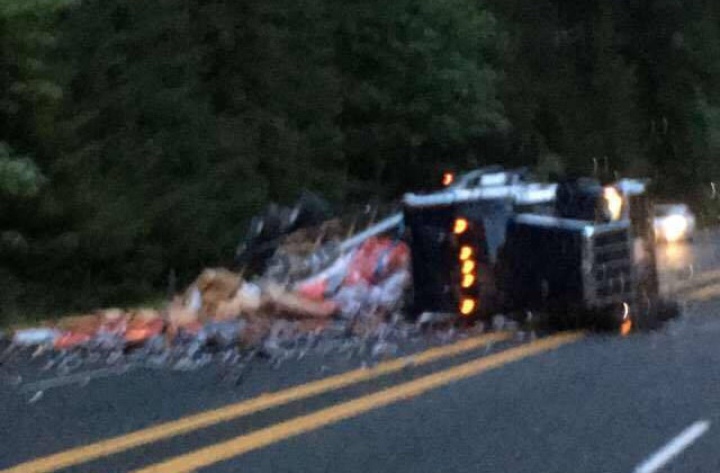 An overturned big rig is impacting traffic on Highway 101 just north of Weott this morning. At least some traffic is being diverted onto Avenue of the Giants.
Updates from CHP dispatch below. They have this down as a no-injury accident.
---
6:09 a.m.
[3] [Appended, 06:11:34] [1] O/TURNED BIG RIG
6:12 a.m.
[7] [Notification] [CHP]-Problem changed from 1183-Trfc Collision-Unkn Inj to 1182-Trfc Collision-No Inj by CHP
6:33 a.m.
[15] ND-C122 BOTH NB LNS BLOCKED
6:34 a.m.
[16] A105-020 REQ CALTRANS FOR TRAFFIC CONTTOL
6:35 a.m.
[17] ND-C121 APPEARS TO NEED LONG TERM CLOSURE NEED
6:37 a.m.
[19] ND-C122 REQ 1185 3 AXLE RIG W/ FT BED TRAILER 2 AXLE
6:38 a.m.
[20] PER DOT ETA DRIVE TIME PLUS 10 MIN FROM GARBERVILLE YARD
6:39 a.m.
[21] 105-S2 105-19 DIVERTIING TRAFFIC OFF TO 254
6:40 a.m.
[22] 105-S2 SB #1 ALSO BLOCKED
6:42 a.m.
[23] [Rotation Request Comment] 1039 HUMBOLDT TOW 707-442-4537
7:09 a.m.
[31] PER HUMBOLDT TOW THE COMPANY HAS CALLED THEM TO HANDLE THE REMOVAL OF THE TK AND THE CLEAN UP OF THE CARGO
7:10 a.m.
[32] PER HUMBOLDT TOW IF DOT WANTS TO PUSH CARGO OFF TO THATS FINE WITH THEM THEY WILL BE DOING CARGO CLEAN
9:53 a.m.
[36] VEH OFF RDWY // CT 1097 FOR CLEAN UP, WILL HAVE NB #2 CLOSED UNTIL LOAD IS COMPLETELY REMOVED
10:13 a.m.
[37] PER 105-20 SB LNS WILL BE OPEN SHORTLY // NB DIVERTED ON #1 LN
10:14 a.m.
[38] CT HAS NB DIVETED ON #1 LN // #2 LN CLOSED FOR RECOVERY AND CLEAN UP