(UPDATE) Semi Truck Overturns Near Highway 101 Off-Ramp, Blocks Both Lanes of Route 271 in Piercy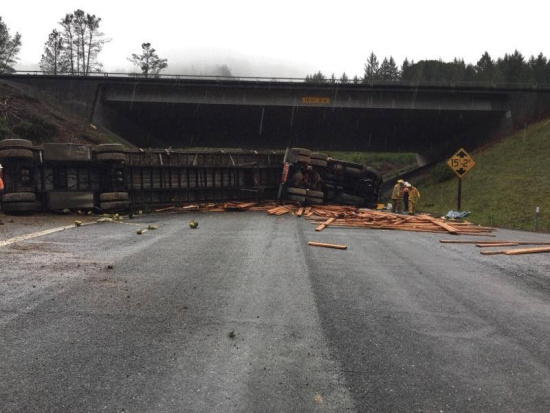 UPDATE, 4:45 p.m.:
CHP press release:
On January 19, 2016, at approximately 0845 hours, a truck tractor combination vehicle, hauling lumber, was traveling southbound on US-101 in Mendocino County near milepost marker 103.90.

For reasons still under investigation, the vehicle drifted to the right causing the vehicle to travel off the west roadway edge of US-101. The vehicle collided with a guardrail and traveled in down a steep vegetation covered embankment towards SR-271 before overturning.

The vehicle came to rest on its left side blocking both lanes of SR-271. After the collision, it was discovered the saddle fuel tank had been compromised and subsequently approximately 80 gallons of diesel fuel spilled into a near by storm drain.

Responding personnel implemented preventative measures to prevent further contamination of the spill, Due to the collision and subsequent spill, both lanes of SR-271 were closed at US-101 for clean-up and recovery of the truck tractor combination.

A unified incident command was established on scene and was comprised of the following agencies: California Highway Patrol, Cal-Trans, Mendocino County Department of Health, and Leggett Valley Volunteer Fire Department.

This collision remains under investigation by the California Highway Patrol.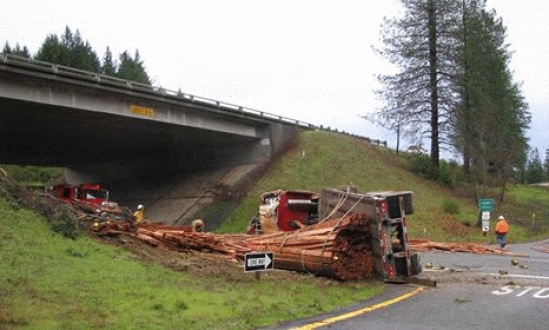 ###
A semi-tractor trailer traveling southbound on Highway 101 lost control down a dirt embankment and overturned onto Route 271 around 9 a.m., blocking both lanes of traffic.
Officer William Wunderlich of the California Highway Patrol Garberville Office told the Outpost that the truck and its payload of lumber are still being cleared from Route 271.
"The vehicle was traveling southbound on 101, left the roadway just south of the overpass and traveled down a dirt embankment that bordered the off-ramp," Wunderlich said. "As it went down that dirt embankment it overturned."
The crash did not affect traffic on Highway 101, but did damage a highway guardrail.
Despite the gruesome photos the driver reportedly only suffered minor injuries.
No fuel leaks were reported. The crash is still under investigation.
Read more in the CHP Facebook post below:
At about 09:00 am a semi-tractor trailer overturned off US-101 onto SR-271 at the Piercy exit. The overturned semi came to rest blocking both lanes of SR-271 causing the roadway to be closed until the vehicle can be up-righted and removed from the roadway.

The driver of the semi seems to have only suffered minor injuries.

The cause of the collision is currently under investigation but we would like to remind everyone out there to drive safely in the rain and make sure your vehicles are equipped with functioning windshield wipers, lights and your tires have good tread and air pressure.
---
8:52 a.m.
[1] BIG RIG O/SIDE THRU GUARD RAIL
8:53 a.m.
[7] [Appended, 08:54:32] [1] BIG RIG OFF RDWY
8:53 a.m.
[5] [Notification] [CHP]-Problem changed from 1183-Trfc Collision-Unkn Inj to 1179-Trfc Collision-1141 Enrt by CHP
8:54 a.m.
[8] [Appended, 08:54:32] [2] O/TURNED AND LUMBER DUMPED
8:59 a.m.
[15] VEH A FOOT INTO THE MUD — ROBERTSON PASSED
9:10 a.m.
[22] BIG RIG IS ON ITS SIDE, LOAD IOF LUMBER IS LOST
9:10 a.m.
[21] ON 271, AT THE BOTTOM OF THE RAMP
9:10 a.m.
[23] BIG RIG BLKING ALL LANES OF 271 UNDERTHE 101
9:15 a.m.
[25] [Rotation Request Comment] 1039 ALL IN 1 - DRIVE TIME FROM UKIAH
9:31 a.m.
[27] NB PIERCY OFR CLOSED
10:31 a.m.
[32] PER UNITS 1097, NEG FUEL LEAK / CALLER TRANS TO CF FOR FURTHER ASSIST
12:51 p.m.
[41] 1039 CAL-EMA - #17-0573
2:27 p.m.
[43] 80 GALLONS OF DIESEL FUEL INTO SOUTH FORK OF EEL RIVER THRU DRAIN — 1039 CAL EMA COPIES ALL
3:28 p.m.
[45] 271 STILL CLOSED, DOT IS CLEANING UP AND WILL LET US KNOW WHEN IT IS OPEN
3:29 p.m.
[46] [Notification] [CHP]-Problem changed from 1179-Trfc Collision-1141 Enrt to 1181-Trfc Collision-Minor Inj
3:46 p.m.
[47] PER S2, ISSUE HEWAB / CT HAS 271 CLOSED DIRECTLY UNDER 101 / RE-DIRECTING TRF TO THE NEXT EXIT TO RETURN AND ACCESS THE DOT ON 271 THEY NEED
4:22 p.m.
[49] PER CT, RDWY OPEN / FINAL HEWAB SENT