Large Swath of SoHum Powerless; Downed Power Line on Redwood Drive Causing Fires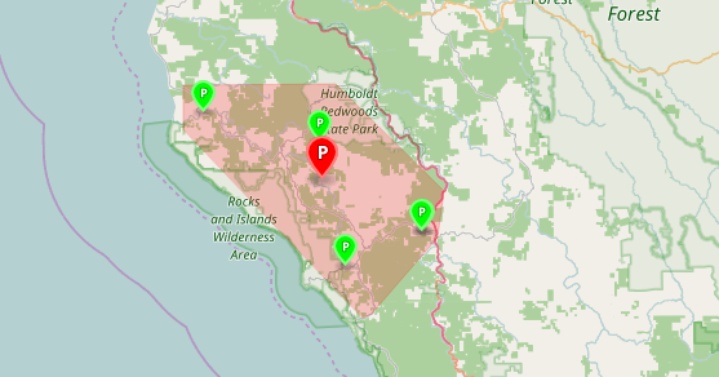 UPDATE, 9:29 a.m.: Alderpoint Road is reportedly open now.

# # #
LoCO's Blackout Bot notes that significant portions of SoHum are without power this rainy Tuesday morn. PG&E reports that it is assessing the cause of the outage.
Want a good guess? CHP Watch tells us of a downed power line just off 101 near the intersections of Alderpoint Road and Redwood Drive. Dispatchers note that the line is sparking, causing fires on both sides of 101. CHP has asked that Alderpoint Road be closed while crews get this handled. —AG
---
8:25 a.m.
[1] LINE IS DOWN IN RDWY, FIRE STARTING BY BEAR CREEK BRIDGE
8:25 a.m.
[4] [Notification] [CHP]-Problem changed from FIRE-Report of Fire to 1125-Traffic Hazard by CHP
8:26 a.m.
[8] OTHER VEHS DRIVING OVER THE LINE
8:26 a.m.
[5] ANOTHER FIRE STARTING BY STOP SIGN BY BLUE STAR GAS
8:26 a.m.
[7] FIRE WILL START PGE/ FIRE IS 97
8:28 a.m.
[10] 105-25 VISUAL DOWN POERLINE SPARKING CREATING FIRE ON BOTH SIDED OF 101//ALDERPOINT NEEDS TO BE CLOSED IN BOTH DIRECTIONS
8:31 a.m.
[15] 105-S3 ENRT FROM RP // ADV UNITS TO KEEP DISTANCE FROM FIRE
8:54 a.m.
[22] PER 105-30 PGE 97/ALDERPOINT RD CLOSED
---