(UPDATING) Numerous Engines Dispatched to Spreading Vegetation Fire Along Highway 299 Near Blue Lake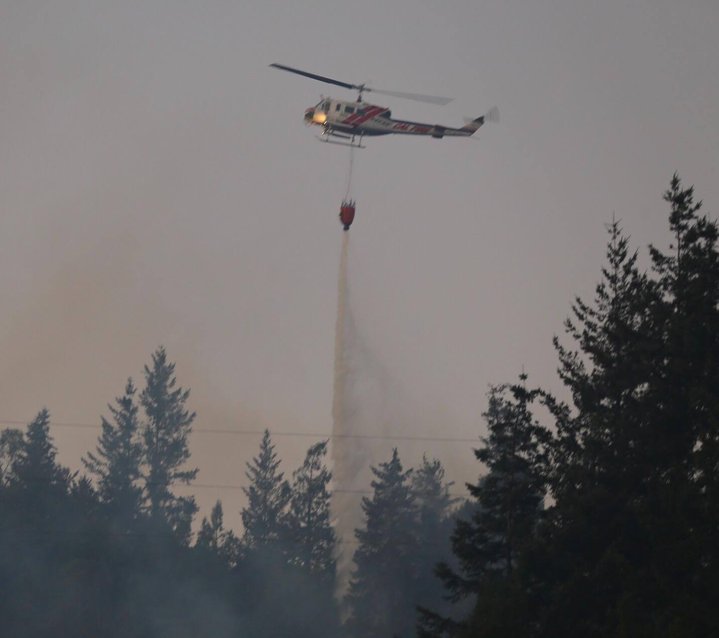 UPDATE, 6:55 p.m.:Calfire says via Twitter that the fire has been stopped at 25 acres in size. One building was destroyed.
Blue Incident along Hwy 299, 25 acres. Forward progress stopped. One structure destroyed. pic.twitter.com/kAc9njtcsP

— CAL FIRE HUU (@CALFIRE_HUU) October 9, 2017
###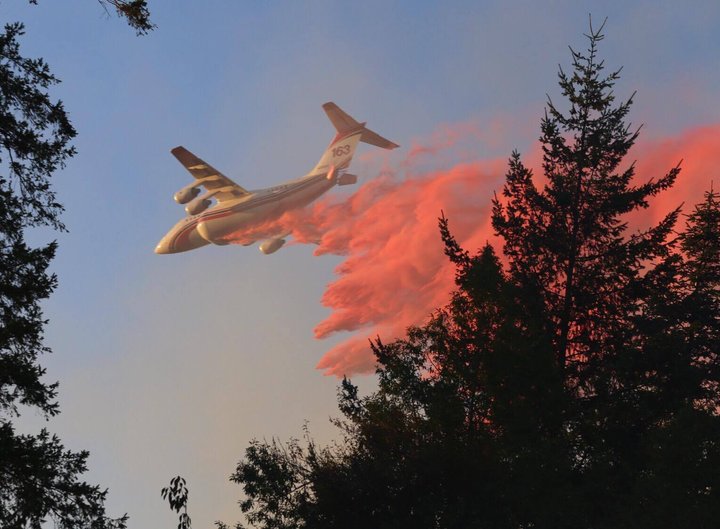 UPDATE, 6:35 p.m.: The fire's forward progress definitely seems to be halted, reports the Outpost's Andrew Goff, but ground crews and several planes and helicopters are still on scene. Chainsaws can be heard up Greenhill Lane.
###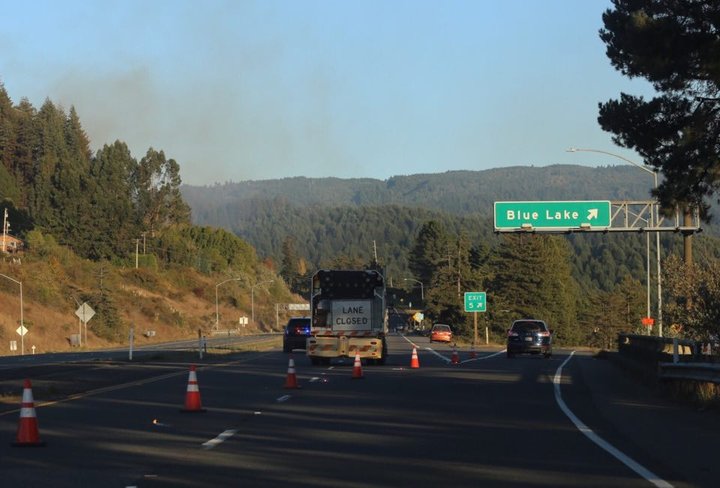 UPDATE, 6:20 p.m.
Outpost reporter Andrew Goff is on scene and confirms that the highway is still shut down in the area.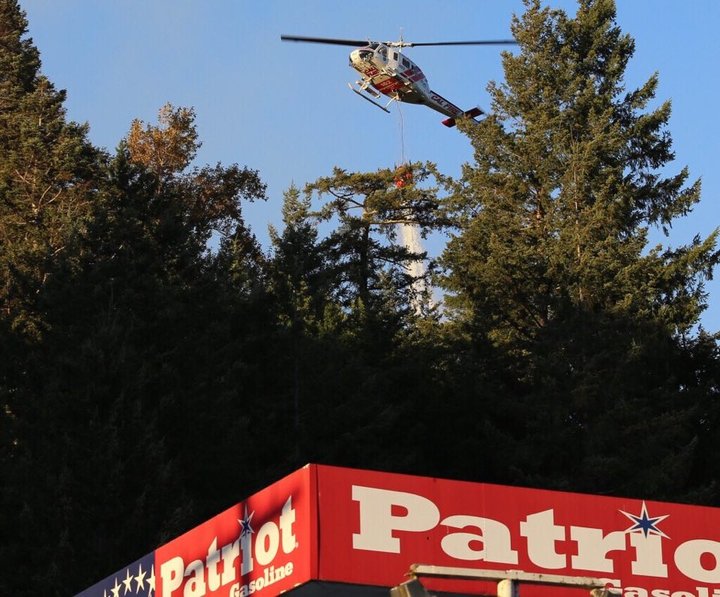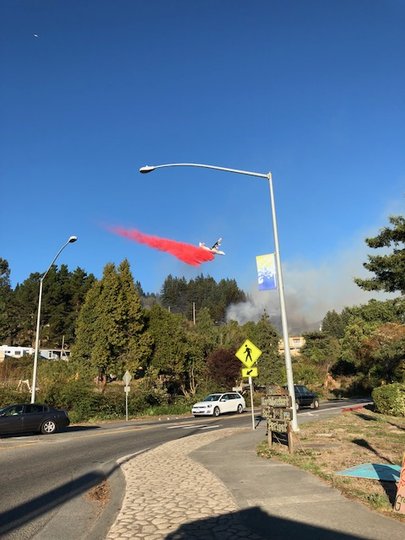 ###
Footage by Matt Aldrete.
UPDATE, 5:30 p.m.:
A helicopter and water bomber have made multiple drops on the fire.
Photos sent in by Outpost readers show just how close flames are getting to nearby structures.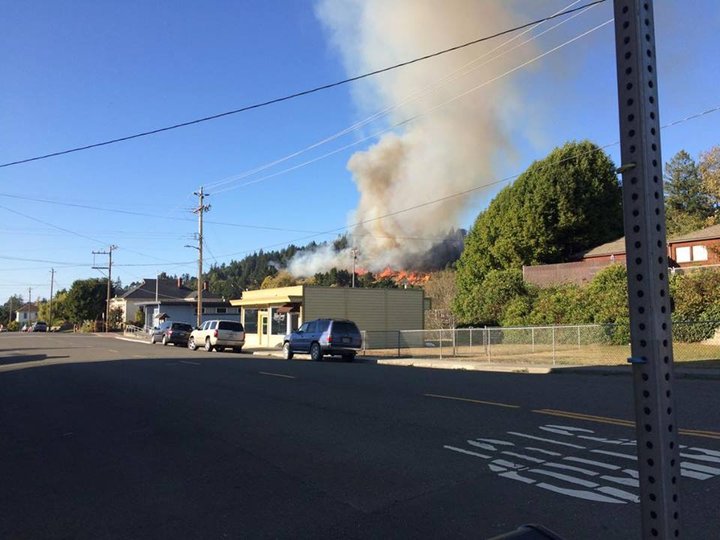 ###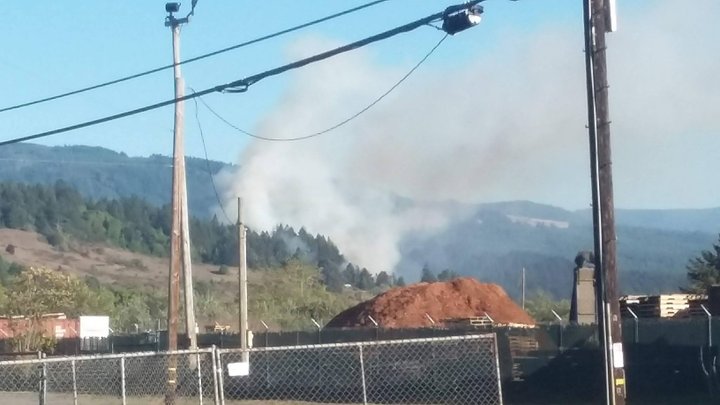 UPDATE, 5:20 p.m.:
Highway 299 is completely shut down due to the wildfire, which is threatening numerous homes in the area.
According to CHP, eastbound traffic is being diverted through Blue Lake Boulevard.
PG&E reports that nearly 2,000 residents are without power in the area.

###
UPDATE, 5:05 p.m.:
According to scanner traffic, firefighters are evacuating Blue Lake Boulevard.
The fire is reportedly burning north of Highway 299, but the wind appears to be blowing toward the highway and up a nearby hill.
A helicopter and multiple spotter planes are flying over hear surveying the fire.
UPDATE, 5 p.m.:
Outpost Editor Hank Sims is on scene and reports that the fire is burning dangerously close to homes and Blue Lake Elementary.
Word came across the scanner moments ago that evacuations are being issued.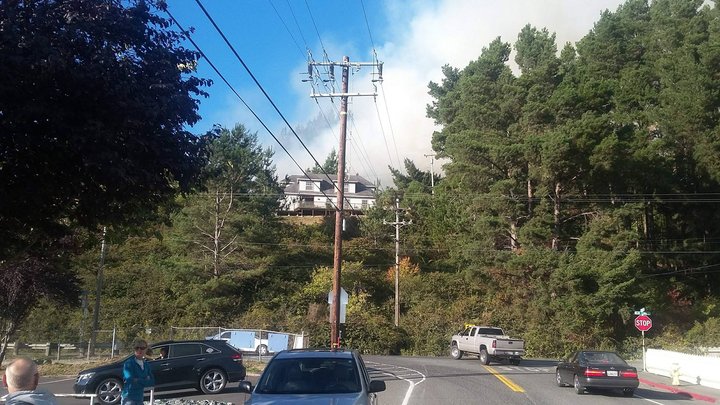 A hillside home south of Highway 299.
###
A multitude of fire engines have been dispatched to a vegetation fire spreading along Highway 299 near Blue Lake.

According to the California Highway Patrol incident report, the fire was ignited by a downed PG&E power line.
Outpost Editor Hank Sims is near the scene and reports that the fire seems to be spreading at a rapid pace.
Calfire issued a red flag warning today due to low humidity and strong winds which will cause any wildfires to spread rapidly.
We will continue to update as more information comes in.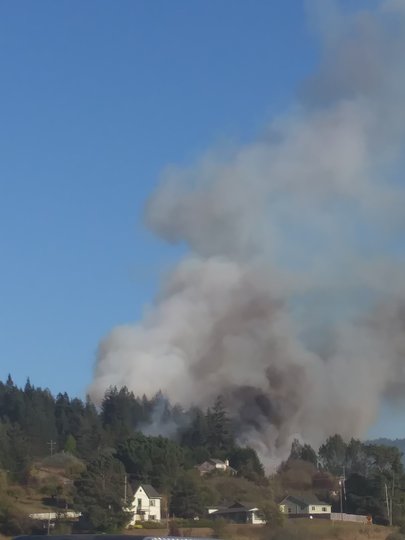 ---
4:38 p.m.
[1] LINE ON FIRE ABOVE 299
4:39 p.m.
[5] [Appended, 16:39:32] [1] RPT OF WILD LAND FIRE NR BLUE LAKE
4:52 p.m.
[44] [Appended, 16:53:27] [1] FIRE REQ UNIT RESP TO ASSIST AT THE FIRE
5:03 p.m.
[56] A16-019 FLAMES NOW DOWN TO RDWY // HAVE CT TRF TEAM AND S5 RESP
5:04 p.m.
[57] WILL HAVE TO CLOSE 299 IN BOTH DIRECTIONS
5:05 p.m.
[59] DIVERTING EB TRF ONTO THE BLUE LAKE OFR AT THIS TIME
5:11 p.m.
[64] 16-S5 97 CLOSING BLU LAKE ONR
5:53 p.m.
[67] ADVS S5 2 MEMBERS OF MEDIA STAGING IN THE AREA
5:55 p.m.
[68] CT 1097 AT WEST CLOSURE / SENDING ANOTHER CREW TO THE EAST SIDE OF THE CLOSURE
6:03 p.m.
[70] CT HARD CLOSURE ON WEST SIDE / ENRT TO EAST SIDE FOR HARD CLOSURE
6:24 p.m.
[71] CT NOW HAS HARD CLOSURE ON EAST END
6:27 p.m.
[72] PER A16-022 CT WAS NOT AWARE OF ANOTHER CLOSURE NEEDED / REQ CONTACT CT AND ADVS // OLD STATE HWY X BLUE LAKE BL
6:29 p.m.
[74] S5 ENRT CP TO GET ETA TO OPEN HWY
6:41 p.m.
[77] PER CAL FIRE IC, THEY WANT TO KEEP WB LANE CLOSED AND THE SHOULDER // WILL BE SPEAKING TO CT AND SEE IF CAN USE CONES TO SPLIT THE EB LANES TO ALLOW TRF THRU
6:44 p.m.
[78] 1039 BRIAN W/CT // ADVSD ENRT FR FTNA // WILL CONTACT ONE OF HIS CREW AND START SETTING UP TO HAVE 1 LANE IN EACH DIRECTION USING THE EB #1 AND 2 LANES // WILL TRY TO HAVE IT SET UP SO IT IS READY WHEN HE IS 1097
8:17 p.m.
[84] 16-S5 DOT SUPERVISOR 97, ENRT TENTATIVE CLOSURE TO RELIEVE DOT WORKER THERE IN ATTEMPT TO GET RDWAY OPEN SOON
9:05 p.m.
[85] 16-S5 DOT ALMOST DONE SETTING UP DIVERSION, TRAFFIC SHOULD BE OPEN SOON
9:36 p.m.
[86] 16-S5 WB LN CLOSED, WILL BE MOVED INTO EB #1 LN, EB #2 IS AS USUAL
9:38 p.m.
[87] 16-S5 DOT WILL MAN CLOSURE OVERNIGHT W/ A ROVING UNIT, PER CALFIRE ETA TO REOPEN IS TOMORROW IN AM
---