Vegetation Fire Burning Off Highway 299
Images: John Ferrara
Blue Lake Fire, CalFire and the California Highway Patrol are at the scene of a vehicle-ignited brush fire burning near Highway 299.
LoCO spoke to a McKinleyville women who told us her 2002 Oldsmobile stalled out on North Bank Road just after 10 a.m. As she sat in the car she smelled smoke and eventually realized the nearby grass and brush had caught fire.
"It happened so quick, it lit up like a Christmas tree," she said.
A helicopter and plane are circling in the skies above, but It seems that fire crews already have this thing under control. —AG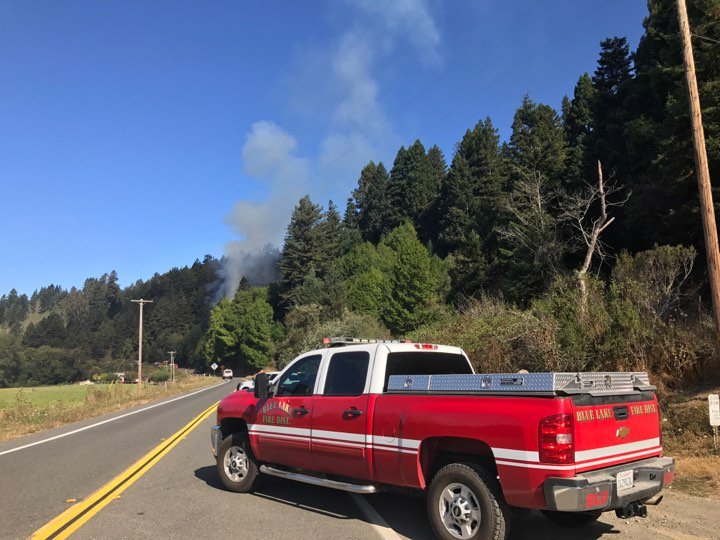 ---
10:09 a.m.
[2] ON CB REPORTING A FIRE
10:13 a.m.
[6] PER DUP CALLER THERE IS A VEH STALLED NR THE FIRE
10:14 a.m.
[10] [Appended, 10:14:36] [1] NEG VEH//BRUSH FIRE
11 a.m.
[20] A16-022 BOTH LNS 200 SHUT DOWN
11:52 a.m.
[21] 1039 CT TO TAKE OVER CLOSURE PER 16-22
11:54 a.m.
[23] A16-022 FIRE STATING FULL CLOSURE FOR AN HOUR
11:55 a.m.
[24] [Notification] [CHP]-DOT HAS 1.5 HR TO 2 HR ETA
11:56 a.m.
[26] FIRE UNIT TAKING 22 SPOT SO HE CAN HANDLE LG 62
11:57 a.m.
[27] 16-22 REQ CORDS // 1039 CORDS
12:03 p.m.
[29] PER PAST 299 ONR TO ABOUT AZALEA ONLY SR200
---