(VIDEO) Car Fire on Highway 101 Near College of the Redwoods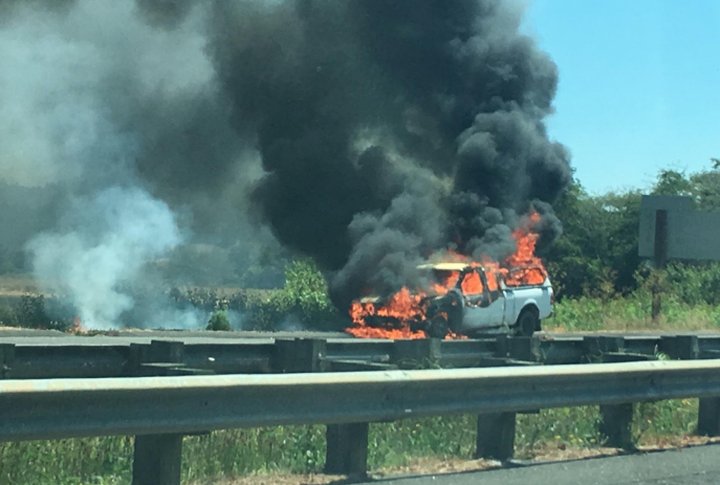 Emergency personnel have responded to a white truck ablaze on the shoulder of northbound Highway 101 near the Hookton Road exit.
According to LoCO's CHP Watch there were no injuries and Cal Fire was able to extinguish the flames, both on the vehicle and on nearby vegetation.
Whew.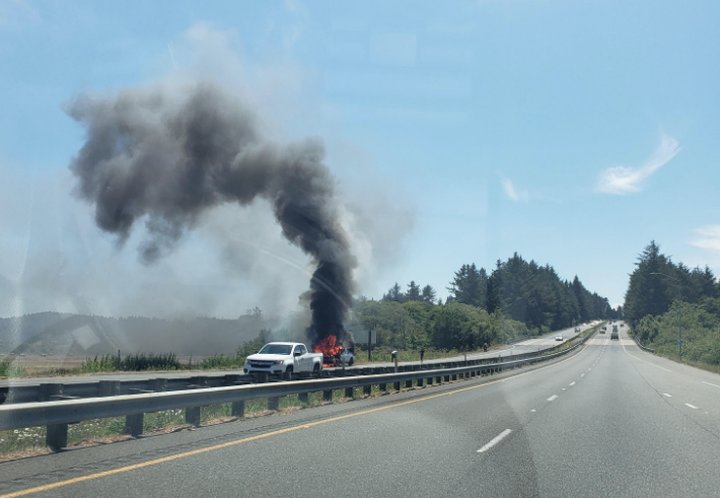 ---
1:37 p.m.
[13] [Appended, 13:41:53] [1] WHI TK SEE FLAMES / ON FIRE
1:37 p.m.
[3] [Appended, 13:38:14] [1] PK ON FIRE
1:38 p.m.
[4] [Appended, 13:38:14] [2] HOOD UP, PPL OUT OF VEH
1:38 p.m.
[15] [Appended, 13:41:53] [3] 1039 EKA FIRE
1:42 p.m.
[20] 1039 EKA 10221 FIRE SHOULD BE AT HOOKTON EXIT CALFIRE RESP [Shared]
1:43 p.m.
[22] A16-044 SAW EXPLOSION, GRASS ON FIRE, ATT TO DIVERT TRFC TO #1 LANE
1:44 p.m.
[24] 1039 CALFIRE W UPDATE
1:44 p.m.
[25] A16-044 NB/HOOKTON ONR
2:09 p.m.
[29] A16-044 1185R / ALL TIRES BO / CHEV SILV
2:10 p.m.
[31] [Rotation Request Comment] 1039 HUMBOLDT TOWING 707-442-4537
2:15 p.m.
[38] A16-044 PER 44 BRINGING IN ROUND ROBBINS FOR VEHS COMING INTO AREA TOO FAST
2:42 p.m.
[41] CONTACT BUDDYS SEE IF THEY WILL ROLL A TOW BURNT HULL / HAS 3A CARD / NO FUNDS FOR HUMB TOW
2:50 p.m.
[42] 3A CALL# 37382 PACIFIC TOW / AS LONG AS THE VEH IS PUT OUT AND SAFE TO TOW
3:18 p.m.
[43] HUMB TOW BOT / 3A ROLLED FOR VEH
3:39 p.m.
[44] PACIFIC TOW LL, ADV SUBJ NOT 3A MEMBER
3:44 p.m.
[45] B16-031 PER 31B WILL ADVS DISPO ON THE TOW / PTY HAD TEMP CARD WITH HIM '