Tourists at Trinidad Vacation Rental Reportedly Forget to Put Car in Park, Roll Backwards 100 Feet Down the Bluff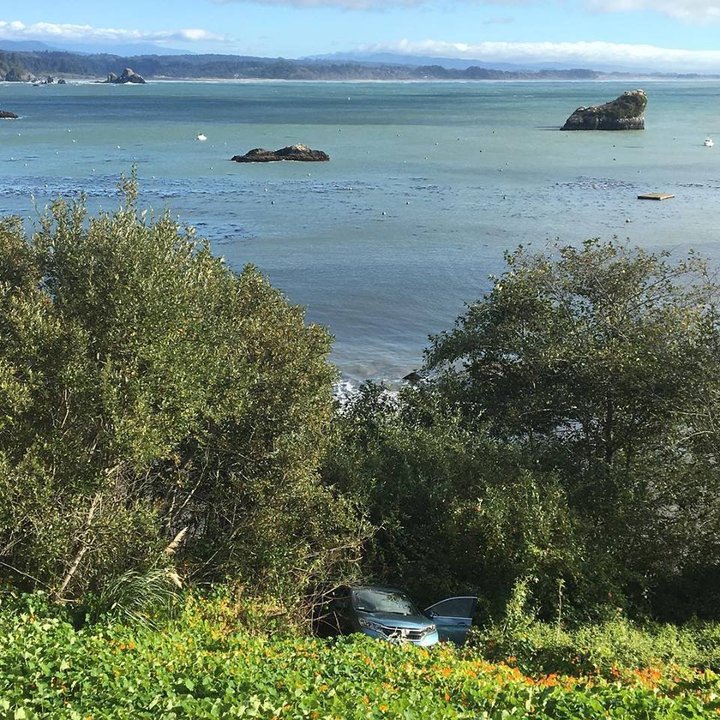 An occupied minivan vehicle took an unexpected detour off the Van Wycke Street lookout in Trinidad this afternoon after the driver reportedly failed to put the van in park.
A local reporter who spoke to officers on scene said that the vehicle was occupied by tourists stopped in the driveway of a nearby vacation rental overlooking Launch Beach when the incident occurred.
According to the CHP Incident report, a 100 to 150-foot cable was needed to pull the car back up onto the street.
A deputy at the scene told the reporter that the only injury was a bumped knee.
---
3:34 p.m.
[8] [Appended, 15:37:03] [1] VEH WENT OVER THE CLIFF
3:34 p.m.
[1] VEH WENT OVER THE CLIFF
3:38 p.m.
[11] PER ONE RP VEH WAS OCCUPIED
3:56 p.m.
[15] PER FIRE WILL NEEED 100-150FT WENCH TO GET IT BK UP ON THE RDWY / FIRE REDUCED 1141 C2 BUT HAD THEM CONT / UNK EXT OF INJS