Semi Truck on Fire at Highway 101 Near Crannell Road; Southbound Traffic Impacted
UPDATE, 11:48 a.m.: They have one lane of southbound 101 open now after a short closure to knock down flames on the burning semi truck in the center divide.
The CHP first got word of this truck up in Orick, when a caller noted that the truck's brakes were on fire. A few minutes and miles south, the fire had spread to the entire vehicle.
###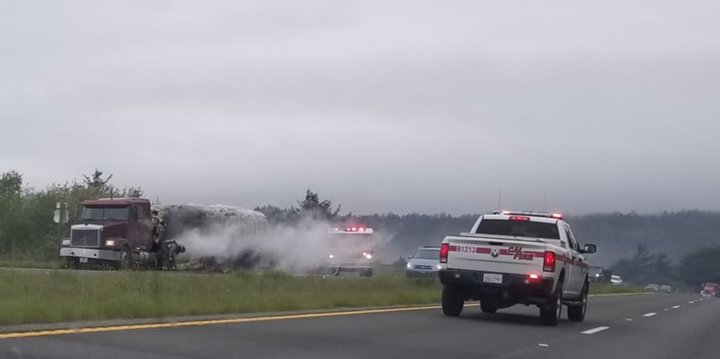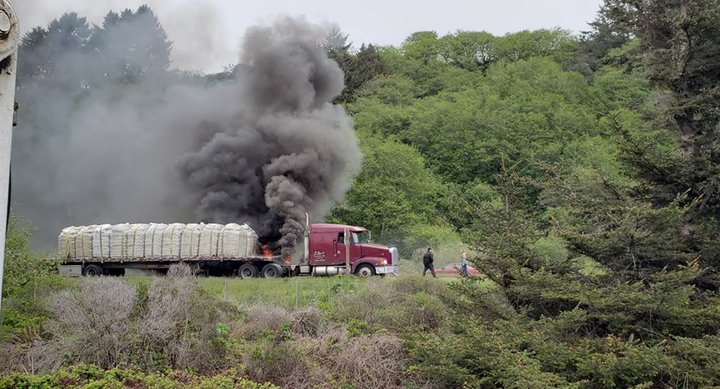 ---
10:25 a.m.
[1] SEMI TRK GRN FB HAULING POTTING SOIL, BRAKES ARE ON FIRE/ VEH STILL MOVING
10:27 a.m.
[4] RP IS DRIVING IFO HIM IN A SEMI TRK AS WELL
10:59 a.m.
[12] [Appended, 11:01:04] [1] SEMI TRK ON FIRE
11 a.m.
[10] SB 101 AT CRANNEL - SEMI TRUCK ON FIRE
11:01 a.m.
[17] [Appended, 11:02:30] [1] SEMI TRUCK ON FIRE
11:02 a.m.
[20] [Appended, 11:02:34] [1] OTHER VEHS STOPPING ITA
11:04 a.m.
[25] 1039 HSO TO ADV/COPIED ON SCANNER THEY HAVE THE INFO
11:12 a.m.
[26] A16-019 FIRE NOT 97 YET
11:13 a.m.
[28] A16-019 FIRE IS 97 NOW
11:15 a.m.
[29] A16-019 #2 LANE CLOSED
11:18 a.m.
[30] SEE IF CAL TRANS CAN ASSIST W/ 1184
11:22 a.m.
[32] FIRE CLOSED SB - ANTICIPATING 15 MINUTES
11:27 a.m.
[37] 1039 DOT FOR THE CLOSURE OF SB 101
11:35 a.m.
[39] FIRE IS DOWN ENOUGH - OPENING THE #1 LN
11:37 a.m.
[42] 19 CLR FRM CRANNEL - BACK AT THE SCENE - SB #1 OPEN
11:45 a.m.
[44] DOT WILL NEED TO INSPECT THE #2 LN
12:18 p.m.
[55] DANIEL CALLED BACK/WILL BE STARTING A TOW SOON/WILL BE ENRT FROM JUNCTION CITY/WILL RECALL TO ADV TOW ENRT
12:30 p.m.
[56] A16-019 LANES OPEN/FIRE CLEAR/STANDING BY FOR 1185
12:47 p.m.
[58] A16-019 1021 BUDDYS, REQ ETA
12:48 p.m.
[60] 1039 BUDDYS/WILL RECALL WITH ETA
1:01 p.m.
[61] A16-019 BUDDYS ETA 30 MINS
3:03 p.m.
[68] ND-C122 RUNNING TRFC BREAK SO TOW CAN PUT TRL INTO SCALES AREA
3:08 p.m.
[70] ND-C122 STARTING BREAK AT WESTHAVEN
---