(PHOTOS) Big Rig Crash Closes Route 271 Near Piercy; Truck Spills Gallons of Diesel Fuel Near the Eel River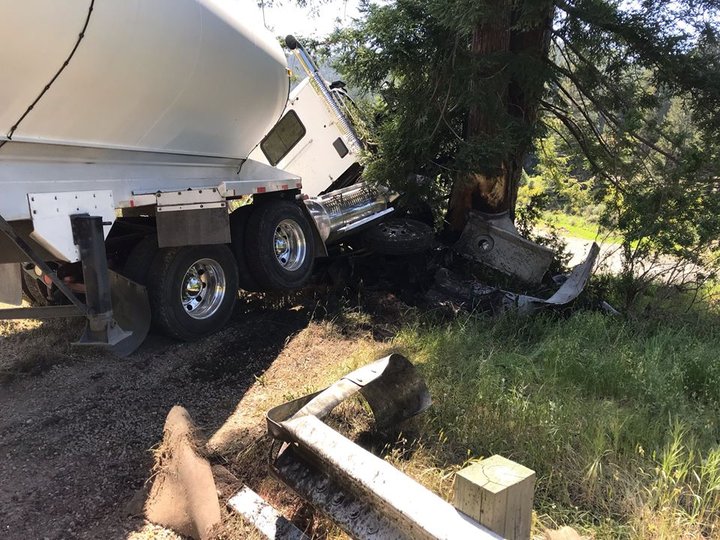 A big rig with a full 100-gallon tank of diesel fuel crashed into a tree near the Humboldt-Mendo border this afternoon, closing Route 271 for hours.
According to the California Highway Patrol incident report, the truck was leaking a gallon of fuel per minute near the Eel River, but it's unclear if any of the fuel actually reached the water.
The driver reportedly suffered no injuries and no fires were sparked by the crash. Piercy Fire, CHP and Caltrans responded to the scene.
Caltrans stated on Facebook earlier today, that there's no estimated time for when the roadway will be reopened.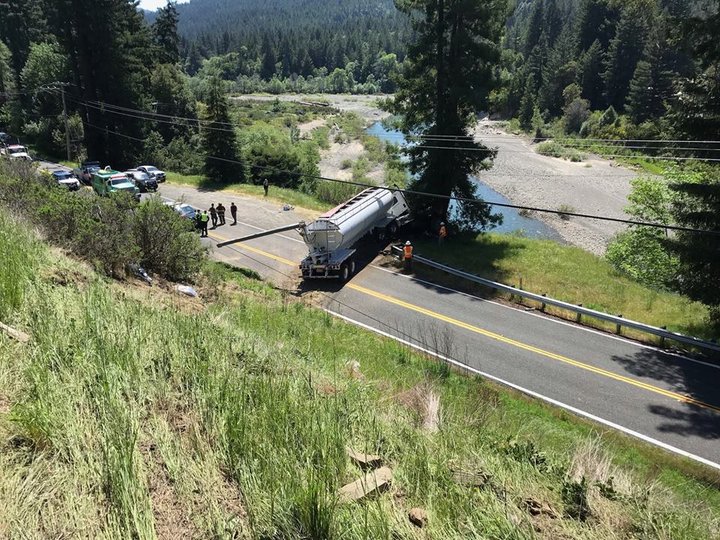 ---
12:56 p.m.
[1] SEMI TRK OVER THE BANK UKN IF INJ
12:57 p.m.
[3] RP STATES DRIVER IS OO THE VEH AND WALKING AROUND THE VEH
12:58 p.m.
[4] VEH INTO A TREE OVER THE SIDE OF 101 NR 271
1 p.m.
[7] RP RECALLED // VEH IS LEAKING DIESEL FUEL NR THE EEL RIVER , UKN IF IT HAS HIT THE WAY CURRENTLY SEEMS TO BE JUST IN THE SOIL
1:06 p.m.
[13] NB /SB LANES OF 271 BLOCKED
1:09 p.m.
[17] 1039 DOT RE THE GR IN LN 15
1:11 p.m.
[20] A105-018 1185 TRACTOR AND TRL, 40 FT TRL EMPTY INTO TREE, PART LEVEL GROUND ALMOST OFF EDGE
1:14 p.m.
[23] A105-018 VEH LEAKING DIESEL, FULL TANK 100 GALLONS, 1 GAL PER MINUTE, REQ CT FOR CLOSURE OF 271 MM 20
1:14 p.m.
[26] 1039 TO DOT RE FULL CLOSURE OF 271
1:18 p.m.
[27] [Rotation Request Comment] 1039 ALL IN ONE TOW 707-459-0997
1:41 p.m.
[35] PIERCY FIRE 97/ C121 CPZ, 1 HR ETA
1:55 p.m.
[44] 1039 FISH AND GAME BUT THEY ADVS OES CALLS THEM AND THEN THEY RESP
1:55 p.m.
[42] PER MARTY WILL ADVS THAT THE TANK WILL BE EMPTY BY THE TIME THEY GET THERE //1039 105-S4 IT WILL BE QUITE A WHILE TILL THEY ARE READY FOR THE TOW
1:56 p.m.
[45] [Notification] [CHP]-Problem changed from 1183-Trfc Collision-Unkn Inj to 1182-Trfc Collision-No Inj by CHP [Shared]
1:57 p.m.
[46] PER 105-S4 THIS WILL MOST LIKELY GO OVER 90 MIN ON THE CLOSURE
1:57 p.m.
[48] 1039 MARTY WITH ALL IN ONE
1:59 p.m.
[49] [Notification] [CHP]-MARTY WITH ALL IN ONE WOULD LIKE PICS OF THE SITUATION AND WHAT THE TANKER WAS CARRYING PRIOR TO OFF LOADING //HE CPYS TO 1023 TILL WE ADVS HIM TO BE ENRT [Shared]
2:29 p.m.
[54] [Notification] [CHP]-PER MARTY WITH ALL IN ONE THE OWNERS OF THE VEH IS REQ THAT ALL IN ONE ROLL // ENRT NOW [Shared]
2:31 p.m.
[56] 105-S4 WILL BE EXT BEFORE CAN GET TRK/ TOW CPZ
2:50 p.m.
[58] 105-S4 REQ HEWAB CLOSED @ MM20.7 ON SR271