(UPDATE) Slide Halts Highway 101 Traffic South of Crescent City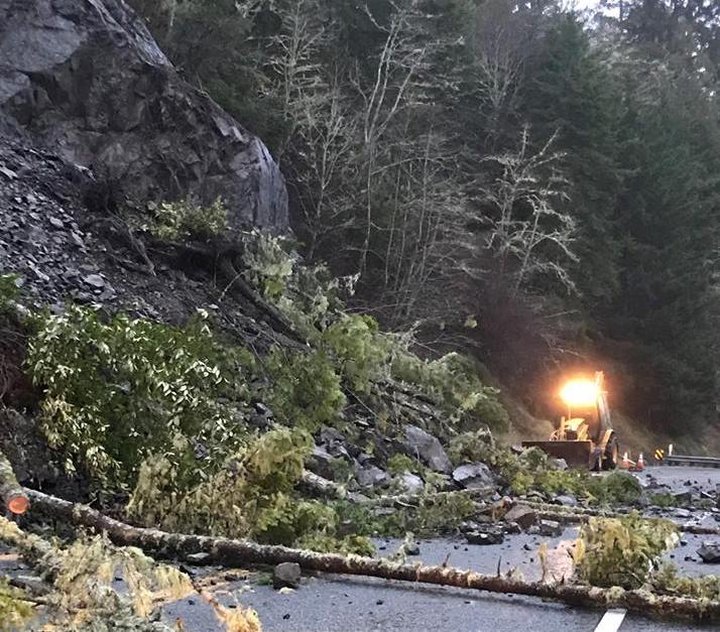 Crescent City CHP:
UPDATE: US-101 is open to one way traffic. Expect at least 15 minute traffic delays. Please proceed through the ares slowly and with caution. We cannot determine mother nature's actions so be prepared for additional hazards.
Crescent City CHP:
US-101 IS STILL CLOSED!! Cal Trans is actively working on opening US-101 to one way traffic control when they can be sure the slide is controlled enough to safely escort vehicles through. Please be patient!! Thank You!!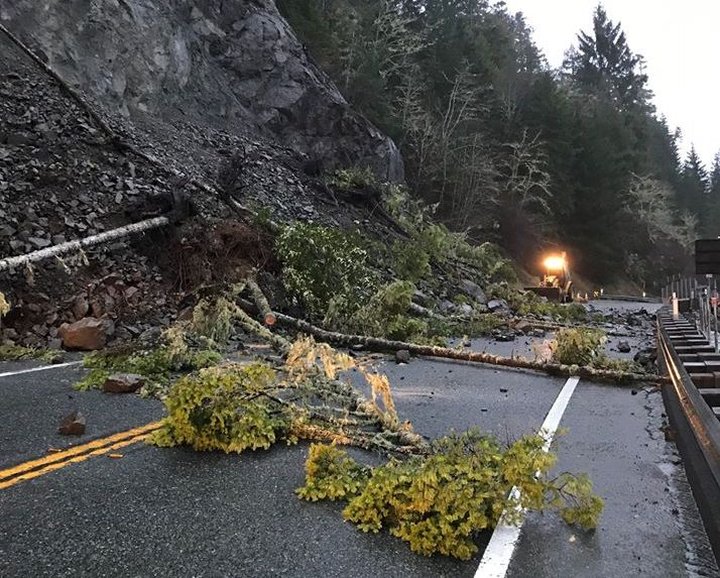 ###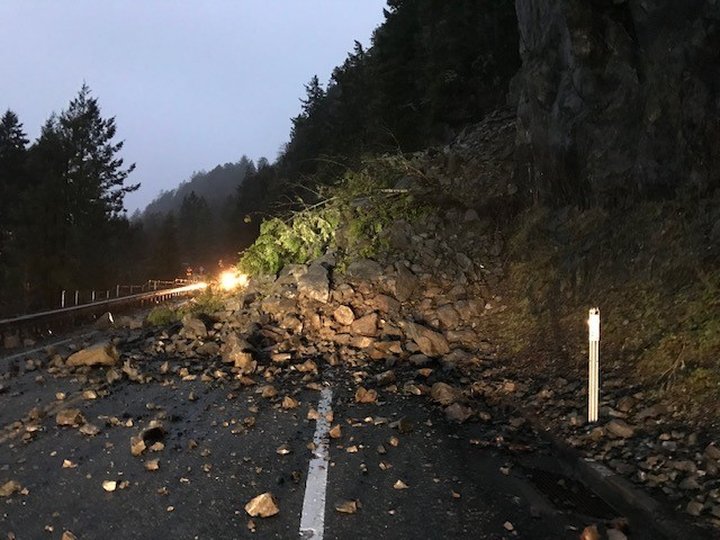 UPDATE, 8:02 a.m.: From Caltrans:
US 101 Closed, South of Crescent City in Del Norte County-Last Chance Grade: Closed due to a slide. Crews are working hard to re-open one lane later this morning.
###
UPDATE, 7 a.m.: Highway 101 is still closed this morning: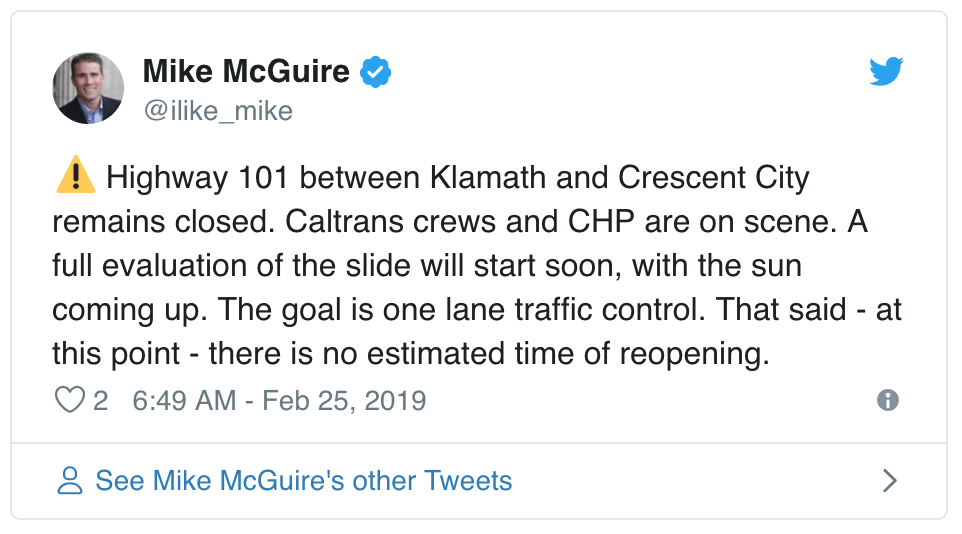 ###
UPDATE, 10:30 p.m.:
As of 10:19 p.m. the CHP reports that boulders are falling onto the roadway, making driving conditions unsafe in the area.
A hard closure is reportedly in effect and road crews will reportedly reevaluate the slide in the morning.

###
Traffic is completely stopped on Highway 101 south of Crescent City according to a California Highway Patrol incident report.
Drivers reported to the CHP at approximately 8:50 p.m., that the slide is blocking the northbound and southbound lanes.
The highway is reportedly shut down in the area until the slide can be cleared.
We will update when more information is available.
---
12 a.m.
[51] 95-6 VEH HAVE BEEN TURNED AROUND // TANKER TRLR SEMI TK NEG 1125 // WILL PU IN AM
1:53 a.m.
[59] 95-27B CLOSURE IS BEING HANDLED BY CT
8:02 a.m.
[60] [Notification] [CHP]-Problem changed from SLIDE-Mud/Dirt/Rock to CLOSURE-Closure of a Road by CHP [Shared]
8:53 a.m.
[62] Incident Re-opened: RDWY OPEN 1 WAY CONT TRAFF 10-15 MIN DELAYS PER DOT
8:35 p.m.
[8] 1413 CPZ ENRT ETA 20 MIN
8:50 p.m.
[10] B95-006 COMPLETELY BLOCKING NB LN, REQ ADDTL UNIT FOR 1184, SLIDE IS ACTIVE
8:51 p.m.
[11] PER ANOTHER NB LN BLOCKED/ SB LN BARELY PASSABLE
8:51 p.m.
[13] B95-006 1125 IN BOTH LNS, RDWAY COMPLETELY BLOCKED
9:05 p.m.
[18] B95-006 SLIDE 1125 IN BOTH LNS AGAIN, REQ NOTIFY S UNIT
9:12 p.m.
[22] B95-002 HOLDING TRAFFIC NEAR MM 16.5 UNTIL SLIDE IN CLEARED
10:02 p.m.
[29] 1413 HAS BO RADIO, REQ ADVS 95-6 THAT HE IS TURNING AROUND AND HEADING SOUTH TO LET PEOPLE KNOW RDWAY CLOSED
10:11 p.m.
[33] 95-6 ATTEMPTING TO TURN TRAFFIC NB SIDE //95-S3 97 SLIDE
10:17 p.m.
[36] 1039 TMC OAKLAND, 141 ALREADY CALLED, CMS SIGNS 4, 15 AND 17 TURNED ON
10:19 p.m.
[37] 1039 141 / PER 141 RDWY CLOSED NOT SAFE TO CLEAR / BOULDERS FALLING ONTO ROADWAY// EVALUATE IN AM / 1411 IS ENRT / CMS SIGNS ACTIVATED //
10:19 p.m.
[38] 95-S3 INQ IF HARD CLOSURE WILL BE SET UP
10:33 p.m.
[42] B95-002 101/HAMILTON TURNING VEH AROUND
10:48 p.m.
[44] 95-2 97 101/HAMILTON JSO//SB LNS CLOSED
11:32 p.m.
[49] B95-006 HARD CLOSURE SOUTH END AT WILSON CREEK // REQ CHP 1023 1184 HARD CLOSURE HAMILTON ETA 1HRS /95-S3 CPZ WILL 105 TO 95-2