Highway 101 Closed at Bald Hills Road After Collision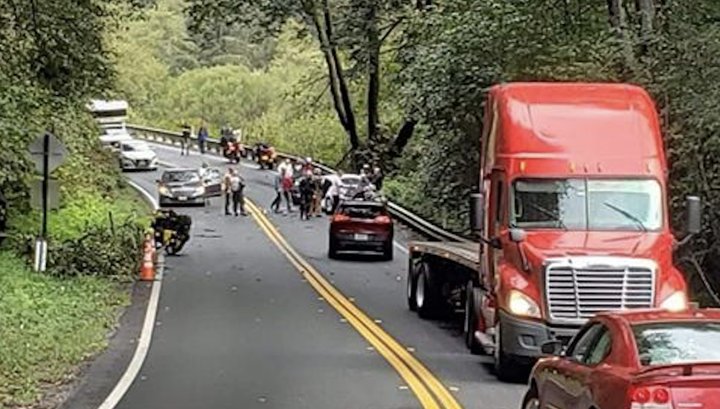 Both lanes of Highway 101 are closed near Bald Hills Road while emergency personnel deal with the aftermath of a traffic incident there. At least one person is said to have sustained injuries.
CHP estimates the roadway will be open soon. Updates from LoCO's CHP Watch below.
---
10:38 a.m.
[24] [Appended, 10:46:45] [4] IT SOUNDS LIKE THERE INJURIES
10:40 a.m.
[18] [Appended, 10:46:43] [1] VEH SPUN OUT
10:42 a.m.
[14] [Appended, 10:45:41] [1] WHI SD // LOST CONTROL OF VEH
10:44 a.m.
[13] 1039 STATE PARKS FOR ASSIST
10:44 a.m.
[27] [Appended, 10:46:45] [7] 10-39 CALFIRE FTNA
10:45 a.m.
[15] [Appended, 10:45:41] [2] RP JSUT WAS PASSING BY AND SAW VEHS STOPPED
10:47 a.m.
[31] PER STATE PARKS ENRT ETA 10 MIN
10:47 a.m.
[30] 10-39 16-S3 COPIES AT OFC
10:49 a.m.
[35] PER RP 2 OCCUP // DRIVER IS OUTSIDE OF VEH // XRAY PASSANGER IN BACK OF VEH INJ // ANOTHER UNK OCCUP OO VEH
10:57 a.m.
[44] PER CT ETA 30-40 MIN
11:16 a.m.
[52] A16-022 1185 WHI CHEV MAL MAJ FED
11:17 a.m.
[53] [Rotation Request Comment] 1039 BUDDYS TOWING 707-822-2615
11:40 a.m.
[54] A16-019 1 WAY TRAFFIC SET UP
12:06 p.m.
[56] 16-22 ADV 16-19 1185 STUCK IN DOWNTOWN ORICK ATTEMPTING TO GET THORUGH
12:14 p.m.
[58] PER 16-S3 BUDDIES TOW IS STUCK IN TRAFFIC ON ORICK // REQ INQ IF THEY CAN ELEVIATE NB TRAFFIC TO GET THEM THREW
12:46 p.m.
[61] A16-019 RDWY OPEN BOTH DIRECTIONS
3:08 p.m.
[68] [Notification] [CHP]-Problem changed from 1179-Trfc Collision-1141 Enrt to 1180-Trfc Collision-Major Inj by CHP [Shared]