(UPDATE) Truck Crashes Into Road Construction Vehicle on Safety Corridor, Alleged DUI Driver Suffers Major Injuries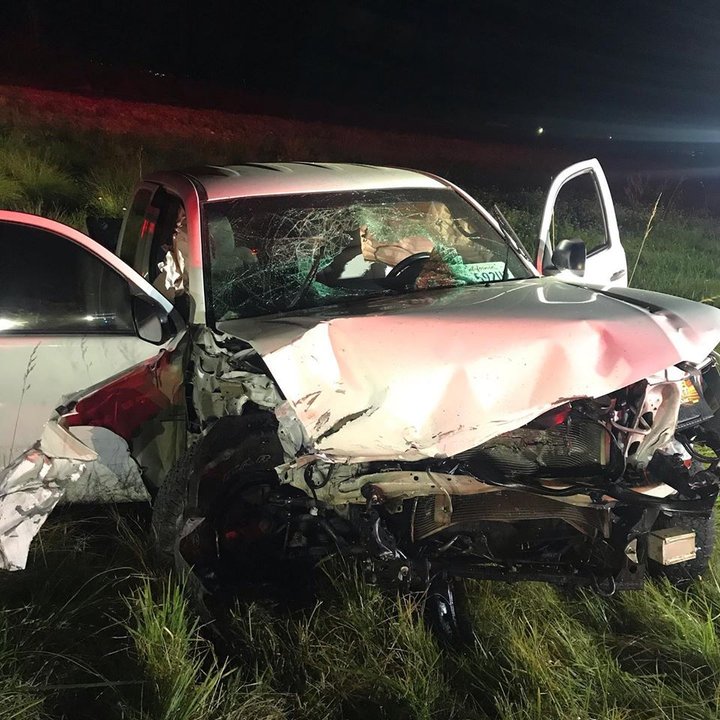 UPDATE, 9 a.m.:
California Highway Patrol press release:
07-13-2020, at approximately 2:25 a.m., the Humboldt Area CHP responded to a crash in the safety corridor involving a Caltrans Attenuator Truck. Upon CHP arrival, it was determined that 32-year-old Shaun Radomski of Newbury Park, CA, was driving his 2015 Toyota Pickup northbound on US-101, north of the Indianola Cutoff.

A Caltrans Attenuator truck, commonly used during highway work as a buffer between traffic and the workers, was stopped in the #2 (right) lane of northbound US-101, blocking the lane as workers were dismantling the construction zone closure equipment north of this location.

The Caltrans truck had the crash attenuator down to the rear of the truck and a large illuminated left-facing arrow also activated. Additionally, there were several advisory signs prior to the crash scene notifying motorists of the work ahead.

Mr. Radomski drove the Toyota truck directly into the rear of the Caltrans truck, causing major damage to both vehicles. Mr. Radomski suffered major injuries as a result of this collision and was subsequently transported to St. Joseph's Hospital for further evaluation and treatment of his injuries. The driver of the Caltrans vehicle was uninjured.

Alcohol is believed to have been a factor in this collision. Mr. Radomski was arrested for DUI and subsequently released to the hospital for treatment of his injuries.

Northbound traffic at the scene was diverted on to Indianola Cutoff for approximately 90 minutes.

The CHP Humboldt Area Office is continuing to investigate this collision and asks anyone who may have information to contact the Humboldt Area CHP Office at 707-822-5981 or send an email to humboldt_area.humboldt_area@chp.ca.gov. CHP Public Information Officer Paul Craft 07/13/2020 08:30 N/A
###
The driver of a white Toyota Tacoma was hospitalized with major injuries after crashing into a construction-safety-barrier vehicle on Highway 101 near the Indianola cutoff shortly before 2:30 a.m.
The Arcata Fire District reports that no construction workers were injured in the crash.
"Please slow for the cone zone," AFD wrote on Facebook. "Please slow down when passing through construction zones and emergency scenes. Our lives are in your hands."
According to the California Highway Patrol incident report, the crash shut down all northbound lanes of the Safety Corridor for approximately 90 minutes.
The Eureka Police Department also responded to the scene.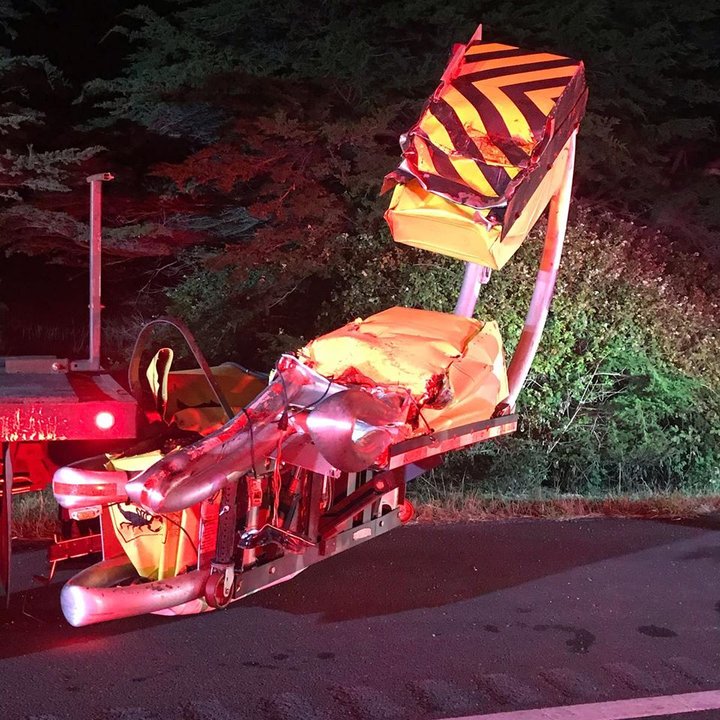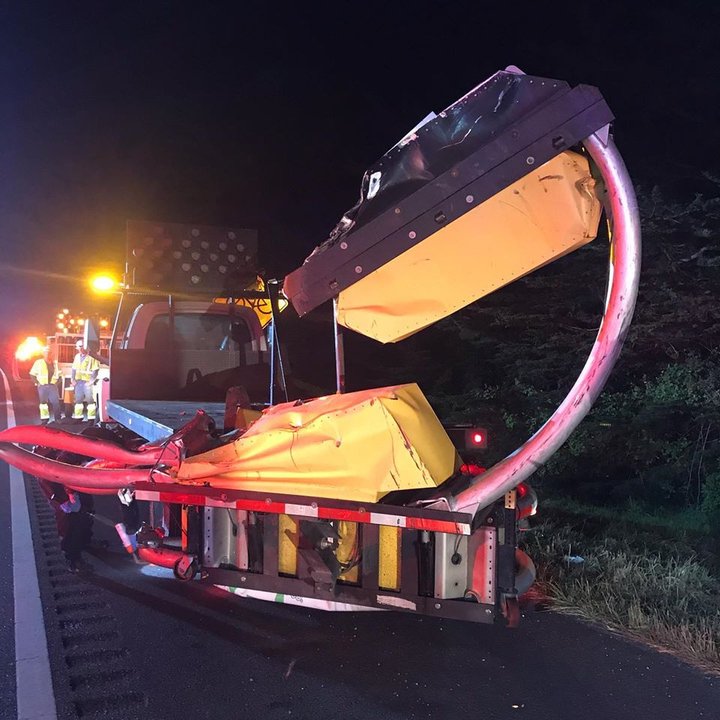 ---
2:31 a.m.
[7] PER EPD - UNK IF 1125 OR VEH DESCIP THE RP DIDNT WANT TO GET TO CLOSE
2:31 a.m.
[8] EPD WILL CB THE RP AND INQ IF 1125
2:37 a.m.
[12] C16-010 ENTIRE RDWAY CLOSED ON NB SIDE AT REQ OF PERSONNEL, APPEARS 1180
2:41 a.m.
[16] C16-010 1185 FB FOR TOYT TAC, MAJ RF DAMAGE,
2:44 a.m.
[17] 16-S5 INQ IF EPD CAN RESPOND AND ASSIST W/ DIVERTING TRAFFIC ONTO INDIANOLA CUTOFF
2:44 a.m.
[18] 1039 EPD WILL HAVE UNIT ENRT
3:24 a.m.
[22] 16-S5 NOTIFY ENTAC, RDWAY WILL BE CLOSED FOR OVER 90 MIN
3:28 a.m.
[27] [Rotation Request Comment] 1039 PACIFIC TOWING 707-443-8482
4:05 a.m.
[34] 16-S5 RDWY OPEN//REQ TO NOTIFY ENTAC
4:31 a.m.
[37] C16-030 1185 HAS VEH//10-98
4:49 a.m.
[39] C16-010 PTY WAS RELEASED TO HOSPITAL FOR INJS PER 16-S5
4:55 a.m.
[44] [Notification] [CHP]-Problem changed from 1179-Trfc Collision-1141 Enrt to 1180-Trfc Collision-Major Inj by CHP