(UPDATE) Highway 101 Fully Closed in Southern Del Norte County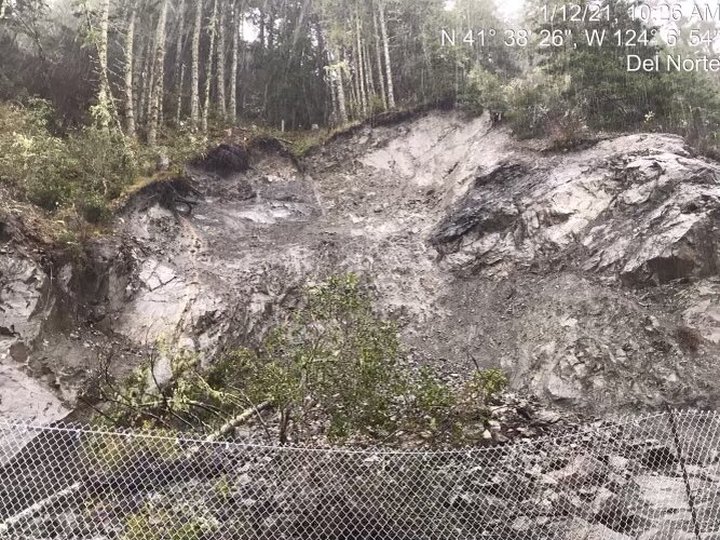 UPDATE, 11:40 a.m.:
According to the CHP incident report, one-way traffic control is set up in the area. The Department of Transportation is funneling traffic through the southbound lane.
Senator Mike McGuire tweeted a photo of the slide (seen above) minutes ago and stated that the Highway could be closed again at any time due to inclement weather.
###
Caltrans has announced a full closure Highway 101 at Last Chance Grade (about 10 miles north of Klamath) due to an active mudslide. There is no estimated reopening time as of yet.
We will update when we hear more.
---
10:04 a.m.
[2] DNSO REQ IF EMERGENCY VEHS ARE ABLE TO GET THROUGH
10:16 a.m.
[4] PER DOT 101 AT MM15.30 CLOSED FOR THE SLIDE
10:23 a.m.
[7] [Notification] [CHP]-PER CT INFO // SLIDE STILL ACTIVE NO VEHS BEING LET THROUGH INCLUDING EMERGENCY VEHS
10:36 a.m.
[10] A95-005 97 ITA TRAFFIC BACKED UP TO MM1600
10:40 a.m.
[12] A95-005 ADV SGT 101 CLOSED TILL FURTHER NOTICE DUE TO ACTIVE SLIDE // REQ 95-1 BE ENRT TO PLACE FLARES MM1600 NB TO ADV TRAFFIC OF STOPAGE
10:46 a.m.
[15] A95-005 DOT IS ALLOWING INTERMMENT SB TRAFFIC
11:17 a.m.
[18] A95-005 ON SCENE DOT SUP NORTH OF THE SLIDE TURNS INTO 101 BEING CLOSED ALLOWING INTERMITTENT NB AND SB TRAFFIC SLIDE IS SITLL ACTIVE // WILL ADV IF RDWY CLOSES AGAIN
11:31 a.m.
[19] PER CT 20 MIN DELAYS WILL ADVS IF FULL CLOSURE
1:22 p.m.
[22] [Notification] [CHP]-Problem changed from SLIDE-Mud/Dirt/Rock to CLOSURE-Closure of a Road by CHP