Highway 101 Fully Closed in Northern Mendocino due to Snow Conditions; Chain Controls on 299 and 36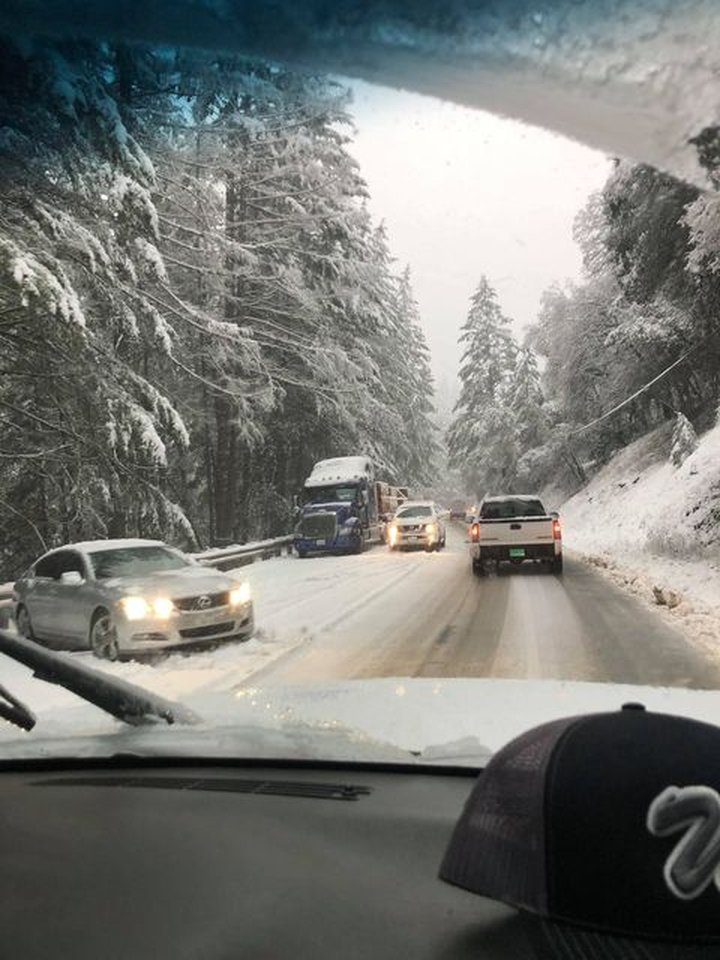 UPDATE, 1/27: As of Wednesday morning, Highway 101 is still closed north of Laytonville due to snow. Hang in there.
# # #
Original Post: It's getting pretty wild on the roads out there! Caltrans reports that the stretch of Highway 101 between Cummings and Laytonville is currently closed to traffic as crews work to clear snow from the roadway there. More updates on that incident can be found below. LoCO will update when we know more.
Elsewhere, there are chain controls in effect on Highway 299 starting at Berry Summit and on Highway 36 starting just west of Dinsmore.
More storm day roads mayhem as it develops on LoCO's CHP Watch.

---
2:47 p.m.
[2] 105-S1 SB UNIT // ZERO SB TRAFFIC // ASSUMING TRAFFIC IS AT A STANDSTILL JNO // INQ WITH DOT
2:58 p.m.
[3] 105-S1 AREA UNIT TO CLOSE TRAFFIC SB 101 FOR SEMIS AND NON 4WD VEHS AND CUMMINGS
2:59 p.m.
[4] UNKN AMOUNT OF 1125 VEHS //
3:11 p.m.
[7] 105-S1 CHECK WOITH SOUTH COUNTY 1185 ROATION TO ASSIST WITH 1125 TRAFFIC // SPOKE WITH APPROX 20 VEHS
3:16 p.m.
[8] 105-S1 CHAIN CONTROL ENDING HUNSTMAN RD LAYTONVILLE
3:17 p.m.
[9] 1039 WILLITS TIRE FOR 1185'S
3:20 p.m.
[10] 1039 ALL IN ONE / THEY WILL GET TKS STARTED FRM UK
3:24 p.m.
[15] B105-021 CPZ DIVERTING ALL TRAFFIC BACK NBV
3:24 p.m.
[14] 105-S1 ADV AREA UNITS TO SHUT DOWN RDWY COMPLETELY AND HAVE TRAFFIC DIVERT BACK NORTH // PLOWS ARE HAVING A DIFFICULT TIME GETTING THE RDWY CLEAR
3:55 p.m.
[17] 105-S1 CHECK WITH DOT DISPATCH ETA FOR A COUPLE MORE PLOW TRUCKS
4:04 p.m.
[20] 105-S1 CONFIRM WITH DOT THAT THEY HAVE NB TRAFFIC STOPPED
4:05 p.m.
[21] 105-S1 ADV ETO PROBABLY MORE THAN 1.5 HOURS // WILL NEED AN ENTAC NOTIFICAITON // DOT DOES NOT HAVE ENOUGH PLOWS TO CLEAR RDWY
4:19 p.m.
[26] 105-S1 1039 DOT WILL CHK
4:22 p.m.
[27] 105-S1 REQ 59 RESP TO ASST WITH CLOSURE IF AVAIL
4:24 p.m.
[29] 1039 105-59 CPZ AND ENRT
4:25 p.m.
[30] [Notification] [CHP]-[29] 1039 105-59 CPZ AND ENRT
4:27 p.m.
[31] **ACTUAL TIME OF CLOSURE 1530 HOURS**105-L CPZ
4:49 p.m.
[34] [Notification] [CHP]-Problem changed from 1125-Traffic Hazard to CLOSURE-Closure of a Road by CHP
5:42 p.m.
[39] 105-S1 PER ALL IN ONE N O LAYTONVILLE / JUST PAST FISHERMAN, IDLING POSS STUCK
5:45 p.m.
[40] 105-S1 PER S1 105-59 IS HEADING FOR THE ALL IN ONE BIG RIG NOW / 1022 ALL OTHER TOWS FOR NOW UNITL CT CAN CLR THE RDWY
5:45 p.m.
[41] 105-S1 1039 ALL IN ONE 1022'D
10:06 p.m.
[44] 105-S1 BLK SEMI HAULING LOAD OF LUMBER, ELDERLY MALE, NO FOOD OR WATER, UTL FROM S OF CLOSURE TO SPYROCK