Sublime with Rome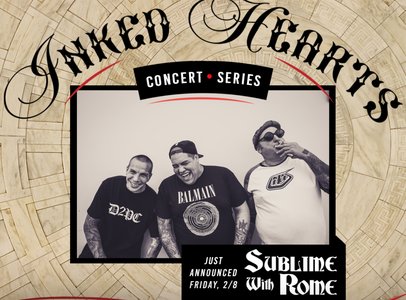 Join us February 7th-10th for our 10th Annual Inked Hearts Tattoo Expo at Blue Lake Casino Hotel!
Hosted by Ted and Amy Marks of Nor Cal Tattoo, with featured artists Liz Cook, Tye Harris, Joshua Carlton, David Vega, and Liz Venom, along with over 30 other incredible artists will be present and tattooing on-site.
As the premier tattoo show on the north coast and in celebration of 10 AMAZING years, we will have unprecedented entertainment with our 2-day Concert Series featuring Sublime with Rome on Friday, 2/8 and Cypress Hillon Saturday, 2/9 (Purchase Tickets HERE), contests and tattoo artists!
Get ready for an unforgettable weekend.
---
Visit InkedHearts.com for more information, including our full list of artists.
Visit the official Inked Hearts Facebook Page to schedule a tattoo appointment with the artist of your choice.
DATES/TIMES
WHERE
PRICE
$50 / $90 includes Cypress Hill on 2/9 / $60 Day of tickets
Ages: 18+