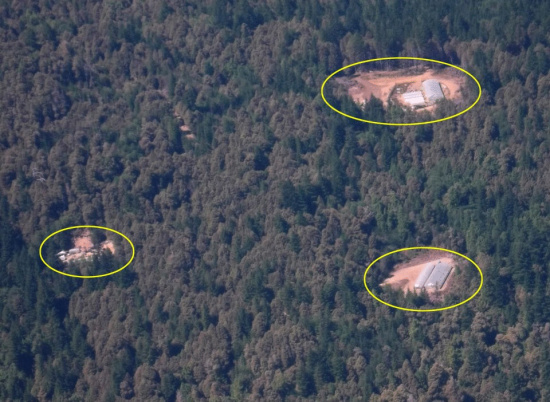 PREVIOUSLY: Goodbye, Mom and Pop: 35 Large-Scale Grow Operations in the North Coast Backwoods
###
Writes Supervisor Mark Lovelace, via Facebook:
On Wednesday, August 29th, I took a flight with 3 Department of Fish & Game officers to get a look at the scale and impact of marijuana grows in some of our watersheds. Without trying too hard, we were able to count 125 grows in the Van Duzen, 222 in the Mad River and Maple Creek, 82 in the Titlow Hill area and 10 in upper Jacoby Creek.

Some appeared to be no different than a small farm, but far too many showed evidence of illegal and unpermitted clearcutting, grading, road building and water diversions. Regardless of their size and other differences, they all use precious water from these impoverished creeks and rivers, some of which now run dry in places.
Below: A selection of Lovelace's photos' from yesterday's flight.