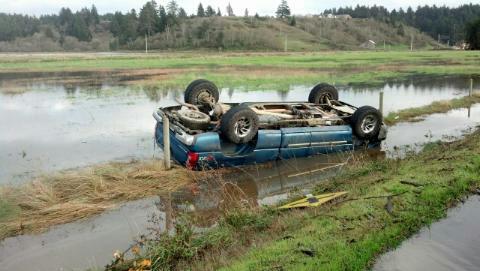 UPDATE, 4:35 p.m.: Humboldt Bay Fire Battalion Chief Bill Reynolds checks in with the LoCO and sends some pics.
This accident was a single vehicle that had overturned (as to why is under investigation by CHP on scene) and wound up in the ditch (full of water) along side the road. Three fire engines, two Chief Officers, and 1 ambulance worked approximately 10-15 minutes to free the occupant using the Jaws of Life and a Sawzall. Fortunately the driver, once extricated, was found to have minor injuries and refused transport to the hospital. The victim, along with the fire crews who worked hard to rescue him, were very cold.

We would like to remind everyone to PLEASE slow down and drive according to weather conditions….especially in areas where water is covering the roadway where hydroplaning is possible.
###
UPDATE, 3:41 p.m.: The driver's OK, the CHP reports.
###
About a half and hour ago, this frightening scene at the intersection of Elk River Road and Pine Hill was reported to the CHP.
"DRIVER IS TRAPPED , IN THE WATER," the dispatcher notes. "CAR HYDROPLANED, HIT A POLE, AND FLIPPED OVER."
Be careful out there, people.