---
We Live In A Beautiful Place
---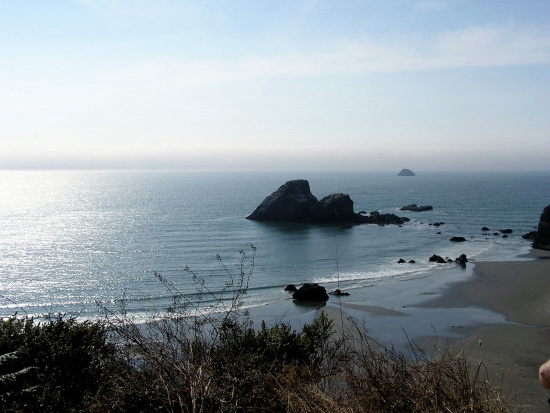 You could be here.
Finally, some sunshine! Unless you're in the middle of brain surgery or the lunch rush, stop what you're doing and go get yourself some of that. Tell the boss it's a medical thing – if you've been hunkered in Eureka, for example, you're definitely lacking in some Vitamin D. I'm surprised we haven't had a rickets epidemic this year.
(Note: I am writing this in Old Town, where a swath of sunshine is currently lighting up Third Street enough that anyone so desiring could spend his or her lunch hour bronzing on the sidewalk, but this is Humboldt, so…)
Regardless of whether or not the clouds stay cleared, spending some time at the beach will nudge you toward better health. If you need some extra impetus, maybe want to meet that special someone with shared interests, or just like hanging out with like-minded folks, plenty of opportunities to lure you away from your laptop and into the outdoors await.
Thursday, July 26, for example, I'm continuing my partnership with NOAA to monitor a stretch of shoreline near the Ma-le'l Dunes. The point of this observing is to establish baseline marine debris data and note any debris landing from last year's Japanese tsunami. If you'd like to help, meet me at the south Ma-le'l Dunes parking lot at 9 a.m. All equipment is provided. To reach the site is an approximately 20 minute walk over the dunes and up the beach. For more information, call (707) 477-8283.
Weekends, Humboldt Baykeeper offers free, docent-led tours around Humboldt Bay.
Sunday, July 29, you can explore the beautiful Ma-le'l Dunes in search of animal signs with wildlife biologist Keith Slauson from 10 a.m. to 1 p.m. The best way to learn about animals of the dunes is to learn how to read the signs they leave behind. Scat, tracks and homes all give clues to understanding more about the wildlife of the dunes. Meet at the Ma-le'l Dunes north parking lot off young lane. RSVP at (707) 444-1397.
If you prefer to do things at your own pace, ask yourself, how long has it been since I went to Patrick's Point? Or hiked down the Ossagon Trail? At the very least, take a stroll around the block. Summer won't last forever and friendly weather is fleeting – step outside and remind yourself why you choose to live here.
Jennifer Savage is the North Coast Program Coordinator for the Ocean Conservancy and a weekend DJ on KSLG 94.1 FM.
---
SHARE →
---
---