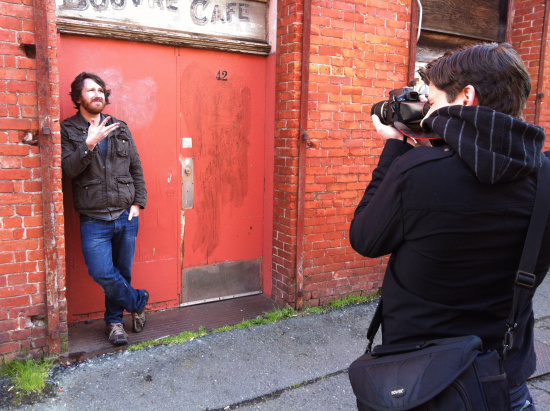 There's all kinds of reasons local celebrity (and occasional KSLG 94.1 FM guest host) Andrew Goff might be spotted in a Eureka alley, but this morning's cause was a noble one: to star in a forthcoming Humboldt Surfrider PSA advising smokers to "hold on to your butts!" Created by Humboldt wunderkind Malcolm DeSoto, the video is expected to premiere at Arcata Theatre Lounge in the near future. On the boom, the also multi-talented Johnathon DeSoto.
Why? Because Goff loves to be in front of a camera. Oh, and because all those cigarette butts end up in the gutter, then the storm drains, then the ocean and beach. Over one million of'em per year. Which is lousy for the critters whose homes have become ashtrays for smokers who can't be bothered to… hold on their butts!
Currently, cigarette butts are the most littered item in the world. Here's hoping for some change.