UPDATE, 3:30 p.m.: So it appears from this org chart that Girard will be a second-in-command of Santa Clara County's Planning and Development Department, responsible specifically for leading advance planning efforts in the heart of Silicon Valley.
—-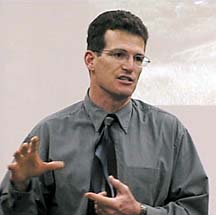 The Lost Coast Outpost has learned that Kirk Girard, Humboldt County's director of community development services, told his staff this afternoon that he will be leaving the department to take a new job in Santa Clara County.
Girard's tenure at the department, which is principally concerned with implementing the county's land use laws, has been controversial — not least because of the long-delayed general plan update, which has been in the works for about a decade. In March, the board of supervisors voted to split Girard's department in two, leaving him in control of the much smaller portion concerned with economic development.
He sent the following e-mail to his staff just over an hour ago:
To all,

With amazinlgy mixed emotions, I need to tell you that I've accepted the Planning Manager position with Santa Clara County. My last day of work here will be June 8th. I'm going to inform the Board this afternoon but I wanted you all to know first. I have much to express and hope to do so over the next month to everyone.

I owe my new position to the work you all performed while we were together. For that alone I will be eternally grateful and in debt to each of you.

With great thanks and respect,

Kirk