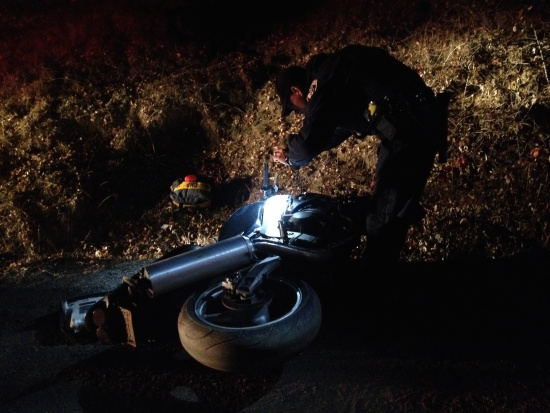 CHP officer inspects motorcycle involved in fatal crash on Old Briceland Road." (Photo by Mikal Jakubal)
UPDATE 9 P.M.:
Report from a member of the Briceland Volunteer Fire Department, Mikal Jakubal,
At about 7:30 pm, Briceland Fire responded to a report of a vehicle collision on Old Briceland Road, approx. 1/2 mile east of Briceland.

CHP was at scene and performing first aid, which EMTs from BVFD continued to no avail. The driver was pronounced dead at scene after paramedics arrived.

Cause of the crash and cause of death are unknown, as is the identity of the patient.

According to CHP officers at scene, they had initially attempted to stop the subject for operating a motorcycle at a high rate of speed between Garberville and Redway. The subject drove at extremely high speeds down Briceland Road, eventually evading officers. A motorist on Old Briceland Road discovered the crash site a short time later and called it in.
Original Post: CHP dispatch is reporting that there was a motorcycle in an accident on Old Briceland Road. The incident was reported at 7:14 P.M.
CPR was performed for over 20 minutes. Last communication from those on the scene reports "confirmed 1144." This code means that there has been a fatality.
May there be comfort for the family and for the first responders.
Please be careful driving in that area.