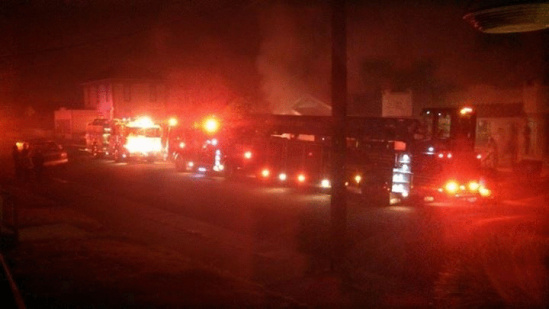 Fire on the corner of A and Huntoon captured by William Brooke.
According to Humboldt Bay Fire Battalion Chief Chris Jelinek, at around 12:30 last night, an inhabitant of a one story single family home on the corner of A and Huntoon in Eureka heard popping noises. Getting up to investigate, the person discovered the house was full of smoke. Quickly, this person alerted the 3 other adults in the home. 911 was called.
Humboldt Bay Fire responded with three engines and a ladder truck. Arcata Fire assisted in providing coverage for Humboldt Bay Fire's area while they were fighting the flames.
The cause appears to be combustibles too close to a hot water heater. Jelinek said that there was about $10,000 structural damage and $10,000 contents damage. Mostly from smoke.
Jelinek wants to remind everyone to please check and make sure that their home has operational smoke detectors. None were working in this morning's fire. "[The inhabitants] were very fortunate to have all gotten out."
In addition, he asks that everyone make sure that there are no combustibles within three feet of hot water heaters. "When they come on, they can flash and catch items on fire."