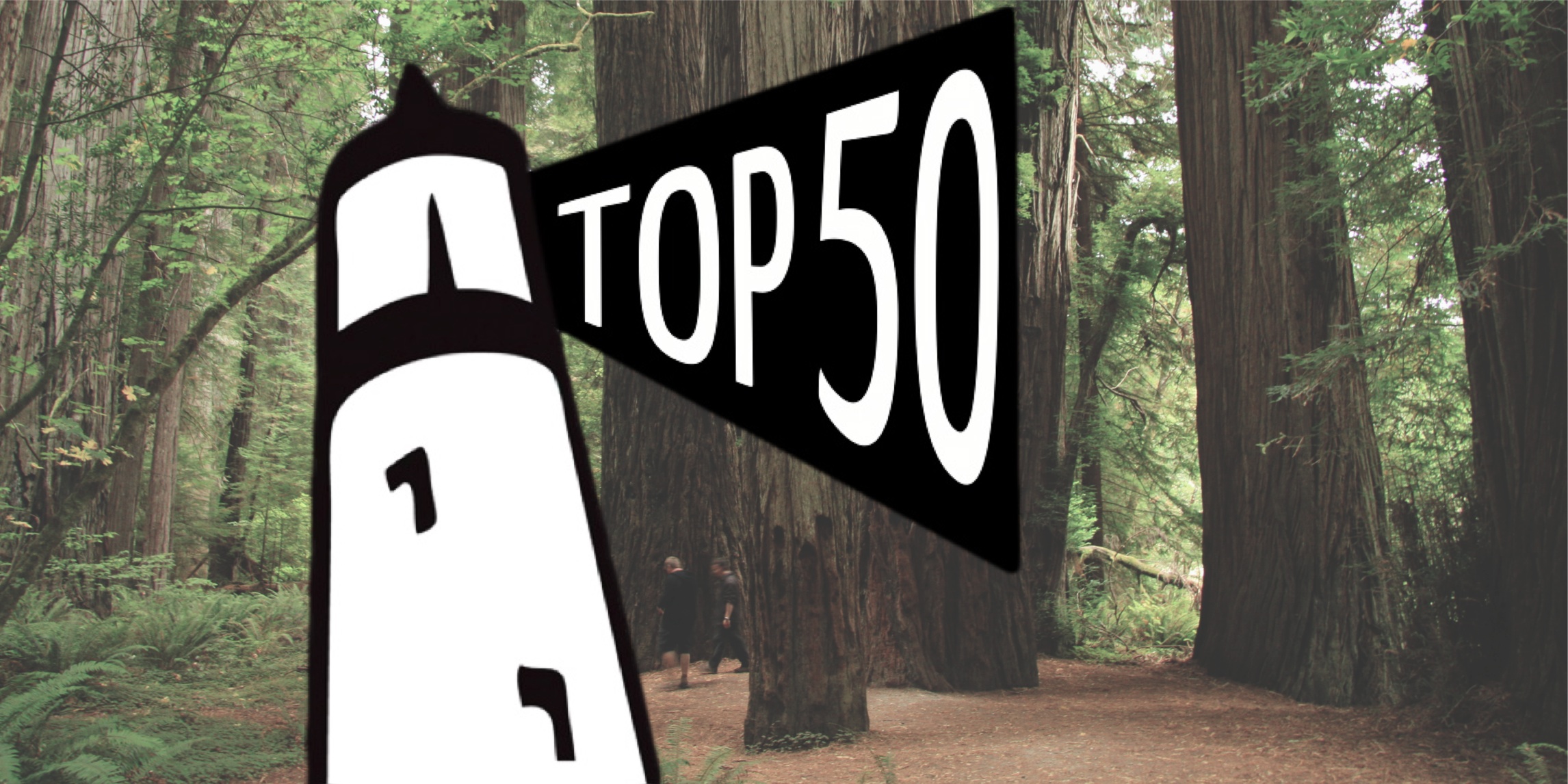 Your Lost Coast Outpost continues counting down its top clicked posts of 2013. Do we care about this more than you do? Possibly!:
Don't mess with Humboldt's meat.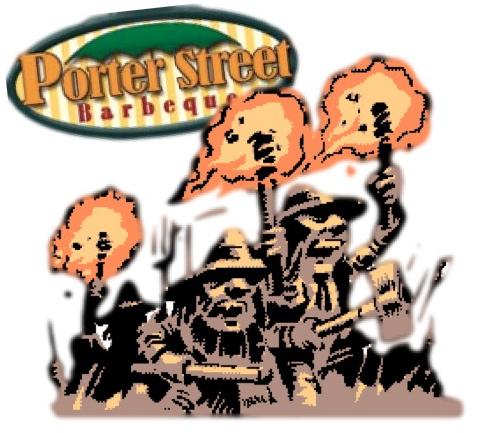 The Mad River Union's Dec. 12 article revealing that local attorney Jason Singleton had played a part in the closure of yet another local business over ADA violations provoked arguably the year's most passionate local social media backlash. A wanted poster featuring Singleton's mug and inviting him to leave town — "FOR CRIMES AGAINST SMALL BUSINESSES" — was shared an untold number of times on Facebook … so we put it on LoCO too.
Rabble, rabble.
As these things go, the community's white hot anger quickly waned. An anti-Singleton rally at the Humboldt County Courthouse a mere eight days after the MRU's article was released barely drew a crowd. Also, there's a Porter Street in Eureka, so …
# # #
34. Fatal Vehicle v. Pedestrian Collision Near Zane Middle School
Wednesday, May 1 was an indescribably sad day for the North Coast as the details of a morning pedestrian vs. vehicle collision at the busy intersection of Buhne and S streets — and how they would forever affect a beloved community member — became clear.
# # #
33. At Rob Arkley's Homelessness Symposium
"This is a case where our desire to do right has become wrong. We've become an absolute magnet for the homeless unlike other communities." -Rob Arkley, Eureka Wharfinger Building, Sept. 18, 2013
A divided, standing room only crowd listened to Humboldt's most famous rich person give his assessment of the local homelessness problem while inviting the community together "to participate in the solution." After Arkley relinquished his podium — and disappeared from sight — a stream of speakers took turns presenting wildly different opinions and experiences, often being shouted down in the process. Outside, four people protesting the event were arrested for da ruckus bringin'.
For our part, LoCO just went ahead and ran audio on the whole event and washed our hands of it. Great little memento we saved for ourselves.
# # #
32. Garret Rodriquez Connection in Recent SoHum Cases?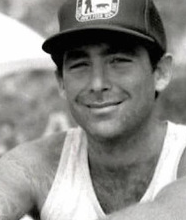 One story your Lost Coast Outpost followed for a good part of 2013 was the disappearance of a seasonal marijuana worker, Garret Rodriguez, into a SoHum region ominously dubbed Murder Mountain.
LoCO superstar Kym Kemp doggedly pursued details of the case and, in this particular post, decried the Humboldt County Sheriff's Office's unwillingness to confirm that the discovery of a body near Jewett Road was in fact Rodriguez's. And was there a connection to a recent kidnapping and shooting? LoCO commenters seemed to know. Why couldn't we?
Almost two weeks after this post went live on LoCO, the Humboldt County coroner released the official word: The body was Garret's.
# # #
31. Two Men Stabbed at Too Short Concert
Hip hop combined with the intrigue of possible violence, plus the trivial fact that the suspect's mugshot accentuated his long (albeit tattoo-free) neck was a flame that the LoCO commentariat could not help being drawn to.
# # #
30. Teenage Girl Reported Missing in Eureka
Again, thank you to the LoCO army for so diligently spreading the word any time something like this happens. Thankfully, in this instance, the missing girl was found safe and sound.
# # #
29. McMansion Marijuana Bust in Garberville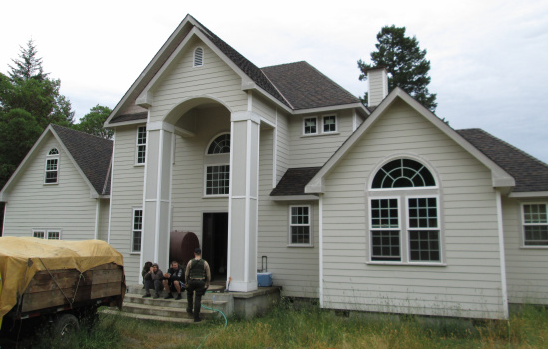 What makes one weed bust stand out from the pack? LoCO hasn't completely worked out the math yet, but you really need that extra element as this next run of top entries illustrate. In this one, the Internet tuned in for the first episode of Cribz: Garberville …
# # #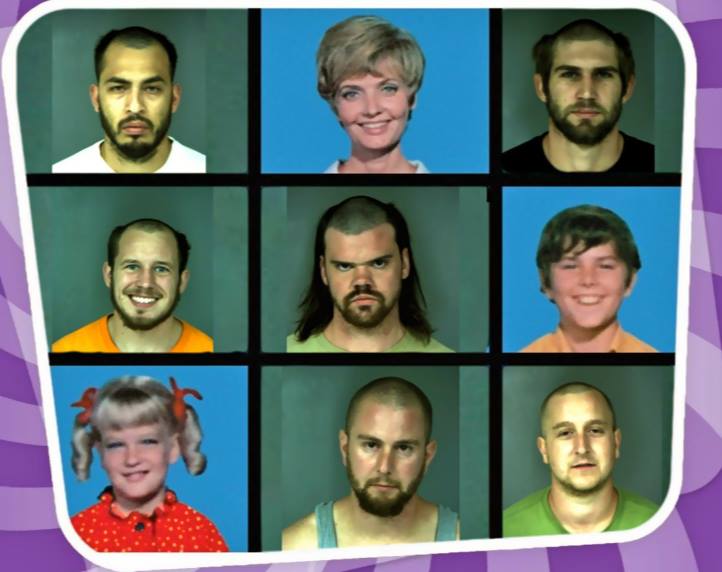 … here, the arrested suspects' similar, odd reverse mohawks really sealed the deal for LoCO fans …
# # #
27. Marijuana Plants and Firearms Found at Humboldt Crabs Manager's Home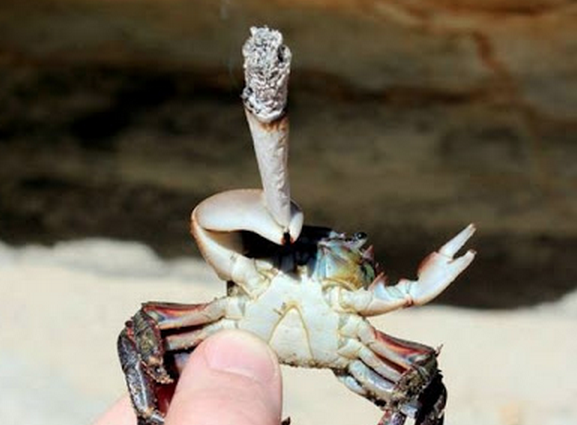 … and when there's a prominent member of the community involved, well, eyeballs can't resist. We'll inevitably continue our studies on this subject in 2014.
# # #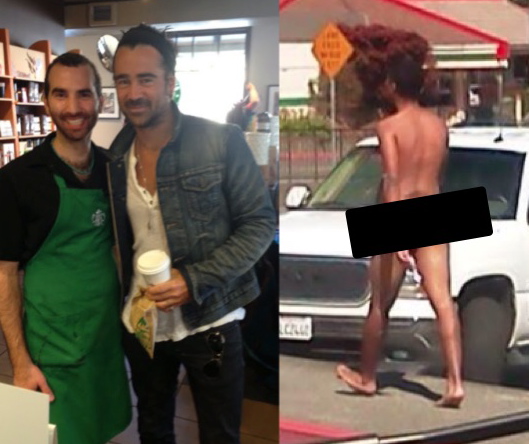 26. Yes, Colin Farrell Was At the Fifth Street Starbucks Today
Yes, he was!
25. Yes, There Was a Naked Man Strolling Down Myrtle Avenue Today
Yes, there was.
# # #
24. Estimated $21 Million Dollars of Marijuana Seized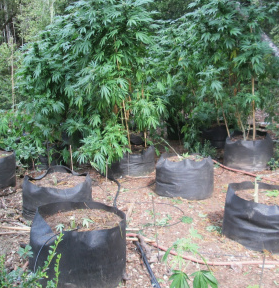 The staggering stats from three straight days of Humboldt County Sheriff's Deputy raids in SoHum:
9/24: "Deputies located and eradicated 9,056 growing marijuana plants ranging in height from 4' to 6'."
9/25: "Deputies located and eradicated 5,717 growing marijuana plants ranging in height from 4' to 6' tall."
9/26: "Deputies located and eradicated 6,750 growing marijuana plants … from 3' to 7' tall."
"The estimated value of the total marijuana seized is conservatively 21 million dollars."
Big one.
# # #
23. Humboldt County Sheriff Sergeant Arrested for Sexual Battery
A man once hailed by his community as a hero endured a very public fall from grace in October. Humboldt County Sheriff's Office sergeant Jason Daniels was arrested for sexual battery for an incident that allegedly occurred while he was on duty. He'd recently received significant praise on the Outpost when, in April of this year, he skillfully saved a mother of two as she held onto the side of a Willow Creek bridge threatening suicide.
# # #
22. Arcata Structure Fire/Fatality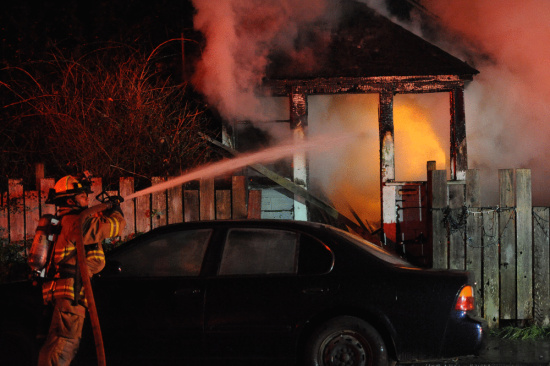 Tragedy struck again Saturday, Dec. 7 when emergency personnel were not able to save Arcata resident Stephen McGeary from an extreme structure fire that engulfed his home on H Street.
# # #
21. Possible Shooting Near Cash and Carry off Highway 101
The unique strengths of the Outpost as an information gathering juggernaut were on display on a Friday in mid-November. As a situation developed at the Indianola cutoff near Cash and Carry, LoCO was inundated with real-time updates and photos provided us by our readers. In addition, we were able to grab scanner audio which provided a description of an alleged shooter.
By the end of the incident, which thankfully turned out to be an injury-free domestic dispute, one subject was in custody and we extended a hearty thank you to you, our volunteer reporting squad. Thanks for trusting us.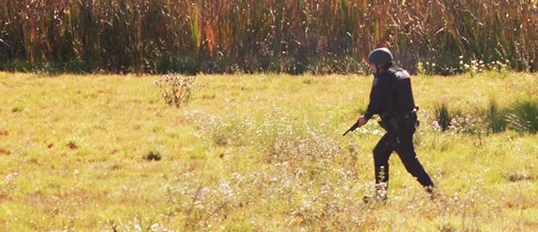 # # #
Are you sick of this countdown yet? We'll have one more installment either tomorrow or (more likely) the next day. Happy list week to you and yours.