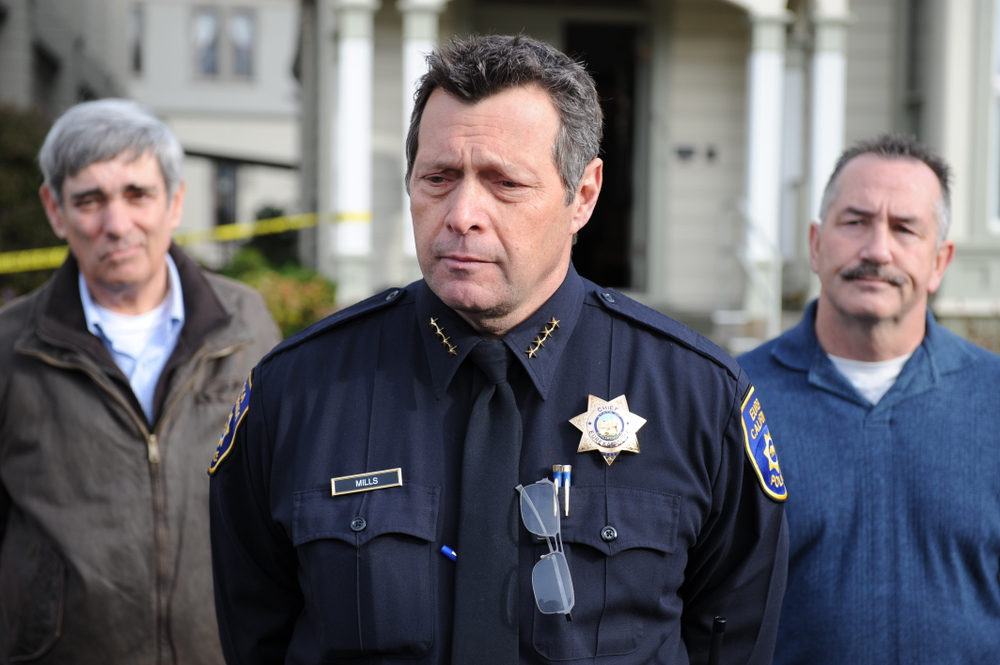 Photo by Mark McKenna. More photos here.
UPDATE, 3 p.m.: An hour ago, EPD Chief Andy Mills and a tearful Mayor Frank Jager spoke about this morning's murder at St. Bernard's and the state of the investigation. Jager confirms the identity of the victim —Father Eric Freed. Video below:
###
UPDATE, 2:27 p.m.: Directly following this afternoon's press conference, LoCO's Hank Sims spoke with KHUM DJ Larry Trask. We've included the audio below. -AG
(AUDIO) Press Conference Summary
# # #
UPDATE, 2:12 p.m.: Hank Sims at the press conference reports that EPD Chief of Police Andrew Mills confirmed that the EPD is conducting a murder investigation. He declined to name a victim but Mayor Frank Jager said, "We all know it's Father Eric." He then began crying.
There are over 100 parishioners and community members at the scene.
# # #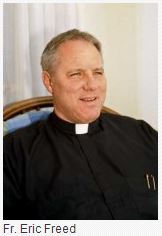 UPDATE, 1:49 p.m.: In an interview with Hank Sims, Winette Treder, who attended St. Bernard's mass this morning, said that Father Eric Freed did not show up for mass. She said that a deacon went next door to the rectory. He ran back and said, "Something is terribly wrong with Father Freed." The congregation stayed and said a rosary for him while police and ambulance arrived.
Below is a photo of Fr. Eric Freed from the Freeman Newman Center which is part of the HSU community.
Sims says that currently there are perhaps three dozen parishioners gathering on the site.The press conference will begin shortly.
# # #
UPDATE, 1:07 p.m.: While we wait for the press conference, your Lost Coast Outpost was able to isolate some audio from this morning's scanner traffic. The following bits relating to the St. Bernard's incident have been edited down from about an hour span of time starting just after 9 a.m. -AG
# # #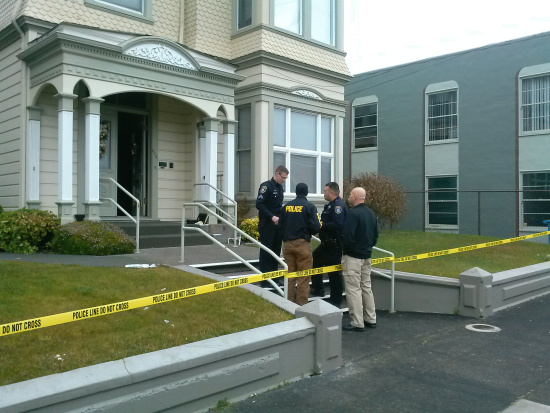 UPDATE 12:50 p.m.: Eureka Police Dept. Press Release says, "The Eureka Police Department will hold a Press Conference at 2:00 PM at the corner of 6th and H Street reference the investigation at St Bernard's Church."
# # #
UPDATE 11:12 a.m.: Mass has been canceled for St. Bernard's.
# # #
Original post: There is a heavy police presence at 615 H St. next to St. Bernard's Church [This is the Church's Rectory.] The area is taped off. An ambulance has just arrived. Hank Sims is on the scene and reporting. We will have more information as it becomes available.
Police Chief Andrew Mills has confirmed a violent crime has taken place. He will not yet confirm a fatality and says that is the coroner's call. There is no confirmation on number of victims. There will be a press conference in a few hours.