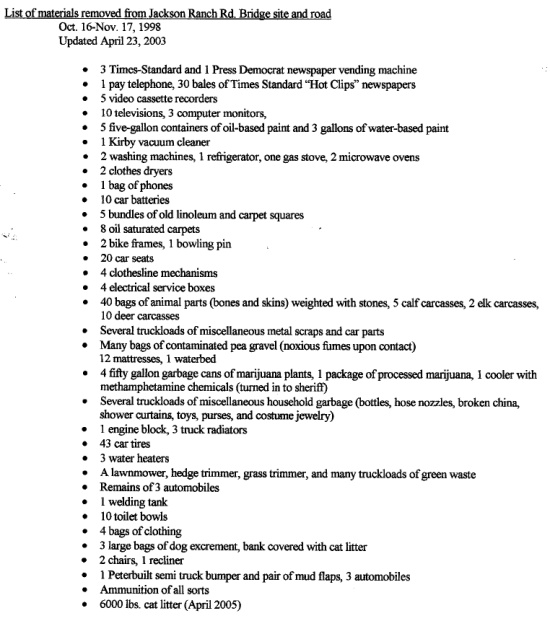 Today on KHUM's Coastal Currents, Jessica Hall of Humboldt Baykeeper introduces you to a regular guy whose moral compass points to Arcata's lowlands.
It also led him to smash up three abandoned cars with a sledgehammer. "But that's nothing compared to player pianos and walk-in safes and the other stuff," he told KHUM today.
Of that list above, Fish and Game (now Fish and Wildlife) made only one arrest, said Halstead. (He explains at 8:19 below.)
Hear today's Coastal Currents:
For almost two decades, Ted Halstead has been removing garbage from the slough on the north side of Arcata bay. A lot of garbage. And with today's King Tide (read: extra high tide, see photo below), a lot of that would've been swept out into the bay.
Halstead's impact extends well beyond general decency. "I don't think people realize how incredibly abundant these sloughs really are, and how critical they are to the fisheries industry here," said Hall.
"If you're a fan of salmon, halibut, the herring, the sardines, the baitfish, [a clean slough] is critical to being able to have those things," added Halstead.
He noted that at the peak of juvenile dungeness crab season, he observed about 1,500 crabs per hour making their way out to the bay.
Halstead's mild-mannered crusade has been documented thoroughly by the Arcata Eye and the Mad River Union. Check those links for more photos.